As the winter solstice is celebrated at Newgrange in Co Meath, 3D images of artwork from the nearby Dowth Hall Passage Tomb are being made available for the public to view online for the first time.
Models of six of the passage tomb's art pieces were created by The Discovery Programme Centre for Archaeology and Innovation Ireland, using photogrammetry software.
In 2017, a large and previously unknown passage tomb was found at the 18th century Dowth Hall during excavations.
The tomb, described at the time by archaeologists as "the find of a lifetime", is within the Brú na Bóinne World Heritage Site.
The mound at Dowth is 90 metres in diameter and 15 metres high and surrounded by kerbstones, some of which are decorated.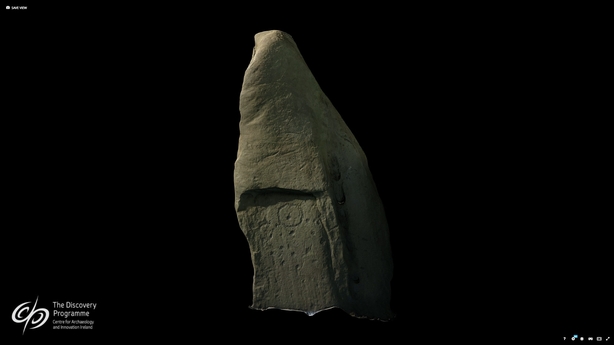 Robert Shaw, Senior Geo-surveyor with The Discovery Programme Centre, mapped and measured the stones for 3D modelling.
He said: "We were delighted to have been invited to use the best technology of our time on these incredibly old artefacts. Essentially, we are giving them a new life, a new audience.
"We do the mapping and measurements and turn them into meaningful models. These high-resolution 3D models allow real detailed investigation of the artwork. We are able to throw light on them from different angles.
"If you were to visit the site itself and it was an overcast day, you would see very little. So these 3D models are incredible. It takes away the element of chance".
The Discovery Programme Centre for Archaeology and Innovation Ireland has published the images to Sketchfab, a platform for showcasing 3D models.
"The problem with 3D models is that their file size is absolutely massive," Mr Shaw explained.
"It's so important to find ways to get this information out to the public and also for archaeologists and universities around the world who aren't able to visit the site. Sketchfab allows us to upload a low-resolution model and we then paint a high-resolution texture on top of it which will be the best visualisation of the stone. This means the images load quickly in real time."
More information on the art can be also found in the winter edition of Archaeology Ireland magazine.