The Irish Refugee Council has called for the immediate removal of children and their families from the Citywest Transit Hub in Dublin, where it says they are at serious risk of harm.
In a letter to Minister for Children, Equality, Disability, Integration and Youth Roderic O'Gorman, and senior officials in his department, CEO Nick Henderson said the conditions for international protection applicants there were hazardous and called for a phased closure of the centre.
Ombudsman for Children Dr Niall Muldoon said that "reports of unsafe living conditions for children at Citywest are extremely concerning and require immediate action to protect the children involved".
Dr Muldoon said that "even in times of crisis, standards for children can never drop" and his office would continue to engage with the International Protection Accommodation Service (IPAS) and Tusla in relation to the situation at Citywest.
Details of an Irish Refugee Council site visit to the Convention Centre at Citywest on 11 November were contained in a letter seen by RTÉ News which was sent on 1 December.
It said that "grievous risks" were posed to international protection applicants who are "in the care of the State, specifically women, minors, and those with specific vulnerabilities" and that the conditions observed "represent a clear and obvious breach of the Reception Conditions Directive".
It said that the risks posed to children in particular "should be the most urgent concern" for the department and wider Government.
"In our opinion there exists in Citywest a risk of harm to children, owing to a total lack of privacy in terms of accommodation, the co-mingling of unrelated adults and children and the lack of experienced and trained child protection personnel on the ground," the letter read.
The letter draws attention to the fact that the shower facilities on site are not segregated by sex or age, which it said was "extremely inappropriate".
"We witnessed two minor children queuing alone for the showers together in a line that included adult men," the letter said.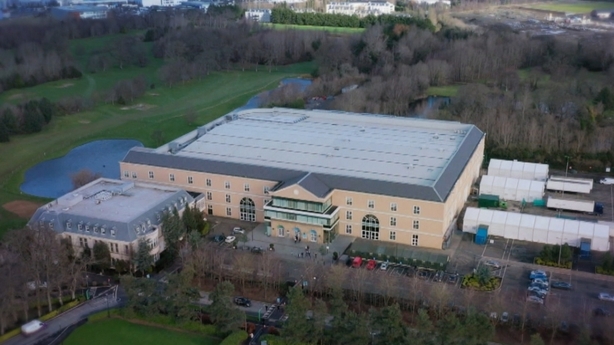 The letter also detailed what it described as "chronic overcrowding".
"The convention centre hall sleeping area contains a mix of hospital beds, camp beds and mattresses on the ground. These areas are open-ended wide corridor-like rooms that while broken up into 'single male', 'single female' and family rooms are each interconnected. Many beds touch each other, with no space between residents, posing a risk to privacy, personal safety and health in terms of infectious disease. We do not believe... that this accommodation meets people's 'basic needs'."
The letter concludes that "the Citywest convention centre hall is not suitable for accommodation of people" and calls for the phased closure of the facility.
Both in the letter and speaking to RTÉ News, Mr Henderson recognised what he said was the "enormous effort" and "huge work" done by both the Department of Children and those working in Citywest in "challenging circumstances."
"But from the conditions that we saw... the situation of children in particular, for us it's unacceptable, and it should be unacceptable for all stakeholders we believe, and we are recommending that children are removed from that situation as soon as possible, and then in the New Year steps are made and taken to gradually close the convention centre hall," Mr Henderson told RTÉ News.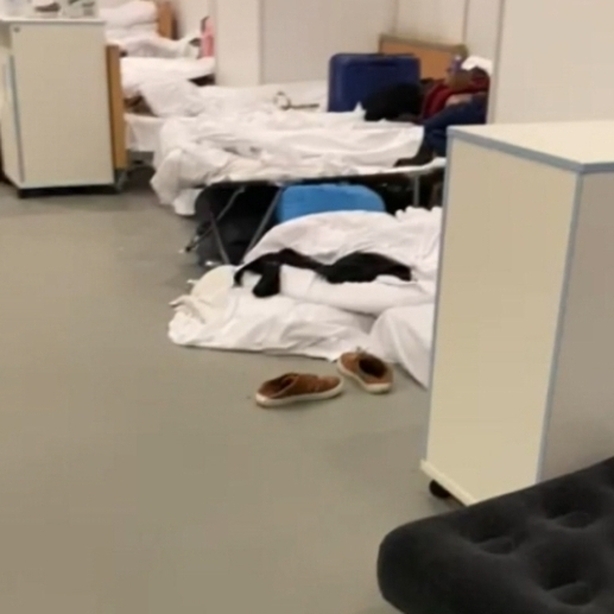 In a statement this afternoon, a spokesperson for the Department of Children, Equality, Disability, Integration and Youth said that "child protection and welfare" were "of paramount concern" to the department and it "will examine the recommendations made by the Irish Refugee Council, with a view to improving conditions at Citywest".
The spokesperson said that "at all times, staff seek to ensure the safety and wellbeing of those being accommodated there."
The statement said that "a Child Safeguarding statement has recently been signed into operation in the Citywest transit hub" and that TUSLA employ one full time principal social worker on site and that an out-of -ours service is also available.
It pointed to the fact that showers are supervised by security staff and said that "unaccompanied children are not permitted to use the showers" and that "parents and guardians are regularly reminded by Citywest staff and volunteers of their responsibility to supervise their children at all times".
It said sleeping areas are segregated and that more security staff have been employed on site.
It said the department will examine the recommendations made by the Irish Refugee Council with a view to improving conditions at Citywest.
The statement concluded: "The department remains committed to doing all it can to deliver an effective humanitarian response."
We need your consent to load this rte-player contentWe use rte-player to manage extra content that can set cookies on your device and collect data about your activity. Please review their details and accept them to load the content.Manage Preferences
Children's Rights Alliance Chief Executive Tanya Ward supported the call to see children and their families removed from the Citywest transit hub.
"What's disappointing is that in the last couple of years reception conditions for refugee children have improved immensely. But now we are seeing a new low, I think, in these emergency reception conditions. As an immediate step I think we need to make sure that children and families are not subjected to these conditions, we need to make sure that they are in appropriate accommodation," Ms Ward said.
The Irish Refugee Council's letter also set out a number of steps that could be taken immediately, ahead of any such move.
They include "segregating washing facilities either physically or by time slots", and having "closed-door sleeping areas for families and particularly vulnerable adults" and employing "trained child protection staff" onsite.
While the Irish Refugee Council's site visit was carried out last month, Mr Henderson said he believed children in Citywest continue to face the same hazardous conditions.
Speaking on RTÉ's Morning Ireland, he said "unfortunately" the centre cannot be closed immediately as it "would result probably in homelessness" but he believes it is possible to remove 68 children that are being housed there.
Figures released in a response to a parliamentary question asked by Independent TD Catherine Connolly showed that this day last week, 68 of the 764 international protection applicants being accommodated in Citywest convention centre were children.
The original bed capacity at the centre was 370.
While both Ukrainian refugees and international protection applicants use the centre, the latter group are accommodated in much greater numbers and are there for longer periods of time.
The Citywest transit hub has been closed to new arrivals three times before, when it was said to be "beyond capacity."
The first time was in July with the Old Terminal Building at Dublin Airport was provided temporary alternative accommodation, and once in September and again in October.
On the latter two occasions some international protection applicants, and in October some Ukrainian refugees, were left temporarily homeless.
On Friday, the Department of Children, Equality, Disability, Integration and Youth said the Citywest Transit Hub would be closed to processing new Ukrainian refugees from 24 to 27 December.
It said the "transit hub would remain fully operation for those in situ" but said that State-provided accommodation for both Ukrainian refugees and International Protection applicants was very limited and the shortage would continue into early January.
It also advised both Ukrainian refugees and international protection applicants "who are currently in situations of safety not to travel to Ireland, if possible, over the next fortnight and to defer making travel plans to come to Ireland until the New Year."
According to the department, the State is now accommodating more than 50,000 people from Ukraine, as well as 18,000 international protection applicants.