Throughout the year, we have brought you the stories of Ireland's 'Climate Heroes' - people from all walks of life who are stepping up to tackle climate change, protect the environment and halt biodiversity loss.
Today's milestone 50th episode in the series features our oldest contributors so far - a pensioner couple who prove that it's not just young people who can raise their voices on climate issues.
It is a bitterly cold morning when I arrive at Patrick and Kathie Davey's home in Shankill, Co Dublin.
I had wondered whether we should postpone our interview because of the icy weather.
But as I park my car on their driveway, 82-year-old Patrick is putting away a stepladder which he had used to attach banners to the telegraph pole outside the house.
'Shankill Action for a Green Earth' and 'Fridays For Future' now flutter in the breeze.
"I do this every Friday, unless we have had an incredibly late night," he jokes. "It's to raise awareness. There's good traffic on the road and they'll be up during the schooltime too. People do pay attention and it's one way of spreading the word."
At the front door, Kathie - who is a month shy of her 80th birthday - is surveying a selection of placards bearing messages relating to the climate crisis.
"This is my favourite," she tells me. "It says 'beep for climate justice', which is what's really important. And on the other side - 'beep for climate action.'"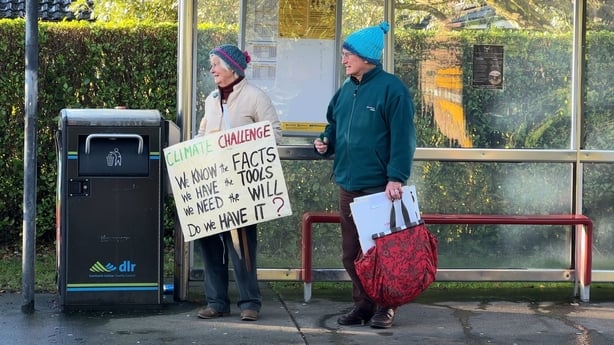 The placards are out because Patrick and Kathie will soon be heading out.
The couple are stalwart supporters of the student climate strikes which take place across the world every Friday.
They take a bus to Dublin city centre to join a small group of protesters outside the Dáil.
Schoolchildren, college students, teachers, parents, and other concerned citizens have gathered to raise their voices and demand urgent climate action.
"There's always a group here," Patrick explains. "In fact, in the first week of December, we marked the fourth anniversary of the first Friday protest on Kildare Street. We've been here continuously, except for when we were not allowed outside of the house due to Covid."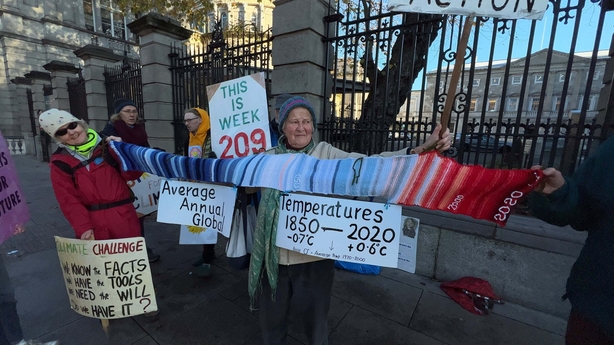 Having lived in Uganda from 2003 to 2007 and seen at first-hand the plight of those already living with the consequences of climate breakdown there, the couple felt compelled to act.
"Really, it seemed very important. We have to treat it seriously. The climate crisis is not going to wait while we decide whether we are going to tackle it or not. It's happening all around us," Kathie says, waving her placard in the air.
"I'm trying to catch the eyes of the drivers who are passing by, so that they beep to show they identify with the need for action to be taken on matters of climate justice. It's unfair that we have it all fine so far," she says.
"It's certainly not fine for the people who are the sharp end of climate change. In Africa, they see their flocks dying, their seed washed away or drying out in drought. It is disastrous and we need to put pressure on our politicians to take it seriously. We can't keep trashing the world and using it unfairly."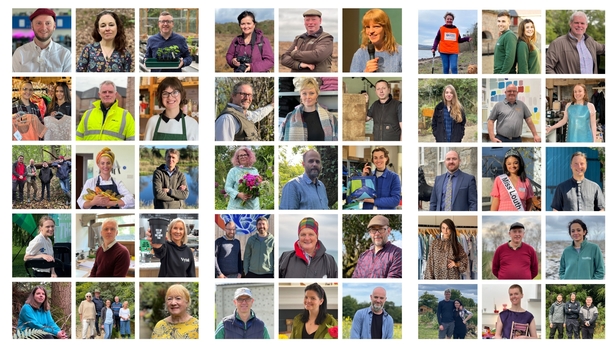 In 2019, Ireland became only the second country in the world to declare a climate and biodiversity emergency.
Ministers are due to discuss the revised Climate Action Plan next week.
Clutching a placard which shows the 'climate stripes' visualisation devised by British climatologist Ed Hawkins, Patrick tells me greater action is needed to protect a future he will never see.
"This really does matter a great deal to us. I'm 82 now, so the climate crisis is not really going to affect me that much. But it will affect my children and it will certainly affect my grandchildren. What sort of life are we going to leave for them?"
It is two o'clock now and the weekly protest is drawing to a close.
Tucking their placards under their arms, Patrick and Kathie say their goodbyes and head to their bus stop.
Of course, they will be back. The future of the planet is at stake.
Thank you to all 50 'Climate Heroes' who featured in the series this year. We will feature more of your stories in the new year.