When international protection applicants living in tents in Clare heard that others in similar situation were being moved, Ali* said they were initially hopeful that they would soon be next.
He is one of 104 men seeking refuge in Ireland who, in September, moved into tented accommodation erected beside the direct provision centre in Knockalisheen in Co Clare, around 15 minutes outside of Limerick city.
Some three months later, Ali told RTÉ News that they have heard nothing about any plans to move them, and they are growing increasingly concerned as sub-zero temperatures set in.
"We saw the news that they were moving the other people in tents. When we asked (when we will move), they say "we don't know, maybe it could be a year, it could be tomorrow" but we don't know nothing," Ali said.
This year, amid accommodation shortages, three tented facilities were opened to accommodate international protection applicants
The one at Knockalisheen is the only one that has not seen anyone moved out yet.
In mid-November, 40 people were moved out of a tent erected at Johnston Marina in Tralee in Co Kerry after spending more than 15 weeks there.
Last month, the Department of Children, Equality, Disability, Integration and Youth also began moving people out of the tented facility at Lissywollen in Athlone in Co Westmeath.
They had been there since September too.
Forty people were moved out in November, and around 100 were moved out earlier this week.
Eigheen people are still there.
A Department spokesperson said that "the remainder are prioritised to move by the end of this week".
With no word on their fate, Ali said he has gone from feeling hopeful to hopeless.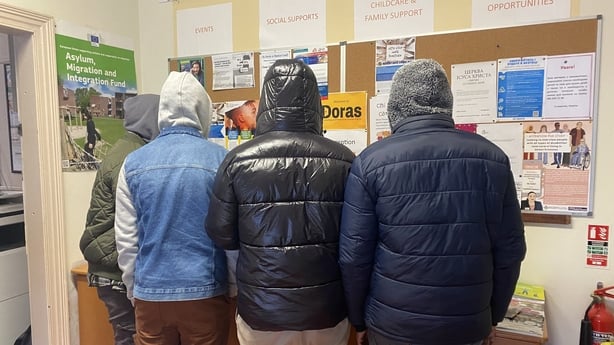 "We just want a normal place [to stay], one that has a better heater," he said.
Even before the recent cold snap, Ali said those in Knockalisheen found it difficult to sleep in the tents.
"You can't have privacy, you always have eight people in the same place, so sometimes you can't sleep, some of us take sleeping pills, so it's very difficult," he added.
Mikey* showed footage that he filmed on his phone this morning.
It shows frost covered grass in front of the tent, and as he walked around filming it you can hear him mutter "it's freezing".
When asked what it is like inside the tent, he said: "It's just too cold, you wouldn't want your worst enemy to live there, its kind of horrible."
Toilet facilities and showers are located outside the tents.
"When you try to go out and go to the bathroom at night, you have to walk a few meters [to get to it], and its freezing," Mikey said.
Ali and Mikey are part of a group of around eight international protection applicants living in the tents who met me in the offices of Migrant Support Group Doras in Limerick City.
"They are helping us ... sometimes we come here to get warm," Ali said.
Many of the residents found it simply too cold to stay in the tents over the last two nights.
In an action some describe as a protest, and other speak of as simply self-preservation, a group slept on the floor and on couches in the direct provision centre.
"You're just trying to get some warmth in. There's good heaters there so you just stay for the warmth at night and in the morning you go back." Mikey said.
Aris* tells me that he spent two months in the Citywest transit hub where he slept on chairs and on the floor before he was moved to the tents in Clare.
He described Citywest as crowded and while "it wasn't good", he understood that this was the beginning of his process in applying for international protection in Ireland and "you have to start somewhere".
When he found out he was moving to Clare he said he did not know where he was going.
On discovering he was moving into a tent with seven other people, he said that he understood that this was an emergency measure "because of an influx of refugees and immigrants".
"Because of the pressure on the Government, everybody tried to understand but with the hope that this will last for maybe two, three weeks but not to the extent that it would take months," Aris explained.
"The tent is affecting me mentally. My state of mind should be considered. I am speaking for myself, but I know this is affecting everybody," he added.
Department officials have described moving people out of tents as "a top priority" and today a spokesperson confirmed that "tented accommodation will cease to operate once the current residents [in Athlone and Knockalisheen] are all re-accommodated".
But getting to this point is taking longer than the Department has planned.
The first 20 international protection applicants to leave the Athlone tented facility were moved on 18 November.
That day a Department spokesperson told RTÉ News that "the remaining residents [in tented accommodation in Athlone] will be prioritised for moves over the coming week, as will residents of the tented accommodation in Knockalisheen."
However, that plan stalled, and the majority of those who left tented accommodation in Athlone were only moved this week.
RTÉ understands that the old ESB building in East Wall in Dublin was to play a significant role in accommodating many of those who had been living in tents in both Athlone and Knockalisheen since September.
However, to date a relatively small number group who left Athlone have been accommodated there. Most have been accommodated elsewhere.
There are ongoing protests in the area over using the building to house international protection applicants, with protesters citing concerns about a lack of consultation and objections to single men being accommodated there.
The group said they were not worried about how they might be received elsewhere.
Instead, their main pre-occupation was simply getting out of the tents as soon as possible, to somewhere warmer, to somewhere indoors.
Ali did have some thoughts on it though.
"People have a right to protest. We just need to tell (them) that we are not an enemy, we are just (a) friend... as a refugee, we have to show them that we are not an enemy, we're an ally."
---
Names of contributors to this report have been changed to protect their anonymity