"Look, energy isn't cheap anymore - we just have to get savvy."
So says Professor Aoife Foley, an energy systems expert working in Queen's University Belfast, who spoke to RTÉ's Agriculture and Consumer Affairs Correspondent Joe Mag Raollaigh about ways to save energy as costs soar, temperatures outside drop and Christmas approaches.
Professor Foley carried out some analysis for the Government's ongoing Reduce Your Use campaign which is included in the booklet on saving energy that is being sent to the country's two million households.
As more and more people find themselves in energy poverty, spending more than 10% of net income on energy, tips for savings can be money in the bank.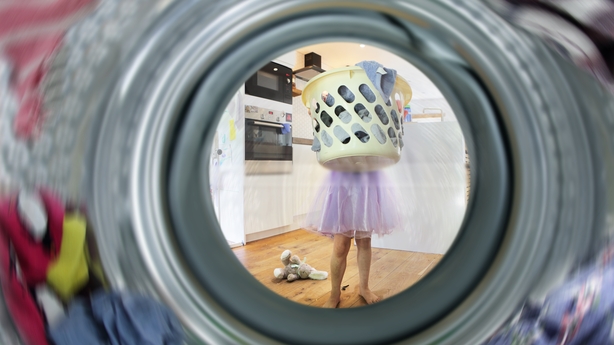 Clothes washing and drying
It is something everyone has to do, but washing clothes and trying to get them dry in these cold temperatures is a challenge.
Professor Foley suggests it can be all be made cheaper by watching the washing machine temperature and spinning your clothes more than once.
"Are you washing at 30, 40 of 50 degrees? Ask yourself do you need those high temperatures?," she said.
"Washing at higher temperatures, clothes won't last as long."
She says a second spin of the clothes will shorten drying times.
"If you put on a second spin what you are doing is taking more water out, so less time in the tumble dryer," she said.
"Anything that creates a lot of heat is costly and you are wasting the energy that is creating heat to dry clothes."
She is also an advocate of air drying by hanging outside or on a clothes horse in an airy room.
"Obviously if you can put your clothes on the line it reduces your bill which is the most important thing in the cash strapped society we are living in at the moment," Professor Foley said.
"Do you have a clothes horse that you could put in a empty bathroom where you can crack open the window?"
We need your consent to load this rte-player contentWe use rte-player to manage extra content that can set cookies on your device and collect data about your activity. Please review their details and accept them to load the content.Manage Preferences
Dishwashing
When it comes to washing dishes, most homes probably now use dishwashers and Professor Foley says it should always operate in eco mode.
"Usually, eco mode is the most environmentally friendly and most efficient," she said.
"Check your machine manual and see if it has an eco mode or if you can bring down the temperature."
She says you can also shorten the dishwasher cycle and save on the machine drying the dishes with heat.
"Another thing you can do is open the door after the wash and rinse cycle and before the drying cycle comes on," she said.
"The drying cycle heats hot air to dry your cutlery and pots and pans but they can dry naturally in the air.
"By avoiding it you are using less electricity, shortening the cycle and reducing your bill.
"Don't forget to press cancel after you open the door as the cycle will continue when you close the door."
Air fryer vs oven
Using an oven for small batches of food make no sense, as a lot of energy is required to heat it up and cook.
"For small batches of food, if the kids are coming in from school or it's a Saturday and you're throwing on some nuggets or sausages, use your air fryer " says Professor Foley.
"If you are doing a large roast with vegetables and you're roasting potatoes you would use your oven."
She also suggests a neat trick to shorten the length of time needed in the oven.
"Put your microwave on a lower heat and put the food in there for a bit of a blitz and then finish off in the oven to give them that roasty tasty feeling," Professor Foley said.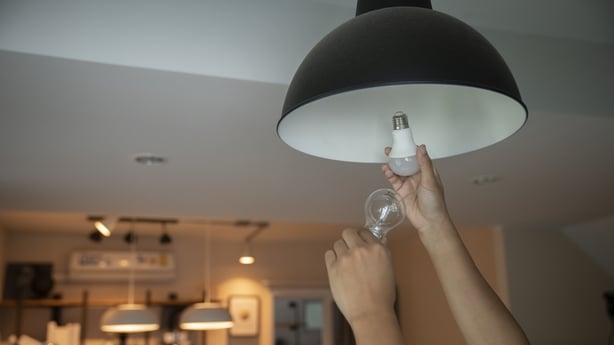 Lighting/heating
Other tips from the energy professor will save energy across an array of areas.
"You could be saving 50, 60 or 70% with LED bulbs," Professor Foley said.
"LED lighting costs nine or ten cents for seven hours. They are a good investment.
"Another thing people can consider is putting plugs on timers. When you want a light on for coming home you can have it on a timer, so it comes on and off."
She also advocates lowering the temperature of the heating.
"When you reduce your heating by one degree you reduce you bill by about 10%," she said.
"Know your zones in your home because if you can set them at different temperatures that is a really good way to reduce bills.
"Your living area, your main room, you can hold at 19 to 21 degrees Celsius. You can set your bedrooms at about 18 degrees because what happens is when you go to bed you are warm."
Radiators also need to be checked, turned off in rooms that are not in use and the boiler needs to be serviced once a year.
Christmas lights
But what about the Christmas lights? Will they end up as an expensive add on to already inflated bills?
"Well if you have the new modern LED lights, they are very, very cheap to run in comparison to the old filament incandescent type bulbs," Professor Foley said.
"They are more expensive, up to five times more expensive.
"You can keep the Christmas lights on but try to avoid peak hours and turn them off before you go to bed at night. Some lights you can leave on all night but why would you?"