Fr Peter McVerry has been recognised for his pioneering work in social justice activism at an awards ceremony at Mary Immaculate College in Limerick.
President Michael D Higgins presented him with the college's highest honour, the McAuley Medal, saying he had transformed the lives of some of the most vulnerable in our society.
The Peter McVerry Trust supported 178 people experiencing homelessness in Limerick last year.
The son of a doctor from Newry in Co Down, he become a Jesuit priest and pioneer of the marginalised and homeless.
Despite current figures rising above 11,000, he still insists that eradication of homelessness is possible and says all people are defined by the right to dignity.
Speaking in Limerick, he said: "We've never had so many homeless people. When I started there were about 1,000 homeless people in Ireland. Now there's over 11,000 which is not much of a success rate for me but we've seen lives turned around because of the work we do.
"Because of the stability we've been able to give some people in long-term accommodation and because of the options to overcome an addiction that we offer to people.
"I've seen those lives totally turned around, from people who were out of their minds on substances, who are now making their way in life in a very constructive way."
Fr McVerry spoke of proposals put forward by his charity.
"If every local authority brought empty buildings back into use like Waterford did there would be 1,500 extra units of accommodation every single year.
"We have about 25,000 Airbnbs most of them are not registered and don't require planning permission. I would make it illegal to advertise an Airbnb if you're not registered.
"That could bring 10,000 to 15,000 units back into residential use.
"We are asking for a ban on evictions to be extended for two to three years, But the Government have introduced a very limited ban just till the end of March. I think there are things we would like to see done but are not happening."
Presenting the medal, President Higgins said: "Through his work to tackle homelessness and the harm caused by substance misuse and social disadvantage, Peter has made a vital difference to the lives of so many of the most vulnerable in our society."
President of Mary Immaculate College Prof Eugene Wall said Fr McVerry was an individual who had made a lasting difference in the lives of many young people and adults, offering them pathways out of homelessness.
The McAuley medal is the highest honour that can be bestowed by the college. It is named in memory of Catherine McAuley, the founder of the Sisters of Mercy.
There are 500 people working in the Peter McVerry Trust which advocates for the reuse of vacant and derelict property across the country as social housing.
Upcoming projects include the first phase of rapid build modular homes at Moyross and Southill in partnership with Limerick City and County Council.
President Higgins also officially opened an exhibition by the award-winning sculptor Imogen Stuart (below).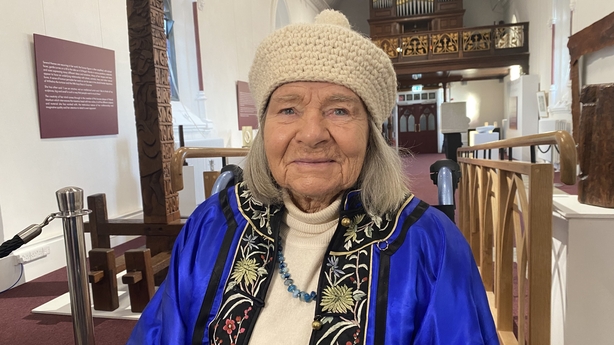 There are over 40 pieces featured by the 95-year-old artist who came here from Germany at the age of 24, leading to a lifelong love of the Irish landscape, Celtic and religious art.
"In Her Hands" is the first solo public exhibition by the artist in over 20 years and her biggest yet.
It will run at the recently renovated John Henry Newman Chapel on the Mary Immaculate campus until the end of January 2023.