Sixteen people and their outstanding acts of bravery have been honoured at a ceremony at Farmleigh in Dublin.
One Gold, five Silver, ten Bronze awards were presented by Ceann Comhairle Seán Ó Feargháil to people from all walks of life at the National Bravery Awards.
Michael Downes was awarded a silver medal for saving a boy who had fallen from his canoe in Old Head, Louisburgh, Co Mayo in 1974.
The boy had lost his paddle and was grabbing onto the side of the canoe panicking and shouting for help.
Mr Downes swam out and rescued the boy from the water.
Despite the rocks cutting him he managed to get the boy back to the safety of the pier.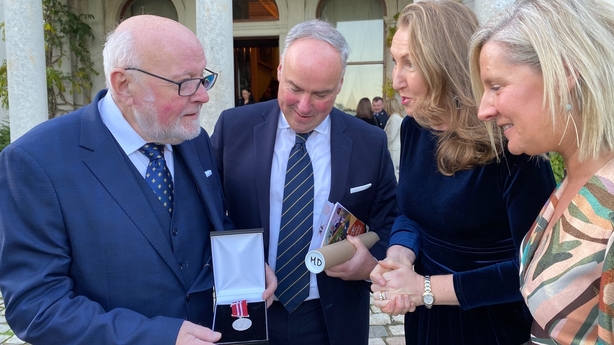 The courageous instincts of other heroes were celebrated too.
Kevin Burr received the gold for saving a woman from Lough Foyle, Co Donegal after the car she was in skidded off the road during Storm Ellen in 2020.
The waves were washing over her and she was in danger of being washed from the vehicle.
Mr Burr sprung into action and held onto the woman until emergency services arrived.
The woman's husband and two children, who had also been in the car, died in the incident.
The awards were founded 75 years ago in 1947, so the State can recognise exceptional acts of bravery where people put their own lives on the line to save others.
Micheál Bourke and Katie Butler-Haughney were among the other real-life heroes in the spotlight today.
They were aged nine and 14 when their actions saved their two-year-old brother who had fallen into a waterhole after heavy snowfall in February 2020.
The toddler was blue and lifeless and was carried into the house where his mother started doing compressions.
The little boy was lifted by helicopter to Limerick Regional Hospital, where he eventually made a full recovery.
Rosaleen Feeney from Co Mayo, who saved an elderly man from a burning house, was also recognised today for her outstanding bravery.
Ms Feeney, who was the man's emergency contact, smashed the window and pulled him through it, burning her hand in the process.
The man's clothes had started to burn and he was treated by an ambulance crew and then moved to Mayo University Hospital.
Gardaí Ciarán Murray and Brendan Crawford, who helped rescue a woman from the River Camac two years ago, were also honoured.
We need your consent to load this rte-player contentWe use rte-player to manage extra content that can set cookies on your device and collect data about your activity. Please review their details and accept them to load the content.Manage Preferences
The woman's dog had fallen into the water, pulling her in also, and both were swept into a tunnel that ran under the M50.
Mr Murray and Mr Crawford took ropes from their car and entered the water, rescuing both the woman and her dog.
Speaking to RTÉ's News at One, Gda Murray said they were just two minutes away from the scene when they received the call.
In 2020, Garda Brendan Crawford and Garda Ciaran Murray responded to cries of help from a woman and her dog who had been swept into a culvert under the M50.

They reached the woman, about 50ft into the tunnel and eventually brought both to safety.#BraveryAwards pic.twitter.com/4uMFUXRhNt

— Garda Info (@gardainfo) November 18, 2022
He said he and Gda Crawford jumped into the water with ropes wrapped around themselves.
"Everything went out the window, you just have to react," he said, adding that while it was very dark in the tunnel, they could hear the woman screaming for help.
"She said she didn't want to die, she was extremely worried," he said. "We tried to calm her down as we slowly went down the tunnel."
He said the woman was struggling to stay afloat as she tried to save her dog, but they were able to rescue both.
He said there had been flooding in the area that week, meaning the current was strong.
He also praised the woman's family for reacting so fast and phoning for help.
"Thankfully everything went right," he said. "The little things that went right could have so easily went wrong."
Mr Murray said that while he did not join An Garda Síochána to get medals or certificates, it "is nice to be acknowledged".