A reconstruction of an early medieval roundhouse is nearing completion on the grounds of University College Dublin (UCD).
The roundhouse, measuring some six metres in diameter, is built of hazel post and wattle and has been thatched in oaten straw.
The build is part of an ongoing research project by the UCD Centre for Experimental Archaeology and Material Culture (CEAMC) and replaces a similarly unique structure destroyed by vandals in 2019.
Professor Aidan O'Sullivan said: "We are reconstructing an early medieval roundhouse based on archaeological excavations at Deer Park Farms in County Antrim.
"What we are trying to see is how would you build it, in terms of its architectural form. And then once you've built it, what would it be like to live in it, in terms of heat, smoke and light and so on.
"So, we are trying to recreate the living conditions and architecture of a thousand years ago."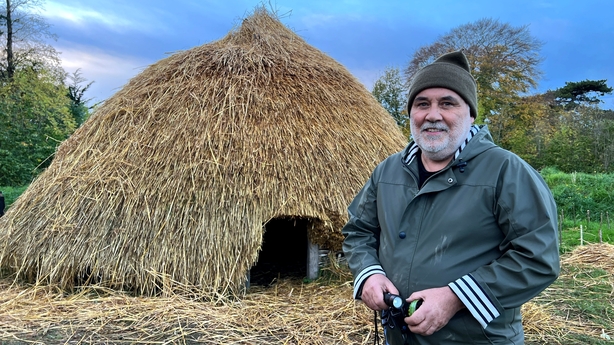 The interior of the roundhouse resembles a large, inverted domed basket.
Over the past fortnight, thatcher Jimmy Lenehan has been layering and pinning down the straw roof.
"The excavations showed there was a lot of oats grown in the area at the time. So that's why we are using oaten straw," he said.
"I'm creating layers, bringing each layer up a full circumference of the roof. You just have to make sure the thatch stays on and it's on at the right pitch. It's just like being a hairy house hairdresser, really!"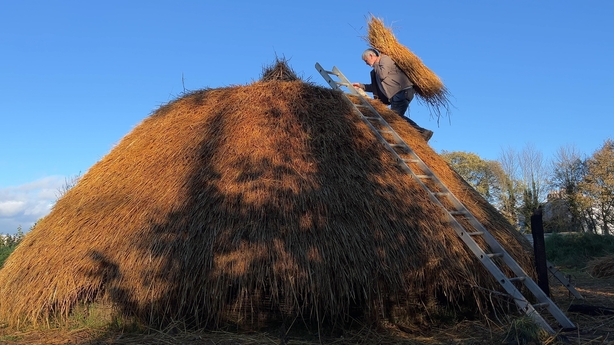 The roundhouse is one of the only such experimental archaeology projects on any university campus in the world.
"In our experience, our students learn by doing, using all their senses," Professor O'Sullivan explained.
"The physicality of these buildings can provoke us to ask questions which we wouldn't otherwise have thought of. They can make us think about the past in new ways.
"And for students, this is a far better educational experience than reading about it in a book or looking at a photograph. For many of them, their main educational experience in the last two years has been through screens. And that's fine.
"But here we have students engaging with practical issues, dealing with problems as they arise, understanding how technologies work, and learning from each other. It's very different."
Evidence of that can found a stone's throw away from the roundhouse.
A group of students are working on carvings inspired by early medieval cross slabs.
US student Rachael Knutson said: "I love it. You learn more my getting your hands dirty and not just sitting behind a computer."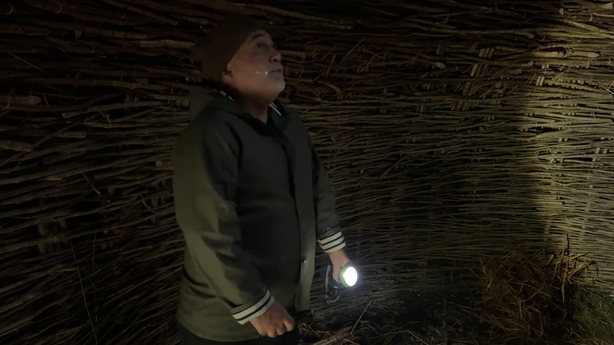 The roundhouse is bigger than the previous one destroyed by fire in May 2019.
It will be used by UCD undergraduate and postgraduate students from a number of disciplines to investigate early medieval living conditions and to create a better understanding of traditional architecture of this type.
"Once it's thatched, we are going to furnish it. There will be a fireplace or a hearth, beds and benches - everything that the archaeological evidence points towards how these buildings were used in the 8th and 9th centuries," said Professor O'Sullivan.