Northern Ireland Secretary Chris Heaton-Harris has confirmed he will be calling an Assembly election in Stormont, but he has not set a date.
Speaking this afternoon, Mr Heaton-Harris said that he did not have to call an election immediately, adding that he will announce further details next week.
He said he had "limited options" ahead of him, saying he was under a legal duty to call an election within 12 weeks.
Mr Heaton-Harris said he would continue to hold talks with Stormont parties, adding that he will take "limited but necessary steps" to ensure that public services run in the north.
He denied he was doing a U-turn over a pre-Christmas election
The secretary had previously said he would call one immediately after last night's deadline for a restoration of the Executive, which passed at midnight.
"I do not have to call an election immediately, I've listened to the party leaders, I'm going to talk to them all again next week, but I will be calling an election," he said.
"I am deeply disappointed that we are where we are now," he said.
"I've just met with Virginia McVeigh, who is the chief legal officer for Northern Ireland. We discussed issues around the operational concerns that she wants to make sure are addressed as we move forward.
Northern Ireland Secretary Chris Heaton-Harris has said he will be calling an Assembly election, but has not set a date. He ruled out considering joint authority, saying it is not allowed for under the Good Friday Agreement | https://t.co/yUpcteKaxC pic.twitter.com/Y1gi69Tslo

— RTÉ News (@rtenews) October 28, 2022
He added: "This is a really serious situation. As of a minute past midnight last night there are no longer ministers in office in the Northern Ireland Executive. Now I will take limited but necessary steps to ensure that public services continue to run and to protect the public finances, but there's a limit to what the Secretary of State can do in these circumstances.
"I also want to address those who talked about joint authority. It is something that we simply will not consider because it's not based on the consent mechanism that is threaded through the Good Friday agreement.
"So we are where we are. I have limited options ahead of me, I'm under a legal duty to call an election within 12 weeks. I've had lots and lots of talks with the parties and will continue to do so.
"I hear it when parties say they really do not want an election at all. But nearly all of them, the parties, signed up to the rules, the law that means I need to call an election."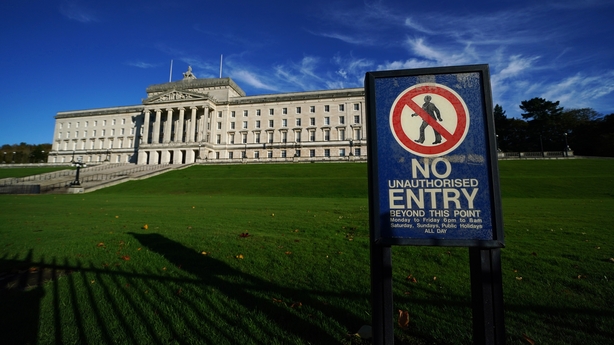 Deadline to elect speaker passes
The opportunity to appoint ministers passed at 12.01am. It followed a day of fractious debate at Parliament Buildings as politicians made one final attempt to stave off an election.
They failed to elect an Assembly speaker, effectively preventing any other business from being conducted, including the election of a First and Deputy First Minister.
The debate was described by one MLA as like a "wake for power-sharing".
Sinn Féin's Michelle O'Neill accused Mr Heaton-Harris of a "u-turn", after he failed to name a date for an election despite promising to call one.
Speaking in Belfast, she said that people in Northern Ireland are now "left in limbo".
"Today, he is doing a bizarre u-turn, one of which he obviously communicated to the media in advance of speaking to the local parties, from my understanding at least.
"I think just think it is bizarre, it reflects the chaotic nature of the Tories, it is more dysfunction, it is spilling into our politics. But you see for the workers and families tonight and the businesses that are struggling, the people here that are left without an Assembly, an Executive, there is not even a caretaker minister in place and we have a situation tonight where people just don't know what is going to happen next."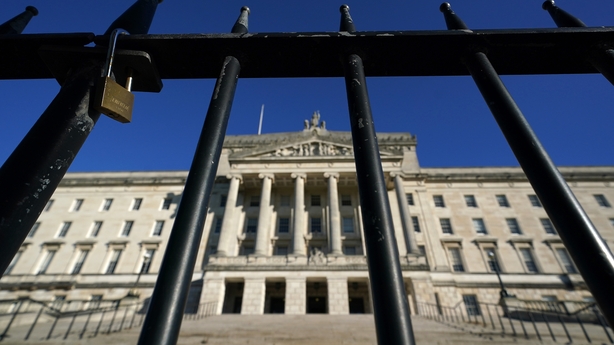 DUP leader Jeffrey Donaldson urged the British government to "focus" on getting a solution to the Northern Ireland Protocol.
He told reporters: "My message to the Secretary of State and to the government is clear. Rather than dithering over an election, what we need now is a focus on getting a solution that enables the restoration of the political institutions at Stormont.
Calling problems caused by the protocol "unacceptable", he said: "I want to see the government now turn its focus clearly to getting this sorted out and I think the people of Northern Ireland need to know now where we're going with this."
SDLP leader Colum Eastwood said Mr Heaton-Harris must drop the idea of an election and focus on restoring the Stormont institutions.
He said the secretary's failure to outline details of an Assembly election should be "the end of the idea".
"The only thing proposing an early election achieved was prompting anger from the public who want politicians dealing with issues like the cost of living emergency and our crumbling health service, not knocking on their doors," he said.
"What we really need is renewed negotiations between the British government and the EU to solve the small number of outstanding issues around the protocol, while protecting the huge economic benefits, so they we can get the institutions up and running again.
"Local ministers taking decisions on behalf of local people is the best way to address the multiple crises facing people here."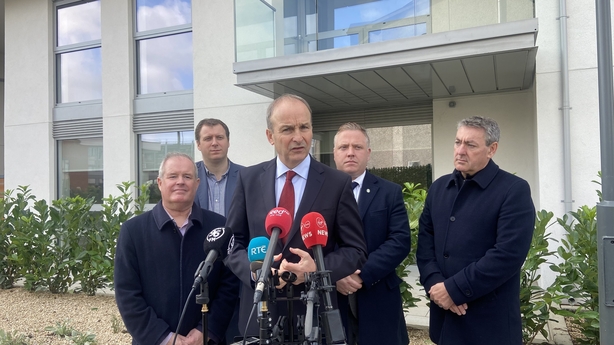 Speaking in Cork this afternoon, the Taoiseach said the key issue in Northern Ireland was the restoration of the Executive and the Assembly.
Micheál Martin said it is the Government's view that the restoration of the institutions in Northern Ireland must remain the priority of the political parties there.
Mr Martin said it was regrettable that the Democratic Unionist Party did not take its seats and facilitate the formation of an Executive.
"The law does provide for an election - I acknowledge that. But we know what elections can do," Mr Martin said.
"They can lead to further polarisation. There is an obligation on everybody not to allow that to happen."
Reacting to reports that the British Government had rejected suggestions of joint authority for Northern Ireland in the absence of an executive there, Mr Martin insisted that the Irish Government had a role to play and that this was provided for under the Good Friday Agreement.
"The Good Friday Agreement is there in terms of the framework and both governments will operate within the framework of the Good Friday Agreement," he said.
"That does involve consultation between the Irish Government and the British government if there is any prolonged period of direct rule or no devolution, so to speak.
"Fundamentally, it is the restoration of the Executive and the institutions that matter most now, in the immediate sense, and I think we will all work within the framework of the agreement."
'Deeply regrettable'
The Minister for Foreign Affairs has said it is "deeply regrettable" that it has come to the point where the Secretary of State is under a legal obligation to call an election.
Simon Coveney said the situation "is due to a political choice by one party to block the formation of the Executive, and to prevent those MLAs elected in May from exercising their fundamental democratic role".
He said the Government wants to see an Executive formed.
"My position, and that of the Irish Government, remains unchanged. I want to see an Executive formed in Northern Ireland and, separately, I want to see early substantive progress in the EU-UK talks.
"I spoke with the Secretary of State yesterday. We were in contact again today and will remain in close contact."
Deep division
None of the parties want an election and say it will only deepen division and make accommodation more difficult.
The DUP is refusing to re-enter power-sharing until its concerns over the Northern Ireland Protocol are addressed.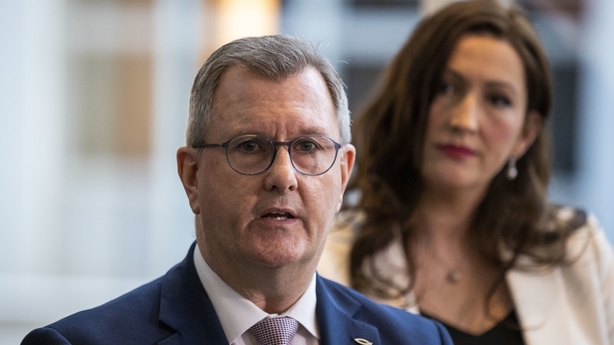 Party leader Jeffrey Donaldson has insisted it is the fault of the UK government that devolved government in Northern Ireland is not functioning.
He said the government could have extended the six-month period but has chosen not to.
Speaking on BBC Radio Ulster, he said: "We've had six months in which to do something about the protocol, and during those six months we have had three prime ministers, we have had the government changed often and we haven't seen the progress that is needed.
"I think the government would be within its rights to say given that those six months have elapsed and progress hasn't been made that we need a further period to sort this out, get a solution on the protocol that restores Northern Ireland's place within the UK internal market and that will see the institutions restored immediately."
Additional reporting: Conor Macauley, Paschal Sheehy, PA