A 24-year-old LGBT Afghan woman who is living in Ireland has joined calls to request visa waivers from the Irish Government for citizens at high risk of persecution from the Taliban.
It is about a year since Basira arrived in Ireland having left her homeland due to the risk to her life.
Even before the Taliban's return to power, Afghanistan was never considered a safe space for LGBT people.
In 2018, the government of then-President Ashraf Ghani passed a law that explicitly criminalised same-sex sexual relations, and the previous penal code included vague language widely interpreted as making same-sex relations a criminal offence.
At that point, only a few people knew Basira's sexuality, but in those cases, she decided not to reveal her real name to the majority of them for security reasons.
We need your consent to load this rte-player contentWe use rte-player to manage extra content that can set cookies on your device and collect data about your activity. Please review their details and accept them to load the content.Manage Preferences
She describes the three months she was living under Taliban rule as "a nightmare which happened in a blink of eye".
"The three months was like a century like 100 years because every second there was the hopelessness, the depression, the fear," she said.
Basira finally made the decision to leave Afghanistan after information about her sexuality had been leaked.
"It really made problem for me. I received many calls from unknown numbers. That's why I changed my number, but still they found a way to reach me," she said.
"So that's why it was the reason to leave Afghanistan. However, my heart and soul couldn't leave Afghanistan for one year.
"Nowadays I am trying my best to accept that I have left Afghanistan and I am in second home."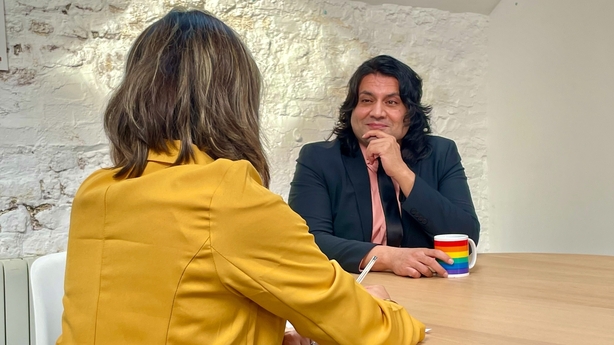 She tries to speak to her family around three times a week, but there are often connection issues. She says that she is worried about them every day.
While Basira says there are people she knows in Afghanistan who support the Taliban just for their own safety, she also says there are members of the Afghan diaspora who openly support them, despite not living directly under their rule.
She says that, in particular, leaves her feeling scared for the country's future.
However, Basira says she is grateful to both the refugee system and the people of Ireland for making her feel safe in her new home.
Families and neighbours turn on each other
In 2014, activist and novelist Nemat Sadat was deemed a threat to national security in Afghanistan after he began campaigning for LGBT rights. He lost his job and, for his own safety, moved to America.
Since the Taliban's return to power in 2021, many gay and lesbian Afghan citizens see Mr Sadat as their only hope for escape.
Through his human rights organisation Roshaniya, Mr Sadat says more than a thousand people have contacted him pleading for ways they can escape the militia's rule.
"The messages are those of great despair. 'Please get me out. I have no way out. We are not even safe, because even our family members or relatives have joined forces with the Taliban'," Mr Sadat said.
"The Taliban comes into the rural areas and they go to the village's elders and say 'hand us over your LGBT people'.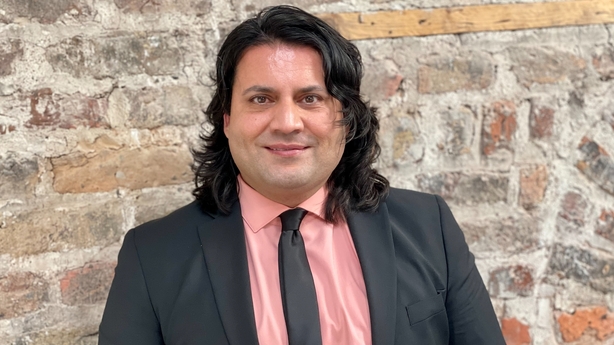 "And so, we cannot stop for the duration that the Taliban are in power. We have to make a commitment to provide asylum protect for the community."
He says that under the Taliban's regime, people are reporting their gay and lesbian family, friends and neighbours to the militia to gain social credit. He said that this has led to house searches, with many people abducted, tortured and killed - including family members of LGBT Afghans.
He adds that around a third of his list has already been tortured.
This tallies with a report by Human Rights Watch and OutRight Action International from earlier this year, in which LGBTQ Afghans described fleeing their homes, being attacked by family members and being gang-raped by Taliban members.
Most interviewees for the report believed their only path to safety was to relocate to a country with greater protections for the rights of LGBT people, but by that point, few LGBT Afghans escaping Afghanistan are known to have reached a safe country.
Irish response
Now, Mr Sadat, along with the organisation LGBT Ireland, is calling on the Irish Government to grant visas to three LGBT citizens every quarter.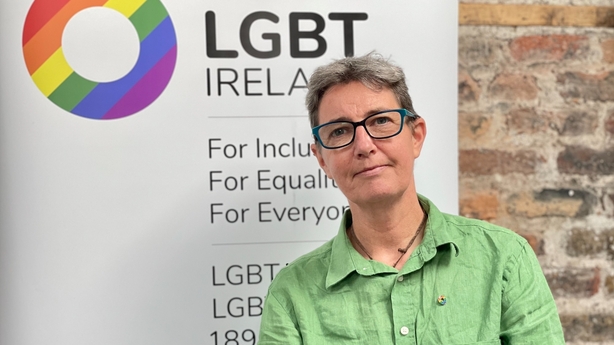 Collette O'Regan, Senior Training and Advocacy Coordinator with LGBT Ireland, says this number would be manageable, with sponsored housing by private individuals already volunteered.
"We're talking about creating a pathway whereby as we have host families ready, we can then approach the Government," she said.
"Some quarters, that may be three or four or five, others it may be seven or eight or nine, but we just want to have an ongoing agreed way of working together where when we are ready to receive, they are ready to issue a visa waiver."
Allowing visas would also mean Afghan citizens would not have to go through the Direct Provision system.
In October 2021, around two months since the Taliban's return to power, 27 gay and Trans Afghan refugees who arrived in Ireland, were accommodated by members of the public in their homes.
LBGT Ireland says that most of these lived with their hosts for around six to nine months, before moving to private rental, while others remain living with their hosts. The charity said it will continue to provide other support services, such as peer support and crisis counselling.
Since LGBT Ireland started working in the field of international protection in 2018, it has supported around 130 LGBT refugees though peer support and wraparound services, including mental health, legal and emergency assistance.
In a statement to RTÉ News, the Department of Justice said there has been a focus on processing applications for family reunification, which incorporates family members of Afghan nationals living in Ireland.
It adds that priority has been given to those working on human rights issues and that each application is assessed individually on its merits.
The assessment takes into account a region's laws relating to, and societal treatment, of individuals who identify as LGBT.