Former chancellor of the exchequer Rishi Sunak looks set to become the leader of the British Conservative Party today after Boris Johnson withdraws fromFt the contest.
Mr Sunak has well over the required 100 nominations while Penny Mordaunt, the only other candidate, trails with around 24.
Mr Johnson dramatically withdrew from the race for 10 Downing Street after admitting he cannot unite the warring Conservative Party.
The former prime minister said he had "reached out" to leadership rivals Mr Sunak and Ms Mordaunt to see if they could work together in the national interest, but it had not proved possible.
In a statement, he insisted he had secured the 100 nominations needed to get onto the ballot paper - and that if he stood there was a "very good chance" he would be back in Downing Street by the end of the week.
He went on: "But in the course of the last days I have sadly come to the conclusion that this would simply not be the right thing to do. You can't govern effectively unless you have a united party in parliament.
"And though I have reached out to both Rishi and Penny - because I hoped that we could come together in the national interest - we have sadly not been able to work out a way of doing this.
"Therefore I am afraid the best thing is that I do not allow my nomination to go forward and commit my support to whoever succeeds," he said.
We need your consent to load this rte-player contentWe use rte-player to manage extra content that can set cookies on your device and collect data about your activity. Please review their details and accept them to load the content.Manage Preferences
Earlier, Mr Sunak confirmed his leadership bid saying he had a "track record of delivery" and a "clear plan to fix the biggest problems we face".
"The United Kingdom is a great country but we face a profound economic crisis," he said on Twitter.
"That's why I am standing to be leader of the Conservative Party and your next prime minister."
Mr Sunak was defeated by Liz Truss in the race to replace Mr Johnson in September after losing an election held by members of the Conservative Party across the country.
Mr Sunak quit Mr Johnson's government in July, helping trigger a rebellion that bought him down.
Ms Mordaunt said she was a "halfway house" between Ms Truss and Mr Sunak in the last contest and that she could unite the party.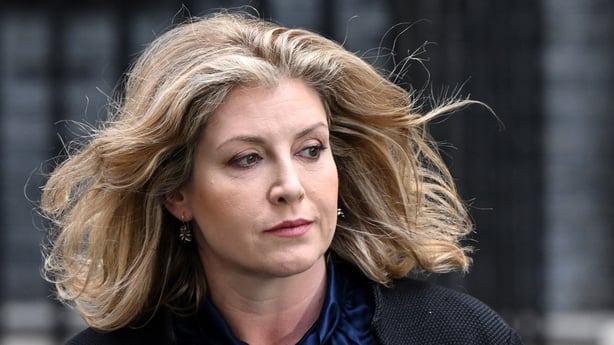 The Tory leadership candidate told the BBC's Sunday With Laura Kuenssberg programme: "I was a halfway house between Liz Truss and Rishi Sunak and I deeply regret that the debate now is about 'are you for stability or low taxes'.
"That's not the right construct. There are two sides of the same coin.
"You have to have stability in order to deliver low tax and you have to have low taxes in order to grow the economy and create that stability.
"That is what I am standing for. That is why I think I'm best placed to unite our party," she said.
Mr Johnson's potential return had divided opinion even among his allies in the parliamentary party, including his former deputy prime minister and foreign secretary Dominic Raab.
Mr Raab said "we cannot go backwards" and pointed out the ex-PM faces an investigation into his actions over partygate.
He backed Mr Sunak, saying he was "very confident" the former chancellor would stand.
Moments after Mr Johnson landed back in the UK yesterday, ex-home secretary Priti Patel said he had her support, but his potential bid suffered a setback as former close allies Steve Barclay and David Frost urged colleagues to back Mr Sunak.
The former prime minister won the support of six Cabinet ministers: Ben Wallace, Jacob Rees-Mogg, Simon Clarke, Chris Heaton-Harris, Alok Sharma and Anne-Marie Trevelyan. But his public endorsements fell far short of those for Mr Sunak.
Candidates have until 2pm on Monday to secure the 100 nominations, limiting the ballot to a maximum of three candidates.