"Now everything is shattered."
The words of a widow in Nepal, on the unexplained death of her husband, who had been working in Qatar.
Bhumisara* told Amnesty International that "life itself has become like a broken mirror … I have cried many times in emotion. Being alone is very difficult … I feel like I'm burning in oil."
There have been thousands of unexplained deaths of migrant workers in Qatar since it won the World Cup bid in 2010.
A Guardian investigation 18 months ago found that almost 6,800 people from India, Pakistan, Nepal, Bangladesh and Sri Lanka died during that time.
The International Labour Organisation has said Qatar is not adequately reporting worker deaths.
Without any investigation into the cause of their deaths, families receive no closure, and crucially, no compensation.
Amnesty International accepts that some of the deaths could be from natural causes, or indeed obvious workplace accidents, but it also blames Qatar's intense heat for hundreds of workers' deaths.
Qatar is a gas-rich emirate, with a population of around three million people, just one tenth of whom are Qataris.
Since 2010, it has embarked on a massive building programme, mostly in preparation for the World Cup.
In addition to the seven new stadiums, migrants have played a crucial role in building roads, public transport systems, an airport and even a new city to hold the World Cup final.
It is the first time the tournament is being held in the Middle East, and the first time it has had to be rescheduled to winter, to avoid Qatar's searingly hot summer.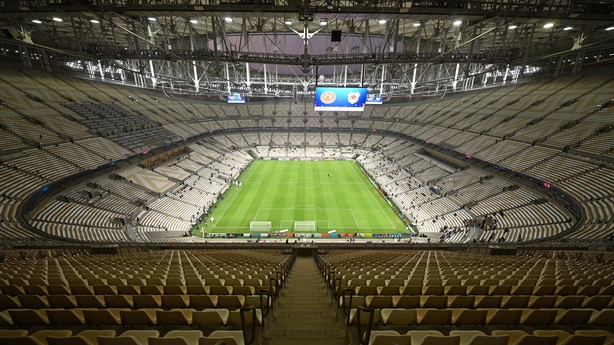 Now, less than one month out from the 2022 World Cup, Amnesty International has released its final pre-tournament briefing on migrant workers' conditions, entitled - Unfinished Business: Roadmap for Qatar.
The organisation admits that progress has been made, particularly in the past five years.
Head of economic and social justice for Amnesty International, Stephen Cockburn, said that improvements are welcome, but while new laws have been introduced, they are not enforced enough.
He said: "Since 2017, Qatar has admitted that there were big problems in the country. It agreed to overhaul its labour laws in partnership with the International Labor Organization.
"And in recent years, we've seen some key restrictions removed in Qatar, for example, before it was impossible for a worker to change job or to leave the country without the permission of their employer, which meant they were really trapped in abusive situations.
"Those restrictions have largely gone. There's been a new minimum wage and there's been a compensation fund set up for some types of abuses and some new health and safety legislation."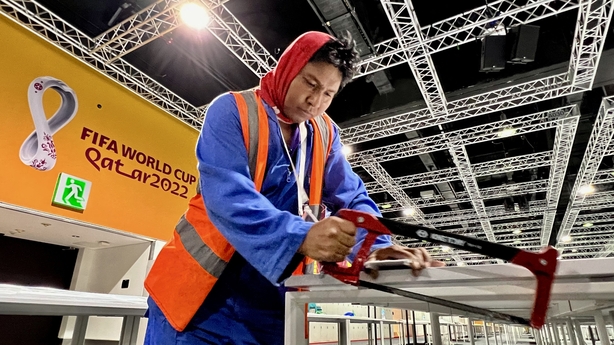 He added that there had been persistent abuse of migrant workers "on quite a large scale".
Amnesty International has been documenting workers' concerns for a decade and finds that abusive practices such as forced labour (where workers are not paid for all the hours they work) persist.
"It remains very common for security guards to work more hours than (those) paid for. To not have days off. To not have the choice about whether they have a day off as well and to be sanctioned if they request it and of course that remains common in many sectors," Mr Cockburn said.
He said it is a similar picture for domestic workers in the country "especially women living in people's homes face extremely long days and almost never have a day off".
Workers are often out-of-pocket before they even get to Qatar, having paid extortionate fees to recruitment companies in order to get a job there.
---
Read more: Qatar for the football, Dubai for the World Cup party
---
Fees ranging anywhere from €1,000 to €3,000 leave many workers needing months or years to repay the debt, trapping them in what Amnesty calls "cycles of exploitation".
Amnesty spoke to one private security worker, Joshua*, who left Qatar before his contract was up.
"It was unbearable to stay on in the company I was in due to the treatment and overload of work. In four months, you get just two days off. There's late salaries and too many fines deducted unnecessarily.
"The company has withheld my visa such that I can't go back (to Qatar) if I get a job with another company," he said.
Amnesty said that it's important that once the World Cup ends, the focus on workers' rights does not also end.
The organisation is calling for a €446m compensation fund for workers to be set up.
Mr Cockburn said: "We've been calling on FIFA and Qatar to set up a compensation fund at least to the level of the amount of money that would be paid to (the winning) team in the World Cup, which is $440m (€446m). It's not a small amount, but FIFA will make billions out of this tournament. So, the money is there, it can be done. It's about the will to do something, for the workers who made this tournament possible."
Aside from the extensive human rights abuses, the whiff of corruption has long clung to Qatar's bid to host the World Cup.
In April 2020, a US Justice Department indictment named two members of FIFA's executive committee - Nicolas Leoz and Ricardo Teixeira - alleging they accepted inducements to vote for Qatar ahead of the decisive vote in 2010.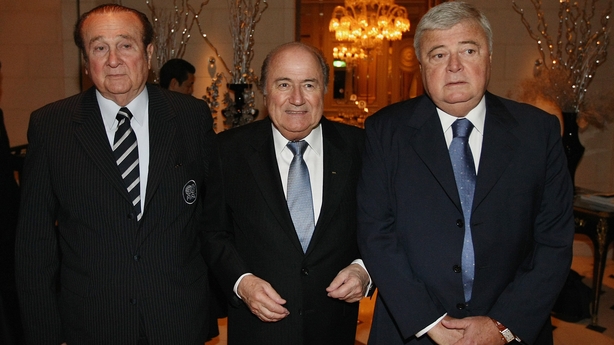 Qatar's World Cup organising committee issued a strenuous denial in relation to the bribery allegations, and no findings of corruption were ever proven in FIFA's decision.
The organising committee said: "Despite years of false claims, evidence has never been produced to demonstrate that Qatar won the rights to host the FIFA World Cup 2022 unethically or by means that contravened FIFA's strict bidding rules."
But many former FIFA executives have been implicated in or investigated over some form of bad practice or alleged corruption in the intervening years, eventually leading to root and branch reform of the organisation.
In the intervening years since Qatar won the bid, the focus, rightly, was on the conditions for migrant workers, but the country's wider human rights record has also been called into question. In particular, it's treatment of LGBT+ people.
Homosexuality is illegal in Qatar, and punishable with up to seven years in prison. The ruling Emir of Qatar, Tamim Bin Hamad Al Thani, tried to reassure visitors that they would not be discriminated against.
He said: "We will not stop anybody from coming, visiting and enjoying the football. But I want also everybody to come and understand and enjoy also the culture to see different cultures as well.
"We all live in one planet, but each of us have different cultures. We welcome everybody, but also we expect and we want people to respect our culture."
FIFA President, Gianni Infantino, went further, saying: "Everyone will be welcomed to the tournament, regardless of their origin, background, religion, gender, sexual orientation or nationality."
But gay fans are not convinced. Jim McElroy is a Bohemians supporter and a member of the LGBT+ committee, nicknamed "Gay Bohs". He is adamant he will not watch a minute of the World Cup.
"Personally, I'm looking forward to watching zero seconds of the World Cup, based largely on the fact that queer people in Qatar are subject to very chilling laws. Whether they are implemented generally or not, that includes seven years in prison.
"As a queer person myself, I feel I have a personal responsibility to show solidarity with queer people in a place such as Qatar. I feel that to watch a great game would bring a certain amount of enjoyment to me, but at the same time I'd be cognisant of the fact that there were queer people in that country who are suffering and that that aren't given the opportunity to be their true selves.
"Football as a sport is a sport for all, that has the power to unite ... it's a sport (anyone) can engage in," he said.
He believes the governing body, FIFA, should have ensured that the tournament was held in a country where everyone can participate.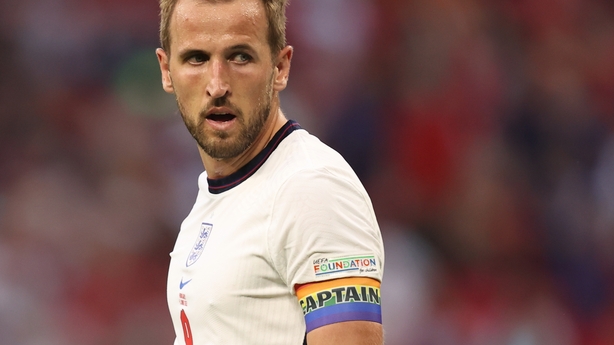 Asked about efforts to support LGBT rights, such as the decision by team captains to wear rainbow-themed armbands, does he think countries should have gone further and boycotted the tournament, Mr McElroy is magnanimous.
He said that he does not believe it is up to individual teams or even players to take a stand, considering the work involved in qualifying for the World Cup.
Mr McElroy said: "It's the pinnacle of most players' careers.
"The players and coaches and all those who are involved in a national team that's made it this far, it's an awful lot to ask them to take a step back and not to participate in an event which they've worked so hard for in their professional and personal lives.
"But hopefully the discussion around how tournaments like this could be hosted in the future will actually change how they are hosted, who gets them, who doesn't get them and then maybe something positive will come out of this World Cup."
* Bhumisara and Joshua have had their names changed to protect their identity.