Semenchuk Andrii's cat Musa shivers in his hands as he stands outside the Capuchin Day Centre. They've come to Ireland from Mariupol in Ukraine, which is now occupied by Russia.
Mr Andrii says that his home, which he bought four years ago, was destroyed in the conflict.
"He is looking for temporary protection in Ireland because he has no place to stay," Lily Orlovska, who works at the Capuchin Day Centre, translates.
He flew into Ireland yesterday and was taken to the Citywest transit hub. Once there he applied for and was given Temporary Protection.
Then he was told that there is no State provided accommodation available for him, or indeed for Musa.
He spent last night sleeping in Dublin Airport, and this morning he went to the Capuchin Day Centre for food and warmth.
Translating once again, Ms Orlovska says that "he doesn't know what to do, he doesn't know where to start with and he's just in despair".
Mr Andrii is one of 33 Ukranian refugees who arrived in Ireland this week and who were told yesterday there is no State-provided accommodation available for them.
The Minister for Children, Equality, Intergration, Disability and Youth Roderic O'Gorman said that the Citywest Transit hub is over capacity, and while accommodation will be found for women and children and the most vulnerable this weekend, other refugees and international protection applicants, i.e. single men, will not be offered anything in the coming days.
18-year-old Nazar Horlev fled from Kherson, which was occupied by Russian forces from almost the beginning of the conflict. It is also currently the scene of intense fighting.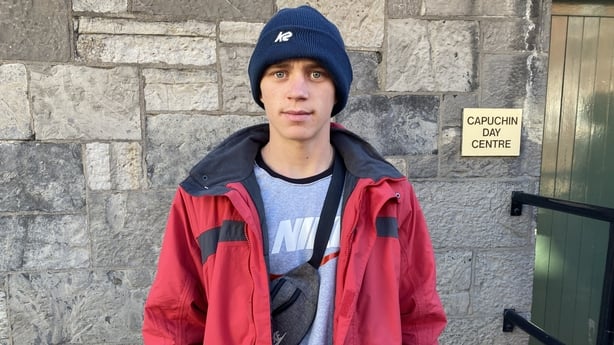 He arrived in Ireland two days ago and he too was brought to Citywest. There he spent his first night sleeping on chairs in the packed transit hub, he says, again with Ms Orlovska translating.
The next day he "filled out the paperwork" for his application for Temporary Protection, and then he said that he was told there was no accommodation available, and so he spent his second night in Ireland sleeping in the airport.
Mieshov Sherhii tells a similar story.
After he was told he must leave Citywest as there was no accommodation available for him, he said that he spent some time simply "walking along the streets" of Dublin.
"Finally, we got to the airport and slept in there," Mr Sherhii says with Ms Orlovska's help once again.
It's understood the whole group of more than a dozen Ukrainians who gathered outside the Capuchin Day Centre today, spent last night at the airport.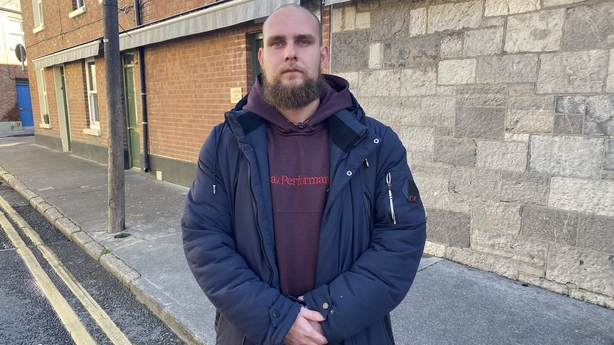 Each had a small bag or wheelie case carrying their belongings with them. Some didn't want to be identified, and most had little more than a few words of English.
Ms Orlovska, who is also Ukranian, is clearly emotional when she talks about seeing this group of effectively homeless refugees come to avail of the food and care services, which she and her team at the Capuchin Day Centre provide.
"You know it's not summertime, it's not warm, it's cold outside... and people find themselves in a different country with no English," Ms Orlavaska says.
This group was brought here by a fellow refugee, Sergey Chudaev.
Also from Kherson, he is currently involved in a charity project for his compatriots back home. When he heard of refugees sleeping in Dublin Airport, he also wanted to help.
"There are no volunteers, no help organised in the airport. People were hungry so that's why he decided to bring them here (to the Capuchin Day Centre)," Ms Olavaska translates.
Mr Chudaev said the group desperately needed more help "so they won't end up on the streets".
From Monday the Government and Dublin Airport are planning to open an interim accommodation facility at the airport, but currently the situation is an ad hoc one.
Minister Roderic O'Gorman said it was working with a number of NGOs to provide support to those people left without, and that's where the likes of the Capuchin Day Centre comes in.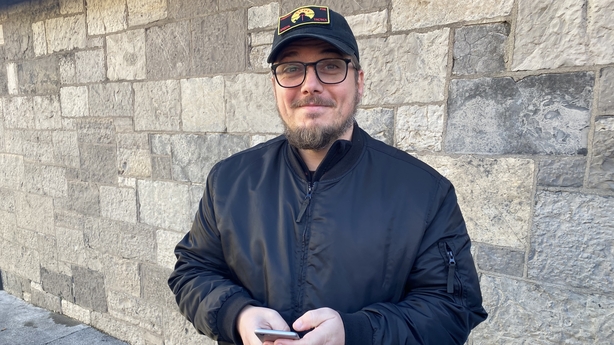 Alan Bailey manages the Centre which provides breakfast and lunch every day except for Sunday, as well as showers and medical services.
"The Department contacted us on Thursday afternoon and advised us to expect somewhere in the region of 40 Ukrainian refugees," Mr Bailey said.
This is on top of around 250 people it offers breakfast to six days a week, and over 500 people who avail of its lunch service.
"We had six (Ukrainian refugees) yesterday, but we had almost 30 this morning, we expect a big influx but as I say we are ready for them," Mr Bailey said.
When it is closed tomorrow, Merchants Quay Ireland is where Department Officials are suggesting homeless refugees and asylum seekers should go for food.
But these are day services. Nothing has been put in place to support them at night.
Those I spoke to have all returned to the airport this evening, unsure of what the coming days will bring.