Talk to people in Creeslough and they have to stop themselves to check what day it is.
That's because as funeral follows funeral at St Michael's Church in the heart of the village, the days have blended into one another.
A fog of grief has descended upon this community of some 400 people living between Muckish Mountain and the sea.
They're dazed, incredulous, exhausted. Seven days ago nothing was out of place here.
Then at 3.20pm last Friday the "neat, ordered and happy ways" of their lives, as a priest at a funeral put it, were "kicked over".
We need your consent to load this rte-player contentWe use rte-player to manage extra content that can set cookies on your device and collect data about your activity. Please review their details and accept them to load the content.Manage Preferences
Tragedy has been visited on Creeslough before. It was recalled during a requiem this week.
In 1925, a Lough Swilly train heading for Burtonport was blown off a viaduct in a storm.
Four people lost their lives. The details were held in the collective memory of the people here for almost 100 years.
It was only in 2021 that a commemorative stone was laid overlooking the spot.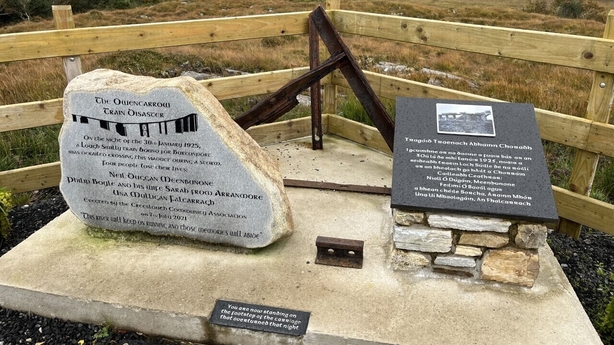 The lost souls that night were all travelling through.
And while some people killed in the blast last Friday are from outside Creeslough - here to visit a friend, or stopping at the roadside shop - the majority of the dead are of this small place.
Dr Paul Stewart is the village GP. He went to the scene on the day of the explosion.
Since, there's been a steady stream of people through his door seeking counselling for what they witnessed when they rushed from their homes to help.
He said the dead and injured were interconnected, friends and in some cases extended family members.
"We had ten fatalities and most of those are in families who are related to each other. So there really are five or six families who have lost close relatives or cousins and so on, it's that close a community," he said.
"I'm going round wakes and I'm meeting the same family members at different wakes. It's shocking really," he added.
"It's the randomness of this that's so difficult for people to take. There's no explanation of who was taken and who wasn't taken"
Counselling support will be critical to helping people recover from the enormity of what happened, he said.
Some want to speak now, others will want to wait and should be given the space to do so.
"We can't force this," he said. "It comes in its own time.
"It's the randomness of this that's so difficult for people to take. There's no explanation of who was taken and who wasn't taken. Any of us could have been taken and it's very hard to explain that.
"These guys were just going in to the local shop for a pint of milk. They went to work and they didn't come home. And that's very hard for relatives and neighbours to come to terms with."
Not only did the explosion rob the community of ten lives, but it means a vital village hub is gone now too.
In place of the shop, a blue metal shipping container has been placed near the church.
Local supermarkets from both sides of the border have donated essentials. Bread, milk, cereal, butter have arrived unsolicited by the vanload.
There's also been an international fundraising effort, which has drawn in hundreds of thousands of euro.
Head of fundraising with the Irish Red Cross Charlie Lamson said the charity hopes to have raised over €1 million for the community by the end of the day.
Speaking to RTÉ's Drivetime, Mr Lamson said the fund was at €906,000 as of this morning
"We're hoping by the end of the day that we will have crossed the million point, so the support has been unbelievable so far," he said, adding that the money will be used "at the discretion of the community".
"Just last night we met with the community association, with local community representatives and social welfare representatives up there to determine how best funds can be used," he said.
"The key areas that it can be used for are going to be first and foremost medical aid for people that are in hospital as a result of this, but of course also for bereaved people, people who have lost their homes or lost their livelihoods."
There will also be "indirect support" provided to the community.
"A key aspect of what the Red Cross does is we provide what we call psychological first aid, which is really trauma support for people, so again, we would be working with the community and offering to provide this type of support for anybody who needs it."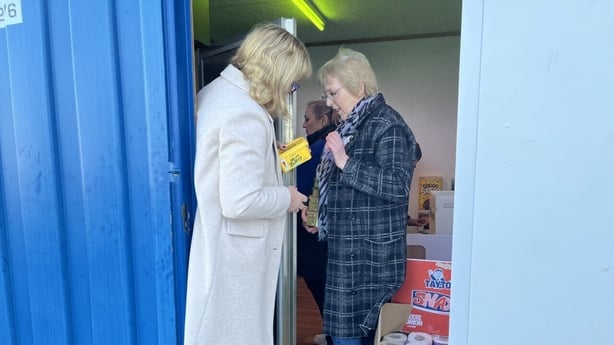 Mairead McGinley and Bernadette McFadden are stalwarts of the Creeslough Community Association.
Up until last week their focus has been the Tidy Towns and organising the Christmas lights, now they are facing a daunting task to try to upright the village they are proud to call home.
They have been helping with the food bank and they say that all kinds of offers have come in from all quarters.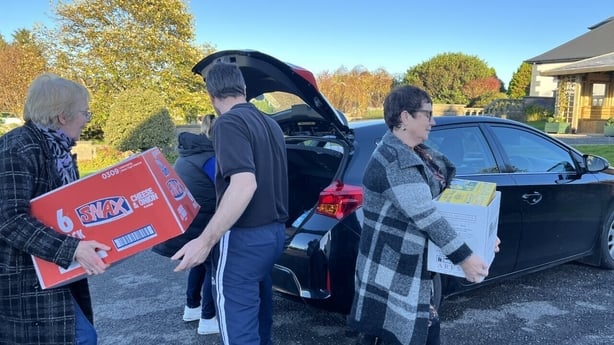 People have been making accommodation available to those travelling to funerals.
Taxi drivers from Derry have been transporting close family free of charge who are flying in to comfort relatives.
"We do have a great community here. Anything at all you ask for, they help us out."
And then there's the response of the people in the village, the coffee shops offering food in return for a donation to the appeal fund.
Local volunteers directing wake traffic on the web of narrow roads where the deceased lived. They know there's a long, slow road ahead.
Bernadette said it's only when the television cameras leave and the funerals are over that the reality will really sink in.
"For everybody this is really only starting. It's coming up to a time of year at Christmas too for families there's difficult times ahead, for everybody really, but we'll just rally round.
"We do have a great community here. Anything at all you ask for, they help us out," she said.
And Margaret does not think that Creeslough will come to be defined by this tragedy.
"She said: It's up to us all now from next week. It's all new territory for all of us and we know that it'll be slow, but I think there'll be the same commitment the same dedication.
"Certainly we'll be remembering the lives lost for ever and that'll not be forgotten, but we will build on it and grow and make it great again. Let's hope, let's hope."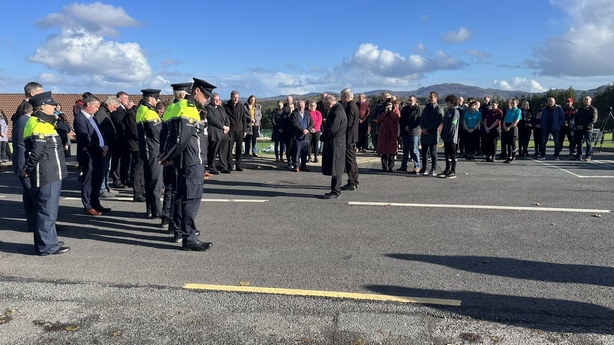 At 3.18pm, around 100 people gathered at the scene of the explosion one week on from the time of the blast.
They held a minute's silence and prayed for the ten people who died and those who were injured.
They were led in a short prayer service by Bishop Alan McGuckian of the Raphoe Diocese and by parish priest Fr John Joe Duffy.