Farmers seeking an increase of 2c per egg from supermarkets Lidl and Aldi are continuing to picket those stores' branches in Cavan town.
The pickets have been in place since Thursday and while shoppers can access the stores, the farmers have prevented supply lorries from resupplying the shops, leaving large areas of shelving inside empty.
The farmers want an immediate increase in the price they are getting for eggs and say their businesses are under severe threat due to their spiralling costs.
Empty shelves in Lidl Cavan as farmers seeking an extra 2c per egg protest outside and blockade deliveries #rtenews #farminginIreland pic.twitter.com/rj3e3sYnxG

— Joe Mag Raollaigh (@joemagraollaigh) October 3, 2022
Egg producer Samantha Soden, who along with husband Brendan, produce 50,000 eggs a day says the situation some are facing is very severe.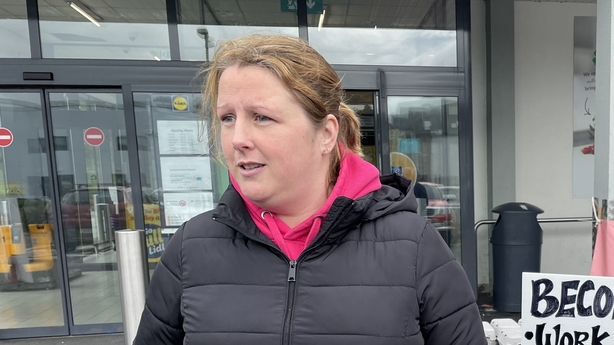 "Farmers are on their knees, there is a lot of guys very close to going out of business and if they go out of business there is no food," she said.
"The price of everything is going up, the price of grain, the price of fuel and everything else. It's gone beyond the point where we can keep going. We can't afford to employ people, we're letting people go. Basically it's costing us more to produce the eggs than what we are getting."
At Lidl in Cavan town, the protesting farmers are giving away eggs to shop customers as they pass.
Ms Soden said they may as well if they cannot get a proper price for them.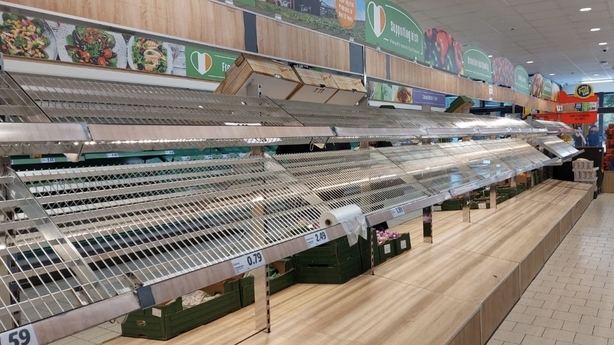 "They're giving away our livelihood, so we can give it away for free. It's the same difference."
Images from inside both stores in Cavan town show extensive areas of shelving, refrigerated or otherwise are empty of goods as shops have not been able to unload lorries due to the blockade by farmers.
When contacted this morning, a spokesperson for Lidl said it had no comment to make.
In a statement this afternoon, an Aldi spokesperson said the company had agreed a price increase with its egg suppliers at the weekend that exceeds what the protesting farmers are seeking.
The spokesperson said it is up to egg suppliers and farmers to agree how the increase, which is the fourth agreed this year, is divided.
It said further blockading of its Cavan store is reckless and hard pressed local customers dealing with the cost-of-living crisis have been disregarded by the protesters.
In a statement egg producer and vice-chair of the IFA National Poultry Committee Joe Soden said:
"Farmers feel let down by the food chain. The price increase that was sought in July has only now been addressed since the latest protests began five days ago and it has been surpassed by further cost increases."
Mr Soden said producers now need new money on the table to bring the protests to a conclusion