UK Chancellor Kwasi Kwarteng has urged the Conservative Party to "focus on the task in hand" as he battled to restore his authority after a U-turn over tax cuts for the rich.
Just hours before his set piece speech at the Conservative Party conference, Mr Kwarteng abandoned his plan to scrap the 45% income tax rate for people earning more than £150,000 to stave off a mounting Tory revolt.
Addressing the audience in Birmingham, he acknowledged it had been a "tough" day but promised there would be no more distractions.
Downing Street said Prime Minister Liz Truss - who was in the audience for the speech - continues to have confidence in Mr Kwarteng,
Mr Kwarteng told activists: "What a day. It has been tough but we need to focus on the job in hand.
"We need to move forward, no more distractions, we have a plan and we need to get on and deliver it."
UK Chancellor Kwasi Kwarteng has urged the Conservative Party to "focus on the job in hand" as he battled to restore his authority after a U-turn over tax cuts for the rich | https://t.co/TA3rjrZxEc pic.twitter.com/4Ccb7XKwIL

— RTÉ News (@rtenews) October 3, 2022
Ms Truss and Mr Kwarteng announced a new "growth plan" on 23 September that would cut taxes and regulation.
The plan would be funded by vast government borrowing to snap the economy out of years of stagnant growth.
But the plan triggered a crisis of confidence in the government, hammering the value of the pound and government bond prices and jolting global markets to such an extent that the Bank of England had to intervene with a £65bn programme to settle the gilt market.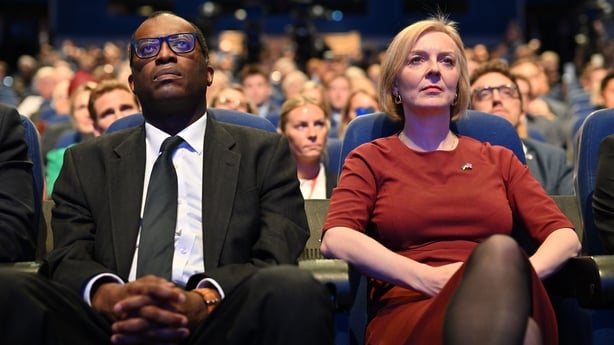 Mr Kwarteng today defended the government's measures aimed at growing the economy.
"I can be frank. I know the plan put forward only 10 days ago has caused a little turbulence," he said.
"I get it. We are listening and have listened, and now I want to focus on delivering the major parts of our growth package.
"With energy bills skyrocketing, a painful Covid aftermath, war on our continent, a 70-year high tax burden, slowing global growth rates and glacially slow infrastructure delivery, we couldn't simply do nothing."
He added that he would publish details "shortly" on how he planned to bring down public debt as a share of economic output over the medium term, addressing concerns among investors over the cost of his recently announced tax cuts.
EU rules 'holding country back'
Mr Kwarteng said the UK government will review, replace or repeal EU laws retained after Brexit which, he said, are "holding our country back".
"Too often regulation holds business and Britain back, stifling red tape puts up too many barriers for entrepreneurs looking to scale up," he said during his speech this afternoon.
"There are too many rules for small business owners who want to take on an apprentice.
"There are too many burdens on our finance sector, stopping it from investing in key projects.
"When Britain's innovators, job creators, entrepreneurs and risk takers are held back, so is Britain. That is why we will review, replace or repeal retained EU law holding our country back."
UK economic crisis 'settling' - Taoiseach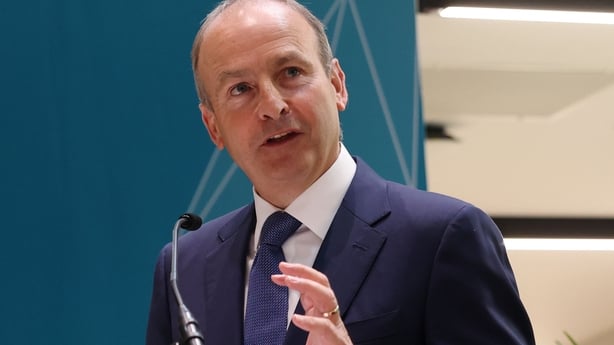 Earlier today, the Taoiseach said that he believes the economic crisis in the UK is "settling" through the work of the Bank of England and the British government's own "decisions and statements".
Micheál Martin said it is to be welcomed because Ireland has close interaction with the UK economy.
He said: "We export a lot to the UK, many of our SMEs start out their exporting journey within the United Kingdom market, and a lot of our people have a stake in the UK economy."
Asked if the recent situation was an embarrassment for the Tory Party, Mr Martin said he would not discuss domestic politics in the UK.
However, he said "what all of it reveals really, is a significant volatility out there in a very, very uncertain world now, with the energy crisis in particular impacting on the European economy and the world economy".
The Taoiseach said meetings between leaders from countries across Europe, including the UK, later this week will focus on the energy crisis.
"The number one item on the agenda is the extraordinary levels of pricing across the energy sector and the degree to which that is impacting on the economy," he said.
We need your consent to load this rte-player contentWe use rte-player to manage extra content that can set cookies on your device and collect data about your activity. Please review their details and accept them to load the content.Manage Preferences
Ms Truss admitted yesterday that she should have done more to "lay the ground" for the policy.
While the removal of the top rate of tax was only expected to cost around £2bn out of a £45bn tax-cutting plan, it was the most eye-catching element of a fiscal package that was to be funded by government borrowing.
Mr Kwarteng had not explained how the tax cut would be paid for in the long-term.
We get it, and we have listened. pic.twitter.com/lOfwHTUo76

— Kwasi Kwarteng (@KwasiKwarteng) October 3, 2022
The British prime minister has also not denied that it would require spending cuts for public services and yesterday she refused to commit to increasing welfare benefits in line with inflation - a toxic combination that would be seized on by opposition parties.
The pound has clawed back all of its losses against the US dollar since Mr Kwarteng delivered the mini-budget and was at 0.8% in early trade today.
---
Premiership of Liz Truss under critical scrutiny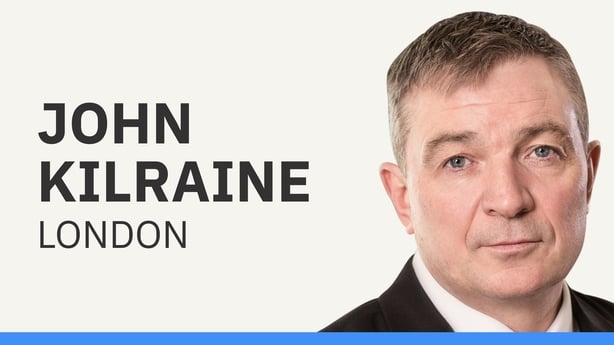 There have been question marks about Kwasi Kwarteng's position as Chancellor of the Exchequer before now.
The Bank of England having to spend £65 billion to prevent a collapse in pension funds was enough to start that speculation.
But the U-turn in the top rate of tax also puts Liz Truss' premiership under critical scrutiny.
Only yesterday she had vowed to continue with the tax break for high earners but then apparently changed her mind later that day.
There was growing signs of a revolt among Tory backbenchers who may have refused to vote in favour of the mini-budget when it came before the Commons.
According to Labour spokesperson Rachel Reeves, Ms Truss knew she had no chance of getting this through a vote.
If that's the case, then the British prime minister's authority is seriously undermined.
There are reports of 20 no confidence letters going in already - 54 are needed for a leadership vote.
And there is talk of an agreed replacement leader.
What also could be seen as damaging is Ms Truss saying the abolition of the top rate of tax was Kwasi Kwarteng's idea.
Many people have seen this as the Chancellor of the Exchequer being thrown under the bus.
And may backfire.
---
Read More: The UK's top tax rate - what is it and why does it matter?
---
Additional reporting Fergal O'Brien, Reuters