Taoiseach Micheál Martin has said "housing is the single most important social issue facing our country".
Addressing his party at the Fianna Fáil Ard Fheis in Dublin, he also said "we have to provide faster access" to health services.
The Ard Fheis was Fianna Fáil's 80th party conference and its first full in-person gathering since before the pandemic.
Micheál Martin's closing address this evening was his first opportunity to make such a speech at the Ard Fheis as Taoiseach.
We need your consent to load this rte-player contentWe use rte-player to manage extra content that can set cookies on your device and collect data about your activity. Please review their details and accept them to load the content.Manage Preferences
Amid the arrival of the Covid-19 pandemic, Mr Martin said his party agreed to enter Government to put the country's interests first, saying: "I know that this was the right thing to do."
He said Ireland got through the public health crisis by "using every element of government and drawing on the deep bonds of community and solidarity that hold our people together", as well as "one of the fastest and most effective vaccination programmes in the world".
Mr Martin said there are more than 400,000 people at work than there were on the day this Government took office - which was during the first wave of the Covid pandemic.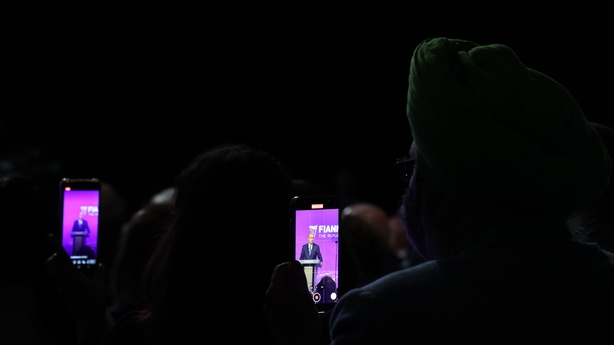 The Taoiseach raised the cost-of-living crisis, mentioning the measures announced by the Government in this week's Budget.
And he also said the Government has "begun a new era of building social homes at scale".
"Our action on housing is not being felt by everyone yet, I know, but by every measure, home building and renovations are up," he said.
On health, he said "we have to do better, we have to provide faster access to services".
He added: "We're doing exactly this - with hospitals already beginning a programme to get waiting times well down. We are eliminating in-patient hospital charges for children and adults. We've reduced the cost of medicines significantly and we are expanding free GP care for many more people."
On education, Mr Martin said "the Leaving Certificate examination has to be reformed".
"It has to provide more options for assessment and to measure a more complete range of skills. We're determined to deliver on this and to ensure that education will continue to be the foundation stone for building social and economic progress in our country," he said.
WATCH: Taoiseach Micheál Martin addresses the Fianna Fáil Ard Fheis in Dublin | Read more political updates: https://t.co/jZge7My7C8 https://t.co/HGq8oSe89c

— RTÉ News (@rtenews) October 1, 2022
The Taoiseach said we are seeing the impacts of climate change as every day goes by.
"We simply have to end reliance on fossil fuels" to protect the environment and secure sustainable and affordable energy, he said.
Mr Martin added that the scale of biodiversity loss is "becoming clearer all the time".
"Our task becomes more urgent every day."
He added: "Ireland has the potential to be a world leader in offshore wind energy – and we are determined that this will happen."
The Taoiseach paid tribute to "the people of Ireland who have opened their communities, their homes and their hearts to the people of Ukraine".
"Their struggle has been an inspiration. They have been willing to risk and sacrifice everything because they want to live in a European democracy," he said, pledging that Fianna Fáil "will not waver" in its support for Ukraine's bid for EU membership.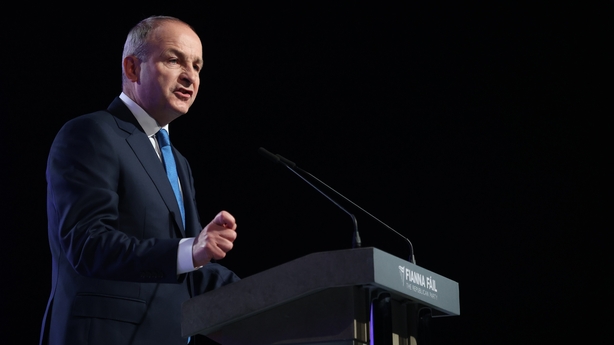 Nearly 25 years since the signing of the Good Friday Agreement, Mr Martin said the "harsh reality" is that too little has been done to bring the communities in Northern Ireland together.
"There has been a lot of talk about unity and reconciliation but very little work done to actually build the bridges which make it happen," he said.
He referenced the Shared Island Initiative, saying projects that have been talked about "for decades" are now under way.
"The most inclusive dialogue ever between communities is taking place - and so too is a major series of research studies to start properly understanding the differences, similarities and opportunities in relation to health services, trade, childcare, education and other vital areas between North and South."
Ending his speech, Mr Martin said his party is committed to "an Ireland which stands proudly in the world and listens to its people's concerns, which fights divisive policies, supports its weakest citizens, values education, empowers enterprise".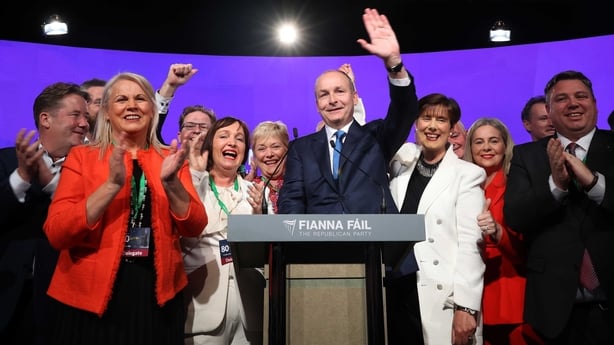 No plans for mini budget in January
Earlier, the Taoiseach said that he does not foresee the need for a mini budget in January.
Speaking at the Ard Fheis, Micheál Martin said that everything would be kept under review, given global uncertainty, but that the recent Budget was designed to get the country through the winter period.
Mr Martin said that the Government had introduced cost-of-living measures earlier this year which did not require a mini budget, such as the introduction of free school transport.
In relation to the retention of Darragh O'Brien as Minister for Housing after the change of Taoiseach position in December, Mr Martin said that Mr O'Brien had brought "a breadth in terms of programmes" related to the provision of housing.
He said that the "broader situation" in terms of key positions would be discussed at the end of the year.
Mr Martin also said his party is aware of the "enormous" challenges that health and housing presented.
The Taoiseach said the focus for now is on the Budget and the energy crisis, which has fed into other aspects of pricing generally.
"That has been our focus and the general response is that it is a balanced Budget. It does help to alleviate the pressures, not fully, that people are under and businesses are under and it aims to protect jobs. And also to be fiscally sound.
"And to provide contingency funding and also a reserve for future uncertainties that could potentially occur in 2023."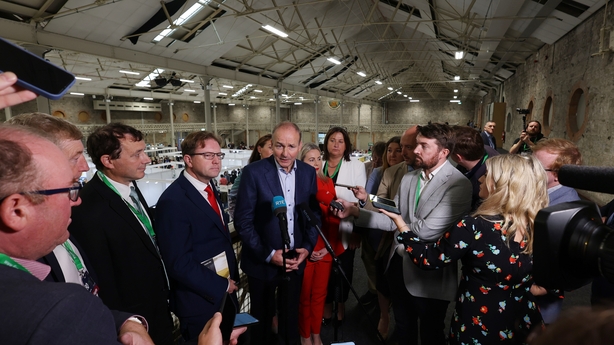 Mr Martin said Fianna Fáil took on challenges when it entered government and the party is aware of the "enormous" challenges health and housing presented.
He said the three fundamental pillars of the Programme for Government are housing, health and climate change and he said "we are making a difference" in all of those areas.
He said in education and childcare strides are also being made.
Mr Martin said developments in health, particularly women's health have been "groundbreaking" as he referred to free contraception and funding for IVF being rolled out in 2023.
He said that he envisages Fianna Fáil being part of the next government.
"We have a very good platform and base to build on" while adding they would have liked to have done better in the last election.
"It is all there to play for," he added.
Minister O'Brien told the Ard Fheis that he will remove planning rules which provide exemptions for the build-to-rent sector.
Currently institutional investors developing property for the rental market do not have to comply with minimum size standards required in homes for sale, while there are less stringent storage requirements and more apartments permitted per floor.
It is expected Minister O'Brien will seek to make the changes this year.
He also said that the shared equity scheme for first-time buyers will be extended to self-build homes.
He told delegates that this initiative was "game-changer" for rural Ireland.
The move means that a person who has a gap between their mortgage approval and the cost of the self-build can apply to the First Home Scheme to make up the difference.
Additional reporting Tommy Meskill, Paul Cunningham