US President Joe Biden has warned that Hurricane Ian may end up being the "deadliest" storm in Florida history and cited fears there could be a "substantial" number of deaths.
"This could be the deadliest hurricane in Florida history," he said after a briefing at the FEMA emergency management headquarters in Washington.
"The numbers... are still unclear, but we're hearing reports of what may be substantial loss of life," he said.
Hurricane Ian plunged much of coastal southwest Florida into darkness overnight, as the monster storm brought "catastrophic" storm surges, wind and flooding that had officials readying a huge emergency response.
Fort Myers city has been "devastated" by Hurricane Ian as the monster storm sent surges of ocean water into homes and businesses and left some nearby coastal communities cut off, Florida Governor Ron DeSantis said.
"Some of those areas - Cape Coral, city of Fort Myers - they got really, really inundated and really devastated by this storm," he said.
The US Border Patrol said 20 migrants were missing after their boat sank, with four Cubans swimming to shore in the Florida Keys islands and three rescued at sea by the coast guard.
There were no immediate official reports of other storm-related casualties.
Hurricane Ian, one of the mightiest to hit the US mainland in recent years, flooded communities and left more than two million homes and businesses without power as it battered Florida's Gulf Coast | Read more: https://t.co/E4NLVEAs1u pic.twitter.com/VN5FZWOQhv

— RTÉ News (@rtenews) September 29, 2022
Hurricane Ian plunged much of coastal southwest Florida into darkness overnight, as the monster storm brought "catastrophic" storm surges, wind and flooding | Read more: https://t.co/rmVRhtXfa4 pic.twitter.com/ppkQrBCNxI

— RTÉ News (@rtenews) September 29, 2022
The National Hurricane Center (NHC) said the eye of the "extremely dangerous" hurricane made landfall just after 8pm (Irish time) on the barrier island of Cayo Costa, west of the city of Fort Myers.
Dramatic television footage from the coastal city of Naples showed floodwaters surging into beachfront homes, submerging roads and sweeping away vehicles.
Some neighbourhoods in Fort Myers, which has a population of more than 80,000, resembled lakes.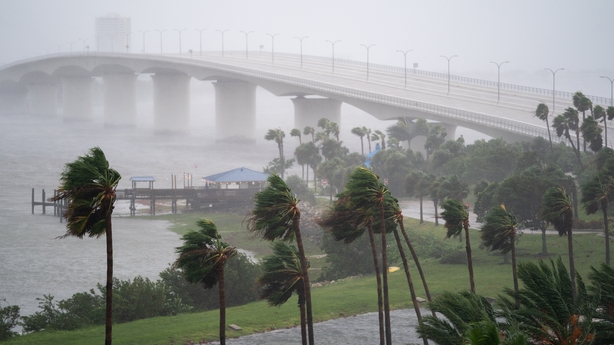 The NHC said Ian was packing maximum sustained winds of 240km/h when it landed.
It later weakened to a Category 1 hurricane, while still battering Florida with "storm surge, winds and flooding," the NHC said in the early hours of this morning.
We were in the eye wall of Cat. 4 #Hurricane #Ian for over 5 hours and the back side was the worst.
I haven't experienced anything close to this in over 30 years @weatherchannel pic.twitter.com/wfEqcuEBAm

— Mike Seidel (@mikeseidel) September 29, 2022
About 2.5 million people were under mandatory evacuation orders in 12 coastal Florida counties, with several shelters set up, and voluntary evacuation recommended in others.
For those who decided to ride out the storm, authorities stressed it was too late to flee and residents should hunker down and stay indoors.
Airports in Tampa and Orlando stopped all commercial flights, and cruise ship companies delayed departures or cancelled voyages.
Florida Governor Ron DeSantis asked US President Joe Biden to approve a major federal disaster declaration providing a wide range of US emergency aid to the entire state.
He said an unknown number of people were stranded in "high-risk" evacuation zones and in need of help after defying orders to seek higher ground, but rescue crews were unable to immediately reach them.
Mr DeSantis said state and federal responders were assigning thousands of personnel to address the storm response.
"There will be thousands of Floridians who will need help rebuilding," he said.
Mr DeSantis said Ian had generated life-threatening storm surges - waves of wind-driven seawater rushing in along the coast - of up to 3.7 metres in some places. Forecasters also warned of intense thunderstorms and possible tornadoes.
An hour after landfall, video posted on social media and TV news outlets showed water fuelled by storm surges rushing through several communities.
The town of Fort Myers Beach was nearly submerged by floodwaters.
A view of Sanibel Island posted on Twitter showed the ocean sweeping over a seawall into a resort hotel's swimming pool. Other video from the island showed roads inundated by the storm surge, rising to the tops of street signs.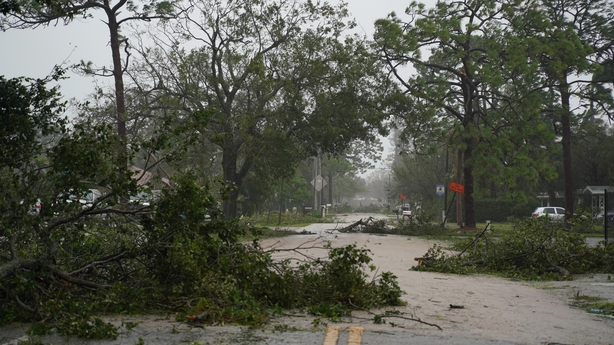 In terms of its sustained wind speeds, which peaked at 249km/h before landfall, Ian ranks as one of the most ferocious hurricanes to strike the US mainland in recent years.
Climate change is making hurricanes wetter, windier and more intense.
There is also evidence that it is causing storms to travel more slowly, meaning they can dump more rain in one place, scientists say.
Hours of zero visibility due to 'blinding rain'
Meanwhile, a meteorologist in Florida said Hurricane Ian is probably the most intense storm he has ever seen and there were two different types of flooding.
Speaking on RTÉ's Morning Ireland, Matthew Cappucci said there were hours of zero visibility because of the blinding rain which also led to inland freshwater flooding in addition to coastal flooding.
Some areas took up to 50cm of water in the space of a few hours, he said.
"We had hours of zero visibility simply because of how blinding the rain was - rainfall rates of three to six plus centimetres per hour, which led in addition to surge to incredible freshwater flooding, with some areas picking up 40 to 50 centimetres of rainfall in only a few hours time."
Mr Cappucci said there were also hours of extreme winds and the roof of an apartment block near him (in Port Charlotte) ripped off, leaving people scrambling to take cover in their vehicles.
Former Lord Mayor of Dublin Royston Brady is now a hotelier in Florida.
Speaking to RTÉ's Today with Claire Byrne, he said: "The strength of this was incredibly strong. You can only prepare. We have a hurricane plan that we put in place."
This involved ensuring that his hotel was well staffed and able to deal with a demand for accommodation.
A lot of emergency services are still waiting to enter some of the worst impacted areas, he said. "It's still just too dangerous for them."