Ukrainian officials have said that 447 bodies had been exhumed from a mass burial site near the eastern city of Izium, which was recaptured from Russian forces.
"In Izium, the exhumation of all bodies at the mass burial site has been completed," Kharkiv regional prosecutors said on social media.
"During 16-23 September, 447 bodies of the dead were exhumed from the site," they said in a social media statement.
The prosecutors added that 425 bodies of civilians, including five children, and 22 bodies of Ukrainian servicemen were among them.
They said that all necessary measures would be taken "to establish the circumstances of the deaths and punish the Russian military".
Earlier on Friday Kharkiv regional governor Oleg Synegubov reported that most of the bodes "have signs of violent death, and 30 have signs of torture".
"There are bodies with rope around their necks, with their hands tied, with broken limbs and gunshot wounds," he said in a statement on social media.
Ukraine recaptured Izium and other towns in the east this month, crippling Kremlin supply routes and bringing fresh claims of Russian atrocities with the discovery of hundreds of graves - some containing multiple bodies.
Finland to 'significantly' restrict entry of Russians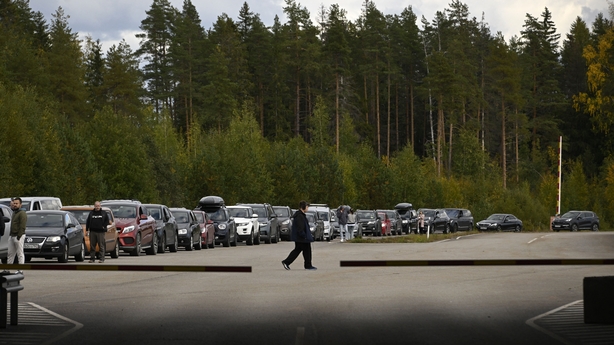 Finland has announced that it would "significantly restrict the entry of Russian citizens" in the "coming days" after the country saw an influx over its eastern border following Russia's mobilisation orders.
"Those crossing the border on tourism grounds alone will be barred from entering," Foreign Minister Pekka Haavisto told reporters.
This applies both to Russians travelling on tourist visas issued by Finland and tourist visas issued by any other Schengen country, Mr Haavisto said.
Mr Haavisto said that the decision would be finalised in the "coming days".
"I believe that after the government's decision, the application can start very quickly," he said.
The government's Ministerial Committee on Foreign and Security Policy also concluded that new tourist visas would be restricted.
As a justification, Finland cites "serious damage to its international position", in contrast to the Baltic countries which have classified tourism from Russia as a security threat.
"We have taken as our starting point the practice made possible by the Schengen system of refusing entry on the grounds of endangering international relations," Mr Haavisto said.
The number of Russians entering Finland has doubled - with more than 6,000 Russians entering yesterday - since Moscow announced a mobilisation for the Ukraine war, a border agency spokesman said.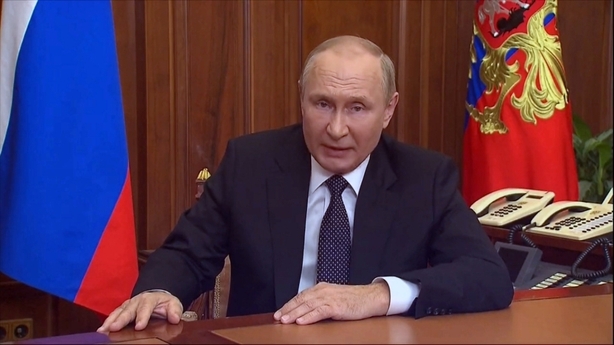 Following the easing of Covid-19 restrictions in July, there has also been a boom in Russian travellers as well as a rising backlash in Europe against allowing in Russian tourists while the war in Ukraine rages.
Finnish Prime Minister Sanna Marin yesterday said that: "Russian tourism and travel has to be stopped, including transit through Finland."
Finland has been calling for an EU decision to limit visas for Russians, but Mr Haavisto said on Wednesday that "it cannot be guaranteed that this move would happen very quickly".
The Baltic states of Latvia, Estonia and Lithuania - which border Russia - have already toughened their own visa rules leaving Finland as Russia's last EU neighbour for Schengen visa holders to transit through.
We need your consent to load this rte-player contentWe use rte-player to manage extra content that can set cookies on your device and collect data about your activity. Please review their details and accept them to load the content.Manage Preferences
'Sham' referendums under way
It comes as four areas of Ukraine controlled by Russia and pro-Moscow forces are holding so-called referendums today on joining Russia, a move widely condemned by the West as illegitimate and a precursor to illegal annexation.
Russian-installed leaders announced plans for the ballots last Tuesday, a challenge to the West that could sharply escalate the war. The results are seen as a foregone conclusion in favour of annexation, and Ukraine and its allies have made clear they will not recognise the outcomes.
Voting in the Luhansk, Donetsk, Kherson and Zaporizhzhia provinces, representing about 15% of Ukrainian territory, is due to run from today to Tuesday.
Ukraine this month launched a counteroffensive that has recaptured large swathes of territory, seven months after Russia invaded and launched a war that has killed thousands, displaced millions and damaged the global economy.
The referendums had been discussed for months by pro-Moscow authorities but Ukraine's recent victories prompted a scramble by officials to schedule them.
US President Joe Biden said that the referendums are a "sham" and said Washington "will never recognise Ukrainian territory as anything other than part of Ukraine."
In a statement, Mr Biden said Washington "will work with our allies and partners to impose additional swift and severe economic costs on Russia".
Ukraine says Russia intends to frame the referendum results as a sign of popular support, and then use them as a pretext for annexation, similar to its takeover of Crimea in 2014, which the international community has not recognised.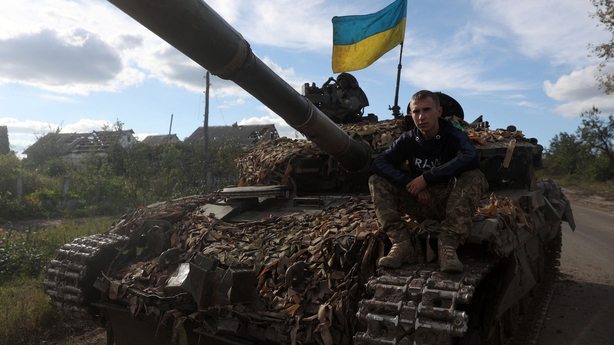 By incorporating the four areas into Russia, Moscow could justify military escalation as necessary to defend its territory.
Referendum results in favour of Russia are considered inevitable. The vote in Crimea in 2014, criticised internationally as rigged, had an official result of 97% in favour of formal annexation.
"If this is all declared Russia territory, they can declare that this is a direct attack on Russia so they can fight without any reservations," Luhansk regional governor Serhiy Gaidai told Ukrainian TV.
The referendums have been denounced by world leaders including US President Joe Biden, UN Secretary-General Antonio Guterres and French President Emmanuel Macron, as well as NATO, the European Union and the Organisation for Security and Cooperation in Europe (OSCE).
Ukraine and the West consider all parts of Ukraine held by Russian forces to be illegally occupied. Russia does not fully control any of the four regions, with only around 60% of Donetsk region in Russian hands.
UN says 'war crimes' have been committed in Ukraine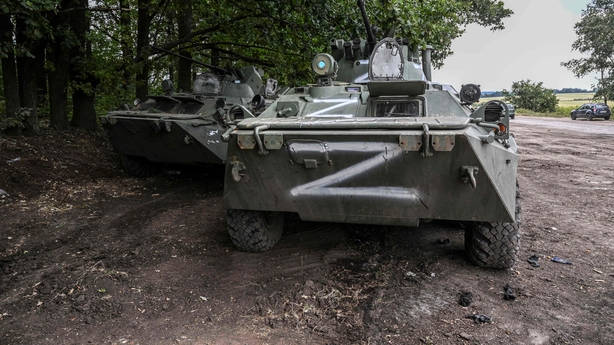 Meanwhile, UN investigators found war crimes have been committed in the Ukraine conflict, listing Russian bombings of civilian areas, numerous executions, torture and horrific sexual violence.
"Based on the evidence gathered by the Commission, it has concluded that war crimes have been committed in Ukraine," Erik Mose, the head of the investigation team, told the UN Human Rights Council.
The categorical nature of the statement was unusual.
UN investigators typically couch their findings on international crimes in conditional language, referring the final confirmation of war crimes and similar violations to courts of law.
The team of three independent experts presented their first oral update to the council, after it launched initial investigations looking at the areas of Kyiv, Chernihiv, Kharkiv and Sumy regions, and said it would broaden the probe going forward.
---
Read more about Russia's invasion of Ukraine
---
The commission chief said the investigators had also "processed two incidents of ill-treatment against Russian Federation soldiers by Ukrainian forces", adding that "while few in numbers, such cases continue to be the subject of our attention."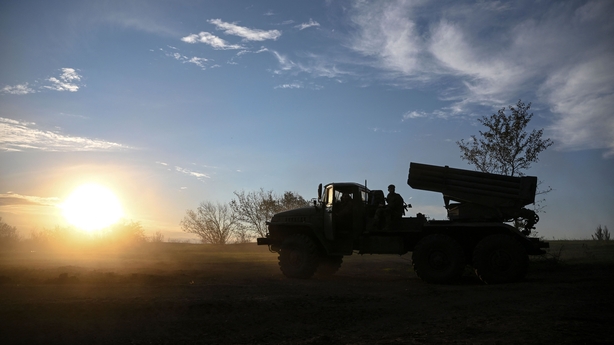 The team had also documented cases of sexual and gender-based violence, Mr Mose said, in some cases establishing that Russian soldiers were the perpetrators.
"There are examples of cases where relatives were forced to witness the crimes," he said.
"In the cases we have investigated, the age of victims of sexual and gendered-based violence ranged from four to 82 years," Mr Mose added.
The commission had documented a wide range of crimes against children, he said, including children who were "raped, tortured, and unlawfully confined".