Politicians and academics have described Northern Ireland's census results - which show more people identifying as Catholic than Protestant for the first time - as "historic".
The Census reveals that of the resident population, 45.7% are either Catholic or brought up Catholic, for the first time in its 101-year history.
The percentage of the population who are either Protestant or were brought up Protestant is now 43.5%.
Some 9.3% of people said they neither belonged to nor were brought up in any religion.
The figure for the Catholic population has increased by 0.6% since the last census in 2011, while the figure for the Protestant population has fallen almost 5% during the same period.
Sinn Féin MP John Finucane said the census indicated that "historic change is happening".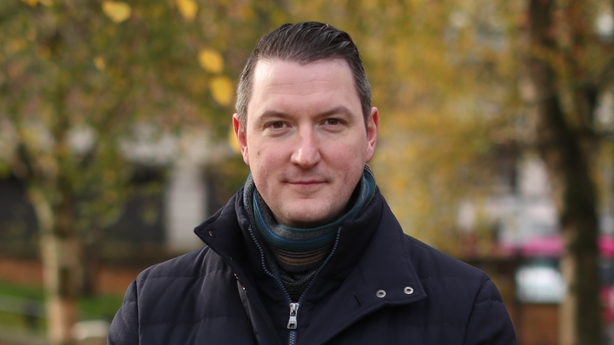 "Today's census results are another clear indication that historic change is happening across this island and of the diversity of society which enriches us all," he said.
"There is no doubt change is under way and irreversible. How that change is shaped moving forward requires maturity to take the challenges which face our society.
"We can all be part of shaping a better future - new constitutional future and a new Ireland.
"But we must prepare for it. The Irish government should establish a citizens' assembly to plan for the possibility of a unity referendum.
"A period of planning is critical. That planning, and dialogue, and engagement needs to happen now, and it must include people from all backgrounds and communities.
"The partition of Ireland has been a failure. We can build a better future together, for every person who lives on this island."
When it comes to national identity, the number who said they have a "British only" identity has fallen while those who regard themselves as "Irish only" has increased.
Those who described their identity as British only identity has fallen from 40% to 31.9%, from 772,400 in 2011 to 606,300.
The number who regard themselves as "Irish only" is up from 457,000 to 554,000 or 29.1%, that is up from 25% ten years ago.
'Less likely people will want to leave UK'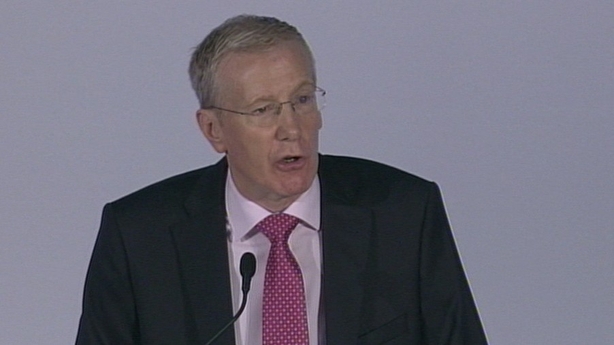 Speaking on RTÉ's Morning Ireland ahead of the census results, DUP MP Gregory Campbell said:
"People make the lazy assumption that there's a read-across between more Catholics, meaning a border poll is more likely and more likely to be a united Ireland.
"When you look at the election results in the past ten or even the past 20 years, the irony is that the more diverse Northern Ireland becomes, the less likely it is that people want to leave the United Kingdom, if you look at the election results.
"We are on all of these islands and across western Europe becoming more diverse as inward migration increases you will find a greater diversity of peoples in all of our countries.
"This is evolutionary change that has come about particularly in the past 20 or 35 years."
Notable shifts in identity:

British only, 31.86%,
Irish only 29.13%,
Northern Irish only, 19.78%.

In 2011 it was: British 40%, Irish 25%, Northern Irish 21%.

A significant fall in British identity #Census2022

The Brexit effect? #BrexitReality

— Deirdre Heenan (@deirdreheenan) September 22, 2022
Also speaking on Morning Ireland, Professor of Social Policy at the University of Ulster Deirdre Heenan said because there is more Catholics it does not mean there is a surge towards a border poll.
She said a Catholic majority will be part of a "jigsaw" that creates the conditions for a poll.
She described the first census showing a Catholic majority as "monumental".
Professor Heenan said: "We have to look back at the history of the State, how it was created, the decades of discrimination and really what we then need to do is have a look at where we are at the moment and what we want for our future.
"We are dealing with the fallout of Brexit. We know that we are the poorest region, we are in the teeth of a cost of living crisis that hasn't hit other regions of the EU in a similar way.
"We're no longer dealing with majority Catholic or majority unionist, we're dealing with three minorities in Northern Ireland - Catholics, Protestants and the non-aligned."
Under the terms of the 1998 Good Friday Agreement, the constitutional status of Northern Ireland can be changed only with the consent of its population.
The incumbent Northern Ireland Secretary is obliged to call a referendum on Irish unity if he or she believes there has been a shift in public opinion that would indicate a majority in favour of constitutional change.
Call for change to how Stormont works
Speaking on RTÉ's News at One, Alliance MLA Kellie Armstrong said the census results show the need to change how the Northern Ireland Assembly works.
She said that there needs to be a review of cross community voting when there is an Assembly sitting, as there is large group that do not designate themselves as nationalist or unionist.
She said the definition of cross community needs to be changed so that all votes are counted exactly the same way.
Also speaking on RTÉ's News at One, Dr Paul Nolan, a Belfast-based expert in social trends and demography said at the time of the Good Friday Agreement there was a majority/minority problem, but this no longer applies.
He said that the two traditional blocks have been melting and for the first time there is fluidity in a growth of hybrid identities, between British and Irish, or Northern Irish.
Dr Nolan mentioned newcomer communities and said we can still talk of Northern Ireland as a divided society but it is no longer on a binary divide, it cuts three ways and "we are all minorities now".
He said there had been a big growth in people with no religion, comparable to the Republic of Ireland.
'Seminal moment'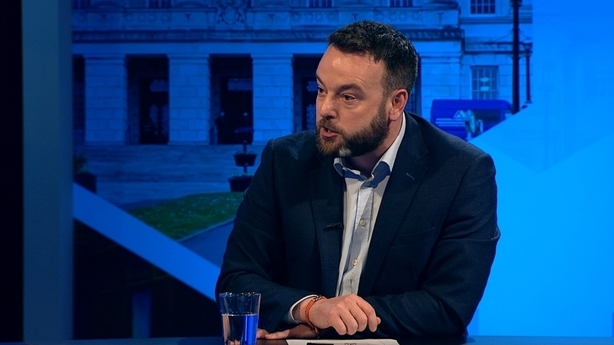 SDLP leader Colum Eastwood said the census figures represented a "seminal moment" in the history of the island of Ireland.
"The census figures published today reveal that, by any measure, the constitution of the North has been transformed utterly 100 years on from partition," Mr Eastwood said.
"That is a moment of true change because it reflects a sustained period of lasting change.
"As we have built a more inclusive and diverse society, we have together shattered the bonds of an oppressive state which ingrained discrimination against a Catholic minority in its every outworking for far too long.
"We are never going back to state-sponsored discrimination against any religious minority.
"I hope that all those who lived through decades of discrimination and who experienced the sharp end of that oppressive state are able to breathe a sigh of relief today.
"The significance of this transformation should not be downplayed or diminished out of fear or insincere politicking. I acknowledge that today's figures may generate feelings of insecurity for some.
"But it is my honest hope that we can all now take a moment of serious and sincere reflection about the scale of change we have experienced and commit to a conversation about the powerful potential for change in the future."
Irish passports
The Census showed a 63.5% increase in the number of people in Northern Ireland who hold an Irish passport.
The number of people who held an Irish passport rose from 375,800 in 2011 to 614,300 in 2021.
Brexit has been one factor in that surge, with people seeking an Irish passport to retain EU rights lost when the UK left the bloc.
The number of people holding a UK passport in Northern Ireland was one million in the latest census, down from 1.07 million in 2011.
Speaking on RTÉ's Today with Claire Byrne, Professor of Politics from the University of Liverpool Jonathan Tonge, said that the cenus results were significant in historical terms, but it does not automatically lead to a border poll, despite a rise in Irishness over Britishness.
He said that there is a decline in the Protestant population, as well as decline in the unionist block vote and British identity and the sum of those parts is that Protestant British unionism is in decline in Northern Ireland.
"People who need to be won over are the constitutional agnostics, those who don't align with a religion and they need to be won over by one side or the other on the constitution question," he said.
"This is the big question to be addressed over the coming years."