Russian President Vladimir Putin's decision this week to mobilise several hundred thousand reservists has spurred a fresh exodus over the country's borders.
Traffic at border crossings with Finland and Georgia surged and prices for air tickets from Moscow skyrocketed.
Mr Putin yesterday ordered Russia's first mobilisation since World War II and backed a plan to annex swathes of Ukraine.
He warned the West he was not bluffing when he said he would be ready to use nuclear weapons to defend Russia.
Prices for air tickets out of Moscow soared above $5,000 for one-way tickets to the nearest foreign locations, with most air tickets sold out completely for coming days.
In Yerevan, the capital of Armenia, military-aged men made up the majority of those arriving off the latest flight from Moscow.
The city has become a major destination for Russians fleeing since war began on 24 February.
Since then, Armenia says at least 40,000 Russians have arrived in the small Caucasus country, once a part of the Soviet Union.
Dmitri flew to Armenia with just one small bag, leaving behind his wife and children, adding to the thousands fleeing Russia to avoid serving in the war against Ukraine.
"I don't want to go to the war," he told AFP. "I don't want to die in this senseless war. This is a fratricidal war."
Nearly 50,000 Russians have fled to neighbouring Georgia, national statistics from June showed.
The Kremlin today dismissed as "fake" reports that Russians eligible for mobilisation were rushing for the exit.
"A great deal of false information has emerged about this," said spokesman Dmitry Peskov.
We need your consent to load this rte-player contentWe use rte-player to manage extra content that can set cookies on your device and collect data about your activity. Please review their details and accept them to load the content.Manage Preferences
Social media groups have popped up with advice on how to get out of Russia while one news site in Russian gave a list of "where to run away right now from Russia".
Asked about reports that men detained at anti-war protests were being given draft papers, Mr Peskov said it was not against the law.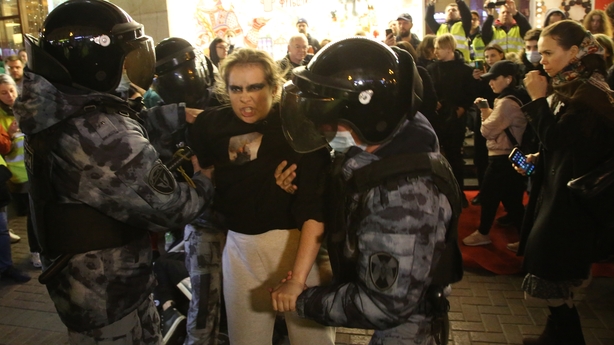 Germany's Interior Minister Nancy Faeser said Russian deserters could "obtain international protection" in her country.
But the Czech Republic said it would not issue humanitarian visas to Russians fleeing their homeland to avoid mobilisation.
"I understand that Russians are fleeing from the increasingly desperate decisions taken by Putin," Czech Foreign Minister Jan Lipavsky said in a statement obtained by AFP.
"But those who are running away from their country because they do not want to fulfil a duty imposed by their own state do not meet the criteria for receiving humanitarian visas," he added.
The Czech Republic, which currently holds the rotating presidency of the EU, stopped issuing visas to Russians a day after the invasion, but later introduced an exception for humanitarian cases.
Finnish border authorities said they had seen an increase in traffic from Russia following Putin's announcement. But it stressed that the influx was still at relatively low levels.
Finland said it was considering barring most Russians from entering the country as traffic across the border from its eastern neighbour.
Meanwhile, the Russian military said at least 10,000 people had volunteered to fight in Ukraine.
"During the first day of partial mobilisation, about 10,000 citizens arrived at recruitment offices of their own accord without waiting for a summons," Vladimir Tsimlyansky, a military spokesman, told Russia's Interfax news agency.
He added the military had established a call centre to answer questions from individuals and organisations about the mobilisation.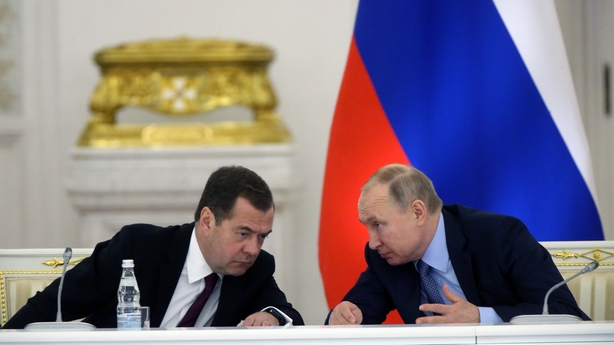 Meanwhile, former Russian President Dmitry Medvedev has said that any weapons in Moscow's arsenal, including strategic nuclear weapons, could be used to defend territories joined to Russia from Ukraine.
Mr Medvedev, who also serves as deputy chairman of Russia's Security Council, said that referendums planned by Russian-installed and separatist authorities in large swathes of Ukrainian territory will take place, and "there is no going back".
"The western establishment and all citizens of NATO countries in general need to understand that Russia has chosen its own path," Mr Medvedev said.
Pressure has ratcheted up on Mr Putin as his decision to send reservists to Ukraine triggered spreading protests and hundreds of arrests at home, and Western leaders tore into the Russian leader at the United Nations.
Training his fire on Mr Putin as he addressed the General Assembly, US President Joe Biden accused him of "shamelessly" violating the UN Charter with a war aimed at "extinguishing Ukraine's right to exist as a state".
Speaking in unison with fellow NATO leaders, Mr Biden denounced Mr Putin for making "overt nuclear threats against Europe" as part of his latest escalation, and warned that "a nuclear war cannot be won and must never be fought".
Addressing the assembly later via video, the sole leader allowed to do so, Ukrainian President Volodymyr Zelensky urged the UN to punish Russia for the invasion, calling for a special tribunal and compensation fund and for Moscow to be stripped of its veto.
"A crime has been committed against Ukraine and we demand just punishment," said Mr Zelensky, who earned a standing ovation.
The high-profile addresses came hours after the Russian president dramatically upped the stakes in his seven-month war by calling up 300,000 military reservists - a step Western powers portrayed as desperation and that drew protesters into the streets across Russia.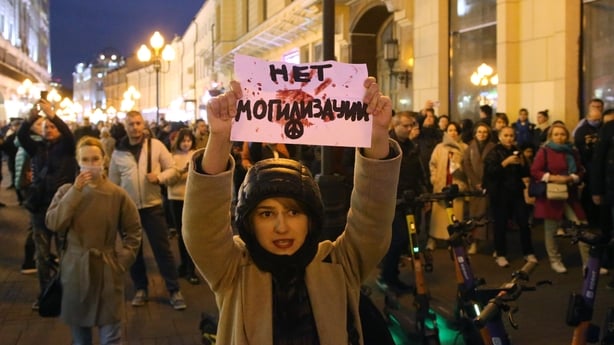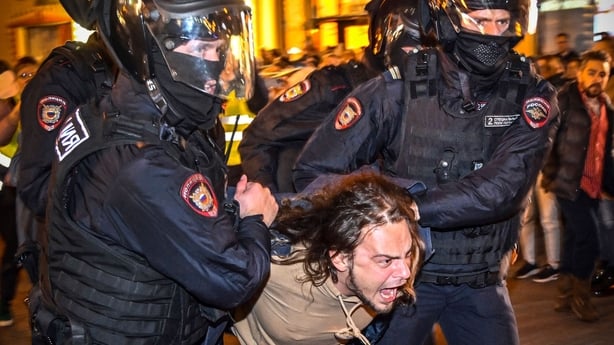 In Russia, more than 1,300 people were arrested in 38 different cities, according to the OVD-Info monitoring group - the largest protests seen since Vladimir Putin launched his offensive in February.
AFP journalists in central Moscow saw at least 50 people detained by police in anti-riot gear, while in the former imperial capital Saint Petersburg, police surrounded and detained a small group of protesters, loading them onto a bus as they chanted, "No mobilisation!"
"Everyone is scared. I am for peace and I don't want to have to shoot," said one protester.
Prisoner swap
On the same day as Mr Putin's mobilisation order, Ukraine announced the exchange of a record-high 215 imprisoned soldiers with Russia, including fighters who led the defense of Mariupol's Azovstal steelworks that became an icon of Ukrainian resistance.
Ten freed prisoners - including two from the United States, five from Britain, and others from Sweden, Morocco and Croatia - were transferred to Saudi Arabia from Russia, Riyadh said, without specifying when they would be returned home.
But the diplomatic breakthroughs did little to lower the temperature as Western leaders voiced outrage at Mr Putin's latest moves - and Moscow's plan to stage annexation referendums this week in Russian-held regions of Ukraine.
Donetsk and Lugansk in the east and Kherson and Zaporizhzhia in the south are holding votes over five days beginning Friday - a move that would allow Moscow to accuse Ukraine of attacking supposedly Russian territory.
Turkey was the latest NATO member to speak out yesterday against Russia's referendum plans, slamming them as "illegitimate".
The referendums follow a pattern established in 2014, when Russia annexed the Crimea peninsula from Ukraine after a similar vote.
Like in 2014, Washington, Berlin and Paris denounced the latest ballots, saying the international community would never recognize the results.
'More sanctions will come' - McGuinness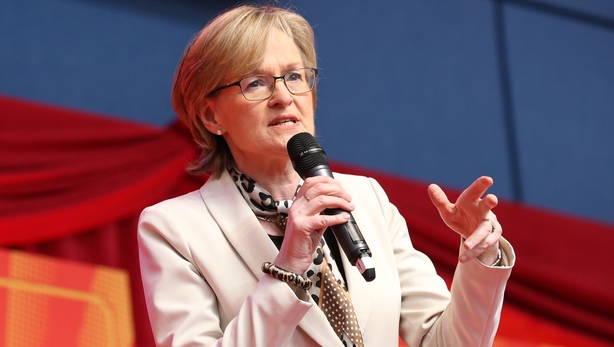 EU Commissioner Mairead McGuinness warned that more sanctions will be on the way for Russia as she said it is very clear that Mr Putin is not interested in peace after his latest speech.
Speaking on RTÉ's Morning Ireland, she said there are no details yet on these sanctions from the EU and they won't be discussing publicly what comes next but added "more will come".
With regard to Europe's "over-reliance" on Russia for energy, she said there is a focus on moving away from fossil fuels and indicated there was perhaps a need to do it "more rapidly".
We need your consent to load this rte-player contentWe use rte-player to manage extra content that can set cookies on your device and collect data about your activity. Please review their details and accept them to load the content.Manage Preferences
People understand why that is happening, she said, adding that the consequences are hard for people.
However, Ms McGuinness referred to the "wake up call" of the over-reliance on a very unreliable supplier.
"It is going to be tough. We know this will be a difficult winter. But the speech from Vladimir Putin would require us all to stiffen our backs of what is to come, but equally but be very careful the measures we have rolled out at the EU level are implemented by members states around vulnerable communities, businesses as we did with Covid," she said.
"I think we need that similar coordinated response. Ursula Von der Leyen is very clear more is on the way."
'Not a bluff'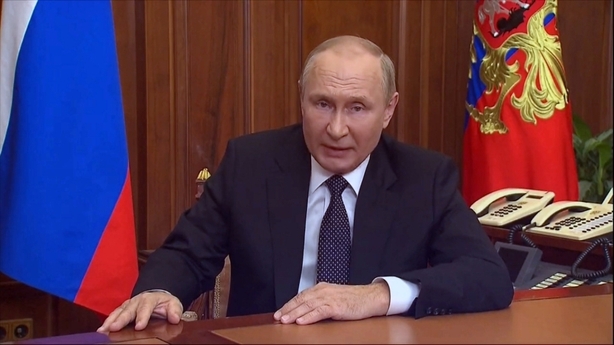 In a pre-recorded address early yesterday, Vladimir Putin accused the West of trying to "destroy" Russia through its backing of Kyiv as he announced a partial military mobilisation.
"When the territorial integrity of our country is threatened, we will certainly use all the means at our disposal to protect Russia and our people. This is not a bluff," the Russian president said.
"Those who are trying to blackmail us with nuclear weapons should know that the wind can also turn in their direction."
On the sidelines of the UN gathering, French President Emmanuel Macron urged the world to "put maximum pressure" on Mr Putin, while German Chancellor Olaf Scholz denounced the call-up as "an act of desperation".
British Prime Minister Liz Truss, in her first trip since succeeding Boris Johnson, vowed before the UN to keep up "our military support to Ukraine for as long as it takes".
NATO Secretary General Jens Stoltenberg, meanwhile, condemned Vladimir Putin's "dangerous and reckless nuclear rhetoric".
Top European Union diplomats held an emergency meeting late yesterday on the UN sidelines to discuss potential new sanctions against Russia.
"We will study, we will adopt new restrictive measures, both personal and sectoral," EU foreign policy chief Josep Borrell said post-meeting, adding that a final decision needed to be made formally.
Russia's "seizure and militarisation" of Ukraine's Zaporizhzhia nuclear plant - Europe's largest - also drew condemnation as a "root cause" for nuclear instability from several countries, including the United States, France, and Britain.
"(The) heightened risks of a nuclear incident will remain dangerously high as long as Russia remains present on the site of (the nuclear plant)," they said in a joint statement calling for Moscow's withdrawal.
The flurry of announcements by Moscow came with Russian forces in Ukraine facing their biggest challenge since the start of the conflict.
During a sweeping counter-offensive in recent weeks, Kyiv's forces have retaken hundreds of towns and villages.
In a rare admission, Moscow said Wednesday 5,937 Russian soldiers had died in Ukraine since February.