Reporter Juliette Gash has travelled to Kenya with cameraman Mark Ronaghan. Here, along with Ethiopia and Somalia in the Horn of Africa, there are 22 million people experiencing crisis levels of hunger and 4.6 million children are acutely malnourished. Four failed rainy seasons have resulted in the worst drought in 40 years - attributed to climate change.
---
"Welcome to Samburu, where women rule!" - so goes the greeting at Umoja Women's Village in Samburu Province.
Matriarch of the village, Rebecca Lolosoli, welcomes the guests, and the other women in the village cheer their appreciation.
If only her brave declaration were true.
A total of 36 women currently live in the village, most of whom have fled violence at the hands of their husbands.
Rebecca said, "many women have died because of violence, they have come here to stop the death of their children and continue living".
She said the drought is very bad for people, livestock and wild animals, but most especially for women, because they are responsible for getting water and for providing food for their families.
"The women really are suffering," she said.
There are tales of bravery and hope in Umoja.
The women learn beading and sell their intricate jewellery to support the village. They are supported by Samburu Women's Trust, which is a partner of Oxfam.
In one small hut, 15-year-old Mpanisa Lentiro speaks in a quiet voice about running away from her much older husband.
She was his third wife, and he beat her badly. She never wants to go home, as she knows she'll be sent back to her husband or married off again.
Her price was two cattle.
She is being looked after by 86-year-old Rantilei Lolosoli, who shares her food and hut with her, as well as another 15-year-old.
With Rebecca translating, Rantilei said the other girl also escaped an abusive older husband, and female genital mutilation.
Women and girls are disproportionately affected by climate change
Everlyne Situma is the Humanitarian Strategist for Oxfam in Kenya.
She said that women are responsible for fetching water, and during drought they have to travel further to find water.
They are vulnerable to attack on those longer journeys, both from wildlife, and human beings.
She speaks plainly: "Men eat first, then the children, and women eat whatever is left over."
She also explains how young girls are impacted by the drought.
"When we have a drought like this, especially in pastoral communities, the men will marry off their young girls. When they lose livestock ... they marry off their children to get some livestock to keep them going.
"At the same time, when there are issues paying school fees for a boy and a girl, they would rather pay school fees for a boy and withdraw the girl and marry off the girl."
The Horn of Africa is suffering the worst drought in 40 years, four failed rainy seasons so far, and it is set to get worse.
The upcoming October to December rainfall season is also predicted to fail in parts of the Horn of Africa.
The World Meteorological Organisation, along with other bodies, has said the unprecedented fifth failed rainy season will deepen the drought in Kenya, Ethiopia and Somalia.
Scientists say the drought has been brought about by climate change.
"The current drought, which we have all seen in data sets, in evidence, is very much a record drought. It is very strongly connected with the deteriorating climate change impacts in the Horn and in East Africa."
That is the stark assessment by Dr Joseph F Mutemi, a professor at the Department of Earth and Climate Science at the University of Nairobi.
Drought caused by climate change, caused by people, but mostly not those living in the Horn of Africa.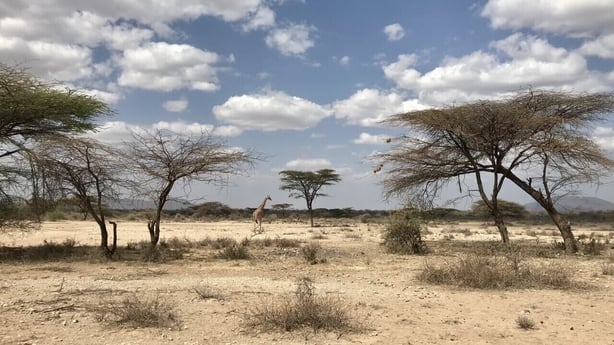 Stephen Jackson is the UN's resident coordinator in Kenya, which means he coordinates the work of 25 UN agencies in the region, including drought response.
It's a big job, and one he clearly is passionate about.
"We sometimes think of the climate emergency as something that is still to come, but it's right here, right now in Kenya.
"It's grossly unfair because Kenya didn't cause the climate emergency, Kenya produces one two thousandth of the world's carbon emissions. Kenya is at 93% renewable energy.
"Kenya is a star child in terms of dealing with climate and yet has the misfortune of being on the front lines of experiencing the impacts of climate change because of changes in the Indian Ocean."
Yet Dr Jackson is still hopeful, adding that there is huge potential for Kenya.
The future
"This is a water crisis, and there are ways to make the desert bloom. We must invest in resilience programming.
"That's going to come to a head at COP27. The big environment summit in Egypt in November.
"That's already being called Africa's COP. And it's where the rubber is really going to hit the road on financing for climate adaptation.
"There's climate mitigation, trying to reduce the climate emergency and climate adaptation, helping people contend with the climate disaster that's already hit them."
He said that of the €100bn that was promised by developed countries five years ago, a total of zero has been delivered.
"That has to change, and it will change at Africa's COP, you can expect it to be a showdown."
Hopeful words again, but it is hard not to draw parallels between that optimism, and Rebecca Lolosoli's bold statement about Samburu women.
At the end of our interview, when asked about the future, in which some are already predicting a sixth failed rainy season in 2023, Rebecca is frightened.
"What are we going to do? What is going to happen in some months to come. We are not sure if it is going to rain. We are always looking up at the sky, oh the clouds come and then they disappear ... everyone is scared about this, it's not normal."