The National Apprenticeship Office (NAO) has said it is working hard to address an unprecedented backlog that continues to hold up essential training for thousands of apprentices.
More than 7,000 apprentices are waiting up to 18 months to access classroom-based training.
While the figure has been reducing gradually in recent months, the authorities say they are "running to stand still" because demand for apprenticeships is growing.
More than 4,000 young people have registered for apprenticeships so far this year, and the NAO expects that number to double in the coming months, as more students who have completed their Leaving Certificates decide on their next steps.
We need your consent to load this rte-player contentWe use rte-player to manage extra content that can set cookies on your device and collect data about your activity. Please review their details and accept them to load the content.Manage Preferences
Isaac Boyle has already made that decision.
In fact, he had made up his mind before he sat his Leaving Cert, in June.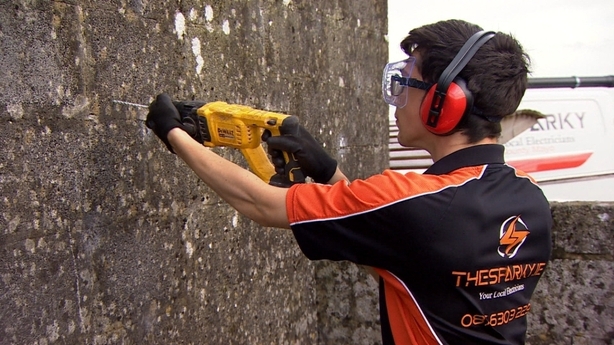 Despite coming from an academic family – his parents are civil servants and his sister is at university – and doing well in his exams, Isaac knew that a college career right now was not for him.
"I just never really liked school", he told RTÉ News, "and I just couldn't do four more years of learning".
Isaac has begun an electrical apprenticeship with local Claremorris County Mayo electrician Karl Webber, joining 24,000 others who are currently engaged in apprenticeships across the country.
The majority of them are, like Isaac, in craft apprenticeships.
RTÉ News met Isaac and Karl out on a job earlier this week.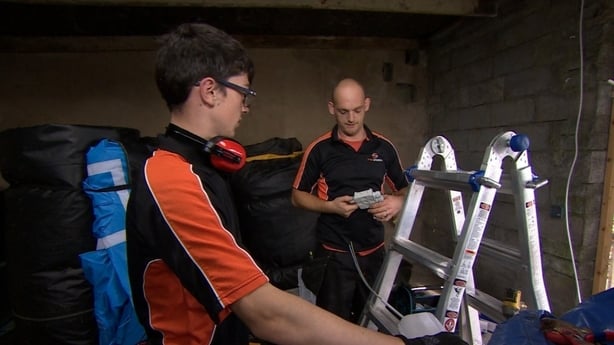 They banter, and Karl teases his protégé as he also carefully guides and instructs him.
Karl jokes that the best thing about having an apprentice is that he can blame him for anything that might go wrong.
But securing an apprenticeship like this isn't all that easy.
Karl had two other apprentices who didn't work out before he took on Isaac.
"It's a pleasure. He is keen. He wants to learn and he is easy to teach", says Karl.
Karl says he has been told that Isaac may have to wait 18 months for his first phase of 'off the job' training, and that concerns him.
He says that first tranche of classroom-based learning is the most important because it teaches the all-important basics, such as how to handle tools.
The delay may prolong what should be a four-year apprenticeship by a year or more.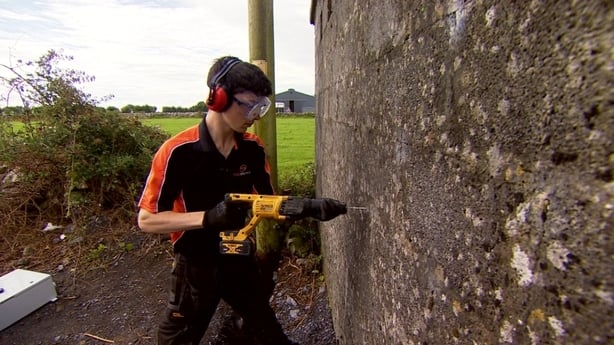 Isaac is concerned about the delay too, but not greatly. He is just happy to be doing what he is doing.
"I like the fact that we are always doing different jobs and going to different places. You meet a lot of people and I am getting paid too which is a bonus."
Above all, Isaac loves the hands-on nature of the work.
"I have always loved working with my hands", he says. "I always liked the practical classes in school and I always seemed to be better at them as well. I find time passes a lot quicker when you are working with your hands".
Keeping options open
Isaac is not narrowing his options by registering as an apprentice.
He will get a level 6 qualification and he explains that he can go on if he wishes, to study to degree and masters level in the area of electronics should he wish to in the future.
The NAO is keen to encourage others to consider apprenticeships.
"There are great opportunities for anybody who is interested in getting their qualification by apprenticeship", says Dr Mary-Liz Trant, NAO Director.
She is acutely aware of the backlog in accessing classroom-based training and says tackling it is her office's "number one priority".
"It is really important, and we are making really good progress", Dr Trant said, adding that "€17 million has been allocated this year to invest in workshops", but says that "we are running to keep up because there is so much interest in apprenticeships".
However, she is "are confident that, within the next six to nine months, we will get rid of those backlogs."
The delays have been largely caused by the closure of training centres and colleges for about 18 months during the pandemic.
No classroom-based training took place during that time. And while the delays are still too long, they have been reduced in recent months.
Isaac has only just begun his apprenticeship.
But his mother Caroline says he has already been transformed.
"It is just amazing. He is chattier. He is smiling. He is much happier", she says.
It was Isaac's parents who had suggested that he pursue an apprenticeship, when it became clear that he didn't want to go to college.
When Isaac got his first paycheck, and his mum suggested that he could use the money to buy a new phone, that was the moment Caroline knew that he had made the right decision.
"He said 'Oh no, I need to buy my own tools', and that was the moment that convinced me", she says.