UK Prime Minister Liz Truss has named Chris Heaton-Harris as the new Northern Secretary.
New Northern Secretary Chris Heaton-Harris brings a unique skillset to the job.
As a grade 5 qualified football referee, he is well used to being in the middle of rival factions.
But as a renowned hardline Brexiteer, he won't be viewed as a neutral arbiter.
Sinn Féin and the other main parties at Stormont other than the DUP are unlikely to see the Conservative MP for Daventry as an honest broker due to his non footballing activities.
He is a former chair of the European Research Group, a coalition of passionate Brexiteers within the Conservative Party who have backed the DUP in the Northern Ireland Protocol dispute and backed Liz Truss in the Tory leadership contest.
One of the MP's many previous roles in the British government was as Minister of State at the Foreign and Commonwealth Development Office, where his boss was the then Foreign Secretary Liz Truss.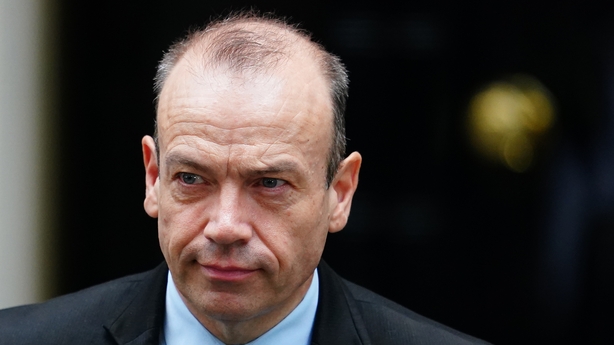 His responsibilities included trying to resolve the dispute over the Northern Ireland Protocol, and his boss took a stance that pleased the DUP and ERG.
He visited Northern Ireland in January this year, saying the purpose was to speak to businesses about the problems presented by the protocol.
Afterwards, in a video posted on Twitter, he said it was clear from what he had heard that "the protocol isn't working and we need to find a solution".
The DUP, nervous about the direction that Liz Truss will take on the protocol as British Prime Minister, will be relieved and reassured by the appointment and hope that he signals a willingness to pursue unilateral action to override parts of the protocol.
But even if a resolution to the problem is found that prompts the DUP to go back into the power-sharing administration at Stormont, the new Northern Secretary may also have to bring the other main local parties on board.
The hardline Brexit credentials that will appeal to the DUP could make their opponents reluctant to do business with him or attempt to exert a high price for doing so.
Mr Heaton-Harris will also arrive in Northern Ireland amidst widespread speculation that he was far from first choice for the job, with claims that several others turned down what is clearly viewed as a potential poisonous chalice.
In footballing terms, it would appear he's been brought on from the subs bench.