Pakistan's armed forces have rescued a further 2,000 people stranded by rising floodwaters which have swamped about a third of country.
It bring the total number rescued to about 50,000 people, since rescue efforts began.
Naval vessels are carrying out relief operations across the submerged area, which is well over three times the size of the island of Ireland.
Record monsoon rains and melting glaciers in northern mountains brought floods that have killed more than 1,200 people, more than a third of them children, the National Disaster Management Authority said.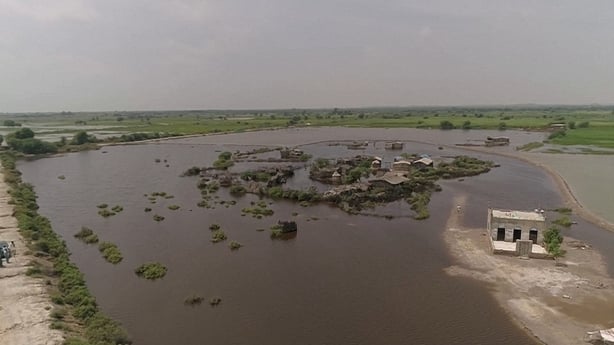 The United Nations has appealed for $160m (€160m) in aid to help tackle what it said was an "unprecedented climate catastrophe".
While UNICEF has warned that many more children could die from disease.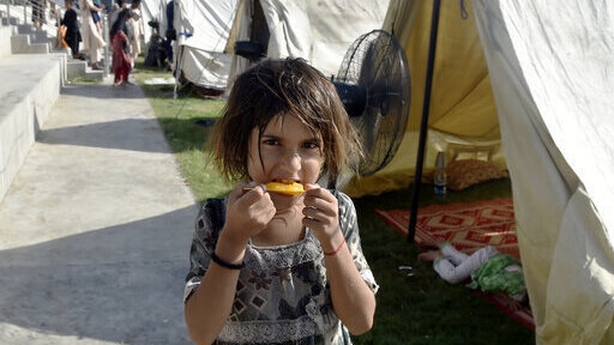 'Huge risk' of deadly diseases
"There is now a high risk of water-borne, deadly diseases spreading rapidly - diarrhoea, cholera, dengue, malaria," UNICEF Pakistan Representative Abdullah Fadil told a Geneva press briefing.
The navy airlifted more than 150 people from villages in the Dadu district of the northeastern Sindh province, which is one of the worst affected areas.
Several villages are under as much as 3.35m of water, according to Bashir Khan, a local resident.
"My house is under water, I had left my place four days ago with my family," he said.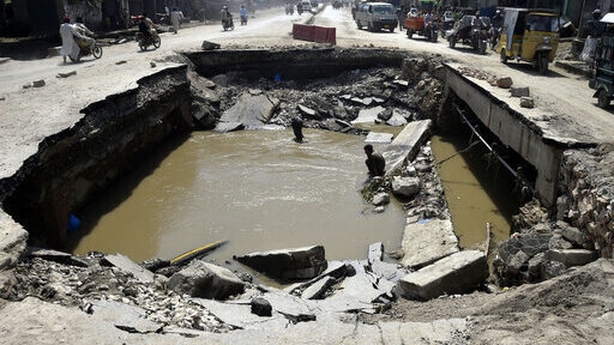 Several humanitarian relief flights are arriving today from Middle Eastern nations.
Weather officials predict more rains and flash flooding in the month of September, and the warnings include southern regions which are bracing for surges from the Indus river.
There have been calls for relief camps to deploy additional female doctors and medical officers, to ensure adequate care as more pregnant women and young mothers are displaced by the waters.
Regional food security
The Pakistan country director for the UN World Food Programme said that the floods were also likely to disrupt relief work in neighbouring Afghanistan, given the country's role as a key transit route.
"The floods in Pakistan are going to be a huge dent in that capability," Chris Kaye said. "We are becoming very concerned about overall food security (in the region)."