CEO of Nursing Homes Ireland Tadhg Daly has said that nursing homes are not closing to repurpose as centres for people fleeing the war in Ukraine.
"There's no nursing home closing to become a centre for refugees. Nursing homes are closing because they are being forced to close," he said.
He was speaking after Minister for Older People Mary Butler said nursing homes that are going to close must give health authorities six months notice of their intention to do so.
Speaking on RTÉ's Morning Ireland, Ms Butler said that she is aware that eight nursing homes have closed in the last three months.
She added that in the last two weeks, four nursing homes have deregistered their provision of care for older people.
Ms Butler said that she has been made aware that there are some instances where these nursing home operators have "changed their business model to provide care to other vulnerable cohorts of society".
It has been reported that some nursing homes were closing to current residents in order to accommodate people fleeing the war in Ukraine.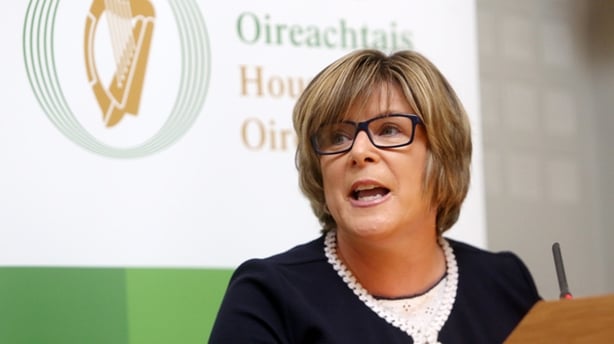 The Waterford TD said that in the southeast region in the past two weeks alone, 101 beds will be lost because three nursing homes have decided to close.
"No nursing home takes this decision lightly, to close, and there are a lot of challenges for the smaller and the voluntary nursing homes," she said.
She said that nursing home operators must give HIQA six months notice of their decision to close.
"There is a legal requirement already there, so when a provider notifies HIQA that they no longer wish to register as a nursing homes and to provide nursing home care, they must give at least six months notice to HIQA if they intend to close and what I want to see happening now is that this six months is adhered to," she said.
Ms Butler said this this will give the residents, the families and the public health authorities appropriate time "to respond effectively".
Speaking on the same programme, Mr Daly said that he is "disappointed" at comments made by Ms Butler.
Regarding the Minister's calls for a minimum six-month notice period before a nursing closes, Mr Daly said that when a decision to close is taken by an operator "things can happen very quickly".
He said that once a decision to close is made, residents need to find alternative accommodation and the priority is ensuring that there is a safe transition of residents to other facilities.
He said that those nursing home operators that choose to close are "heartbroken", he described the current situation as a "full blown crisis".
He warned that these closures are "not a new phenomenon".
He said that private nursing homes need parity with the financial provision made for public sector nursing homes.
"We need parity for the provider, we need parity for the staff who work in the centre and we need parity for the residents," he said.
Ms Butler said she is currently working on a support scheme to address increasing energy costs for this sector and she hopes to make an announcement on this in the coming weeks.