Tánaiste Leo Varadkar has said people should feel safe on public transport but a decision on a dedicated transport police unit is a matter for the Garda Commissioner and not the Government.
An Garda Síochána said it is not considering the establishment of a transport police unit at the moment.
It follows a call from the National Bus and Rail Workers Union for dedicated security on public transport following a number of recent assaults on staff and passengers.
Speaking in Monaghan, Mr Varadkar said people should feel safe on public transport.
He added that there needs to be an increased garda presence at bus and train stations and also increased security should be provided by the transport companies.
In an earlier statement, gardaí said they engage with transport operators to provide a co-ordinated garda presence on public transport, to prevent and tackle anti-social behaviour.
"All incidents reported to An Garda Síochána are fully investigated, with a pro-active arrest policy and prosecutions where possible.
"An Garda Síochána proactively engages with transport operators, including the National Transport Authority, Irish Rail and Transdev Ireland to provide a co-ordinated Garda presence on public transport, to prevent and tackle anti-social behaviour," it added.
We need your consent to load this rte-player contentWe use rte-player to manage extra content that can set cookies on your device and collect data about your activity. Please review their details and accept them to load the content.Manage Preferences
Passengers need to feel safe - NBRU
The NBRU said there is little point in pumping millions into services if people do not feel safe travelling on public transport.
NBRU Assistant General Secretary Tom O'Connor said that five bus drivers were assaulted recently, including an incident at Dublin Airport, where a driver was allegedly attacked after they asked a motorist to move their car, which was illegally parked.
He said that staff are suffering "serious injuries".
"Over the last number of weeks, we've had five drivers assaulted, physical assaults, some of them resulting in hospitalisation," Mr O'Connor said.
He said passengers have also been subjected to both verbal and physical abuse.
Mr O'Connor said that staff are instructed not to get involved in such incidents, adding "they're public transport workers, not bouncers or security".
He said a garda public transport division is needed and the establishment of a "fully funded dedicated public transport division" is the "only option" to make public transport safe.
Mr O'Connor said security personnel working on some public transport, such as the Luas, do not have the powers of "caution, arrest and detention".
He said the union has been calling for a dedicated garda unit for a long time.
Meanwhile, the National Transport Authority (NTA) has said it does not believe there is a need for a dedicated policing unit on public transport.
A spokesperson for the NTA said that while incidents such as assaults take place from time to time, most passengers feel safe on board - according to a 2021 customer satisfaction report.
The NTA said that the vast majority of the 240,000,000 bus, tram and train journeys every year are completed without any problem.
In relation to a distinct policing unit for transport, the NTA said it believes the current approach of transport operators working closely with An Garda Síochána is the best option.
Investigation into assault on Dublin Bus
Meanwhile, gardaí are investigating an alleged assault on a Dublin Bus in the early hours of Sunday morning, in which Mark Sheehan was injured.
The incident happened on the Firhouse Road in the southwest of the city at around 4am.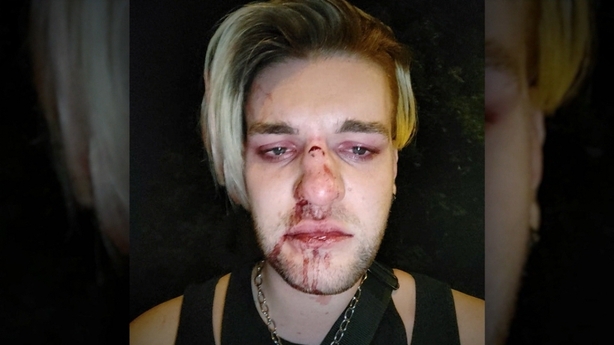 Garda Commissioner Drew Harris has said the investigation into the attack was progressing well.
"We are in the process of identifying the perpetrator," he said.
"A complaint has been made and we're gathering the evidence and asking people who witnessed the assault in Tallaght to come forward."
Mr Harris said a command control centre is being opened at Heuston Station to provide a direct link with transport authorities.
This will "allow us to respond more quickly", he said.
"At the same time, we're engaged in proactive work targeting specific operations and dedicating resources accordingly.
"We're aware of public concerns and we want to ensure people feel safe and be present at appropriate times in areas of difficulty."
Govt should 'seriously consider' unit
Meanwhile, Fianna Fáil Spokesperson on Justice Jim O'Callaghan said there would be an additional cost to a dedicated transport police unit, but added that his party is in favour of such a move.
Speaking on RTÉ's Today with Claire Byrne, he said: "At present when you're on public transport, one thing you know for certain is that you're not going to encounter a member of An Garda Síochána on the bus or on the train or on the Luas on which you are travelling."
As the population increases and the use of public transport is encouraged, there is a real need for a visible garda presence, he added.
Speaking on the same programme, former Assistant Garda Commissioner Pat Leahy said that a dedicated transport police unit is something that the Government should "seriously consider".
However, he added that An Garda Síochána does not currently have the resources to provide a dedicated unit.
"At the moment, I'm 100% sure the guards would not have the resources to put in place a dedicated unit to manage the transport system from a security perspective," Mr Leahy said.
He said that ensuring a safe environment for passengers is essential when people are being encouraged to use public transport.
"From a climate change perspective, there is a move towards getting out of cars and getting into the public transport system, so we have to change with the times and we have to provide a safe environment for people, if they choose to use it or just to encourage them to use it."
In a statement to RTÉ News, the Department of Justice said the Garda Commissioner is responsible for the management and administration of garda business, including decisions with regard to the establishment of new units.
"The department understands the garda authorities do not propose to establish a dedicated transport policing unit at this time," the department said.
"However, garda management engages extensively with transport operators, including the National Transport Authority, Irish Rail (DART and InterCity rail) and Transdev Ireland (Luas) to provide a high visibility presence on our public transport networks through a coordinated approach."
The statement added that from 31 January to 30 June this year, there were a total of 3,061 incidents recorded on the Garda PULSE System associated with Operation Saul, which is designed to provide a safe environment for commuters using public transport services in Dublin.
"Of these incidents 2,979 were non-crime and 82 were crimes which are either under active investigation or have resulted in an accused persons appearing before the Criminal Courts. A total of 65 charges have been preferred under the operation so far, as well as a small number of adult cautions and Juvenile referrals," the statement from the Department of Justice outlined.