For Alix Fitzgerald, Sundays will never be the same again.
"Once a Vixen, always a Vixen," she says of her team, East London Vixens RFC, who she has lined out with since 2018.
But now, after a decision by England's RFU in recent weeks to prevent transgender women from playing female contact rugby, she is listed as "former player" on the website of the club.
Alix is one of what is believed to be seven players affected by a decision by England's RFU in recent weeks to prevent transgender women from playing contact rugby.
It was quickly followed by a similar decision by Ireland's IRFU, which changed its gender participation rules earlier this week, citing research showing evidence that people whose sex was assigned as male at birth have advantages in strength, stamina and physique.
For Alix, the RFU decision meant the game, which has given her a huge sense of belonging, where she could "just be me" had made her an outsider.
"That was really bruising," she said, as it meant being cut off from her identity. But the decision by the IRFU, she says, "cut even harder".
In an interview with This Week on RTÉ Radio One, she said: "I left Ireland quite a long time ago, before it became the country it is now.
We need your consent to load this rte-player contentWe use rte-player to manage extra content that can set cookies on your device and collect data about your activity. Please review their details and accept them to load the content.Manage Preferences
"When Ireland changed - and it has changed hugely in my lifetime - I was finally able to connect with the place I am from and say: 'I am Irish, and I belong here.' When the IRFU did that, it damaged my sense of belonging. I feel wounded."
Alix grew up in south county Dublin, at a time when Ireland was winning Grand Slams and Five Nations. Rugby was always part of life.
"There are a lot of happy memories. Memories with my dad, watching the Five Nations on a rainy day, the cup of tea and the fire going. I grew up in south county Dublin where rugby was a thing," she says.
However, Alix did not play in childhood: "Honestly, and this was the story for me all through my school years, boys sports teams were - for reasons that are probably obvious - not really my thing. I didn't fit. It was the game I loved but for me it didn't feel like something I could actually do."
The draw to the game started in more recent years, when she came to a point in life when she wanted to do the "bucket list things" among them - rectifying a regret of never playing the game she loved.
"When you transition, for me it felt like there was as lot of stuff that I hadn't done that I would have liked to have done. And this was part of that process of kind of living the life I wanted, being the person I wanted to be.
"There is a lot of stuff for me tied up in sports and being physical. And part of it is about finding your physical self, about being embodies in the world, being actually physically present because some of transition for me was about being who I was and how I presented to the world."
She joined East London Vixens and her first full season was in 2018 when she won most improved player.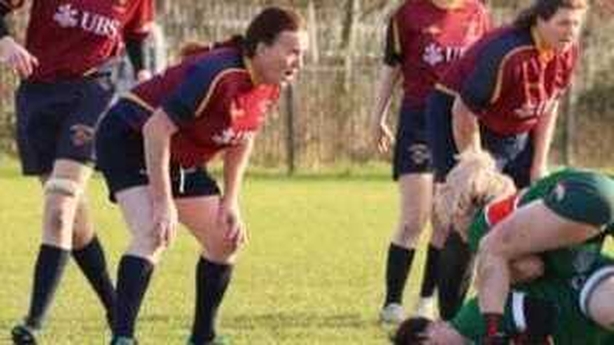 "All of a sudden, I found a sport and a bunch of people where I could be me. I could express myself because they were just kind of like me, they were playing this weird and wonderful sport.
"I went along for one of these taster sessions and gave it a try. And I loved it. I fell in love with the club and the ethos of it, it was just magnificent," she says.
World Rugby has cited research, claiming that transgender women who transitioned post-puberty - so would have experienced the biological effects of testosterone during puberty, that they have a significant differences in strength, size and speed and power and that has potential safety consequences on the pitch.
'I have never felt I was a danger to other people'
But Alix says that as a player, she has never been a safety risk to others: "I have played with women that are bigger and faster than me. I have been hit by them and driven into the dirt, but that is the game. I have never felt I was a danger to other people."
"Rugby is supposedly a game for all shapes and sizes. There are people playing rugby now who are 5' 1" and 50 kilos, playing against people who are 6' 1" and a hundred and something kilos.
"I am neither of those things so I never felt I was a danger to anybody," she says.
"I've been pushed backwards as often as I've put anyone else backwards. This says that for some reason, just because of my background and my history, that I am always going to be more physically capable than any woman out there, that is simply not true.
"There are some incredibly capable people out there, I have propped against people who have been 20 to 30 kilos heavier than me and have pushed me backwards."
The IRFU says their new policy is in line with that of World Rugby, the RFU and other governing bodies and that they consulted widely.
The IRFU say they are keenly aware that this is a sensitive and challenging area for those involved and the wider LGBT+ community and will continue to work with those impacted, providing support to ensure their ongoing involvement with the game.
But for Alix, a big gap has been left in her life.
"I can't play the game I love. It is that simple. I am 54 now and probably didn't have all that much left in me. But I'm cut off from that thing now. And honestly, my Sundays are going to feel empty."