A Galway man has finished a coast-to-coast run across the US carrying the ashes of his friend who died unexpectedly last year.
Ultra runner Richard Donovan ran 5,150km (3,200 miles) from Boston to his friend's home state of California in just over three months.
On Sunday, the 56-year-old arrived at Santa Monica Pier and returned the ashes of Alvin Matthews to his mother Sara at the finishing line.
Richard said: "It was important to return the ashes to Sara. It was something special and so emotional because we felt an unfairness when Alvin died last year after everything he had been through."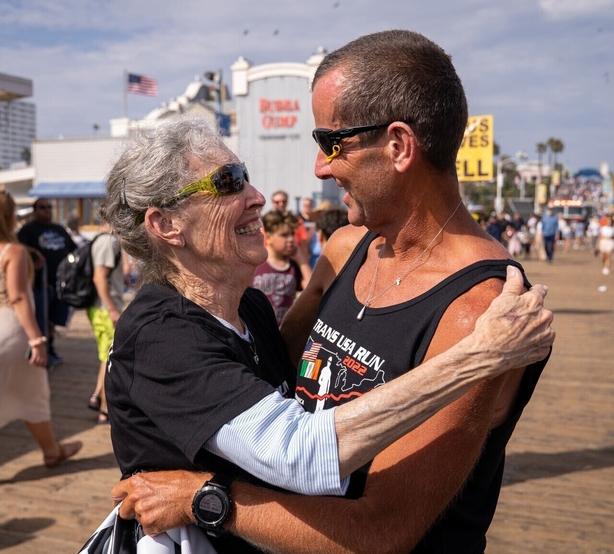 This is Mr Donovan's second transcontinental run of the US in support of his friend.
In 2015, he ran from San Francisco to New York to fundraise for Mr Matthews who was paralysed following a spinal cord injury.
Mr Donovan said: "Alvin was an athlete, a runner. I wanted to get him involved with the running community again because there is a danger when something like that happens for someone to withdraw completely. We fundraised thousands of dollars for him."
He has experienced his own injuries, which have nearly ended his running career.
He said: "Last April, I could barely walk. I had reconstructive surgery on my knees. So I didn't really get to train for this run. My surgeon Kevin Stone actively encouraged me to do it and luckily I never had any knee pain on the run, which was amazing."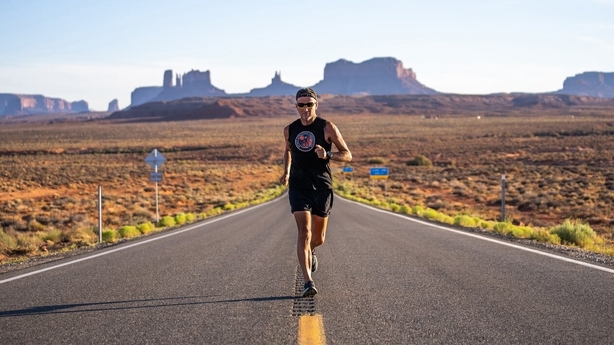 Mr Donovan set out from Boston on 19 April running a average of 64km per day through 16 states.
He described his set up as "spartan" with only one car joining him at points along the way.
His journey took him along Lake Erie, through the farmlands of Ohio, across Kansas, over the Rocky Mountains and finally following Route 66 to the west coast.
While he wouldn't say he became a mini celebrity in these communities, he certainly became a source of intrigue.
He said: "I didn't do the quickest route. I went by country roads. I really saw the kindness of the average American. People would pull over in their cars offering me water. They just see this guy running on his own in heatwave temperatures, but they know you must be doing it for a reason.
"At one point, I ran along a 120-mile section of road where construction workers were laying rumble strips. They got a system going to give me water. They kind of adopted me for those few days.
"When I reached Arizona the Navajo Native Americans got wind of what I was doing and they looked after me, making sure I had enough water.
"At one point, on Route 66, I went into a store in the middle of nowhere and the shop assistant asked, 'Are you that Irish guy doing the run?' Word had travelled along the road about me!"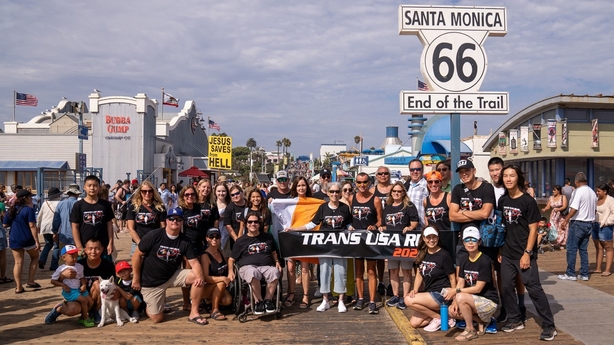 Mr Donovan has achieved a lot in his running career.
In 2002, he became the first person to run marathons at both the North and South Poles and has set a world record for running marathons on all seven continents in 4 days 22 hours 3 minutes.
He has also run across the continents of Europe and South America.
This most recent run was his most important challenge yet.
He said: "When I finished I just felt so lucky. With a run like that, there are so many things that could go wrong.
"I ran through the heatwave in Kansas with strong head winds. That was tough. I had a lot of things thrown at me. But it was important to get Alvin's ashes to his mother. Let me put it this way. There was no way I was giving up.
"Now, I find myself waking up at 2am thinking I have to run 40 miles today and then I remember, 'Hold on! It's done!'"