An energy expert has predicted that there is an "increased risk" of electricity blackouts in Ireland this winter, although there is no short-term risk.
75% of Ireland's gas is imported through the UK which in turn imports the gas from Norway. This could pose a risk to Ireland if the European Union was to ask Norway for assistance this winter.
"A significant portion of the UK's gas imports come from Norway. If there's a shortage in Europe it's almost inevitable that the EU will approach Norway and say 'please give us more gas," Gerry Duggan told RTÉ Radio 1's Drivetime.
"In that situation, it's not clear what the attitude of the Norwegian government would be even if the gas had been contracted to the UK. The risk is political," he said
Mr Duggan explained that Norway has a much closer relationship with the EU than the UK now has. It also supplies a substantial quantity of supplies to Europe in the normal course of business.
"If the EU is short of gas, they are not going to be giving it away, certainly not going through the UK to here. You can take it that is unlikely to happen," he added
Mr Duggan said that could lead to a possibility of an electricity supply issue in Ireland from November onwards.
"There mightn't be gas for electricity generation. There is an increased risk of blackouts this winter in the event of a gas shortfall," he said.
However, he added that there would be a lesser risk to the domestic or healthcare electricity supply.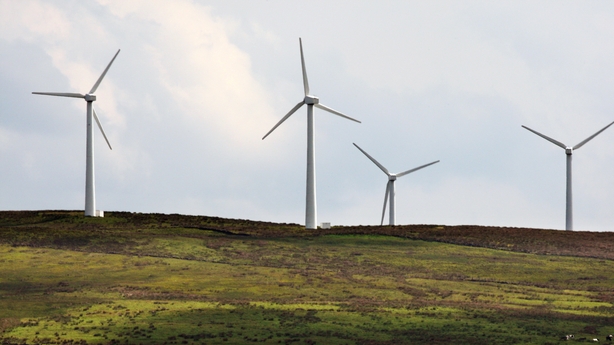 Investment in offshore wind farms is needed to stave off the threat of future blackouts, according to the Chief Executive Officer of Wind Energy Ireland.
Noel Cunniffe has said that Ireland's planning system needs to be "reformed and resourced" to ensure that offshore wind projects can progress, adding that the electricity grid infrastructure also needs to be upgraded.
Mr Cunniffe said that currently there is just one offshore wind farm in Ireland. It is located off the coast of Wicklow. However, he said that it will be 2027 at the earliest before a second offshore wind farm starts producing electricity.
Yesterday the Government announced details of plans to increase the State's offshore wind energy target from five gigawatts to seven gigawatts, while a target of two gigawatts was set for the supply of green hydrogen to make electricity.
"We have the pipeline of projects to exceed these targets but if we're to really get it right it needs to be supported by the right policies by Government," Mr Cunniffe told RTÉ's News at One.
Mr Cunniffe explained that about 37% of Ireland's electricity has come from onshore wind energy already this year.
In terms of offshore wind energy, Ireland has only one relatively small offshore wind farm in Arklow bay.
"It's about 25 megawatts in size. It has seven turbines. We're trying to go from 25 megawatts to 7,000 megawatts by 2030. There are numerous projects right around Ireland's coast that are in various stages of development.
"The plan is to increase that up to about 10 offshore wind farms between now and 2030 and also to continue investing in onshore wind energy so that we hit the government target of 80% of our electricity coming from renewables by 2030," Mr Cunniffe said adding that there are six offshore wind farms in the pipeline which should be connected by either 2027 or 2028.