A special football match between Celtic and Rangers in Belfast to publicise the referendum on the Good Friday Agreement was proposed by No 10 adviser Alistair Campbell, according to British cabinet papers just released.
Mr Campbell suggested that the teams wear each other's jerseys in the match.
However, he admitted "one or two of the Rangers players to my certain knowledge would have a difficulty with this".
Mr Campbell, whose parents were from Scotland, said he had a "direct in" with Celtic while he could get Manchester United manager Alex Ferguson to approach Rangers.
"Both in terms of raising publicity for the campaign and in sending out a message, it would be very powerful."
In the letter headed Rangers v Celtic, An Idea, addressed to Prime Minister, Tony Blair, Northern Ireland Secretary Mo Mowlam and Scottish Secretary Donald Dewar and dated 12 April 1998, Mr Campbell asked if this was worth pursuing.
There is no record of anyone getting back to him.
The referendum on the Good Friday Agreement was held on 22 May that year.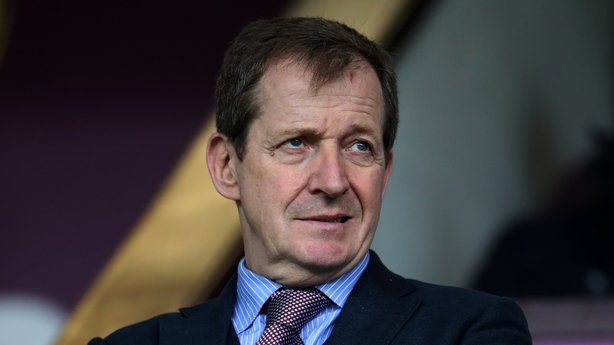 The optimism expressed by Mr Campbell in April was a far cry from the "potentially dangerous sense of despondency and failure" recorded by British civil servants as multi-party talks broke up for Christmas om 22 December.
The talks on the three Stands - Northern Ireland, North and South in Ireland and East and West - appeared to be stalling with no progress on any of the key issues.
Papers marked 'restricted' and 'confidential' recorded Sinn Féin leader Gerry Adams fearing the IRA ceasefire would break down in January or February.
One of the arguments on 16 December 1997 centred on Ulster Unionist Party leader David Trimble statement that the UUP had not after all agreed to discussions in London and Dublin on Strand 2 in January. He said there had been a "misunderstanding".
Mr Trimble said the timing would only "excite the media" when insufficient progress had been made.
Deputy leader of the SDLP Seamus Mallon said he had never experienced such as poisonous atmosphere in Northern Ireland negotiations.
The notes recorded by British civil servant Jackie Johnston of the Constitutional and Political Division report an air of "despondency and exhaustion around the table" as the parties failed to reach agreement.
A note sent to the office of British Prime Minister Tony Blair stated that Mr Trimble had developed an "intense suspicion" about the process.
Mr Johnston said his insistence that the UUP had not agreed to a Strand 2 meeting in London was seen by some as a "deliberate attempt to puncture Irish Government press briefing" about the determination of the two governments to drive the process forward.
"The Irish ended up looking fairly depressed", the note stated adding, "they may further harden their position".
'We might as well prepare our exit strategy' - Ahern
Last minute Unionist objections to North South bodies threatened to derail negotiations days before the Good Friday Agreement was signed, according to the British cabinet papers.
Taoiseach Bertie Ahern told Prime Minister Tony Blair that "we might as well prepare our exit strategy" if the Unionists maintained their opposition.
Six cross-border bodies covering areas such as waterways, language, food safety and trade known as the "implementation bodies" were part of the final deal.
However, Ulster Unionist leader David Trimble was arguing that the new Assembly would have to vote to set them up.
Mr Ahern told the British Prime Minister during a breakfast meeting two days before the signing of the Good Friday Agreement that the Unionists were being "very unhelpful".
According to British notes of the meeting, Mr Ahern said "if all they had in mind was 'chat show' implementation bodies, we might as well prepare our exit strategy".
And that the Irish side "had to fight for North/South bodies was that for 75 years the Unionists had stopped them happening".
Inevitably, Mr Ahern said, thoughts in Ireland turned to 1921 and 1973, when bodies had been promised but never created. If the assembly had a role, they could be frustrated again.
During a telephone conversation with Tony Blair two days earlier, Mr Ahern also expressed concern about the North South structures.
Mr Ahern said that if there was a breakdown in the future it would be difficult to explain, when he had already changed his Constitution.
Mr Blair replied that Britain would have changed its constitution as well and the change to the Irish constitution only represented the actual position of the Irish on the consent issue.
Anti-British prejudice
Anti-British prejudice and a hardening of opposition to dropping the constitutional claim on Northern Ireland were reported by the British Ambassador in Ireland shortly before the Good Friday Agreement was signed.
A telegram sent by Ambassador Veronica Sutherland to the British government and other British embassies on 26 March 1998 has been released with other cabinet papers.
She stated "beneath the sleek bodywork of the Celtic Tiger remains a good deal of anti-British prejudice, particularly in relation to Northern Ireland".
There was more harmonious relations between the Irish and British governments since the 1980s and a more cosmopolitan outlook in Ireland, which had led to a more outward looking national identity, she wrote.
"In doing so, they have discovered a new confidence in their nationalism, and also, it seems, in their aspiration for a United Ireland."
She said support for removing the constitutional claim in Articles 2 and 3 of the constitution was dropping according to opinion polls.
Ambassador Sutherland said this reflected widespread disillusionment with efforts to find a solution and persistent scepticism that agreement can be reached.
"A breathtaking array of successful people in all walks of life have shown themselves incapable, in private conversation with me, of grasping the true nature of obstacles which stand in the way of a United Ireland".
She made a passing reference to a "very traditional Fianna Fáil line" during a conversation with an "elder brother" of Taoiseach Bertie Ahern.
She said the McKenna judgment which prevented the government from funding a referendum campaign meant the Irish government's performance in referendums was "uninspiring to say the least".
She said the British government needed to stress the need for the Irish to develop a coherent strategy for a possible referendum.
"It is not for us to tell the Irish what they should be doing. But by sharing our strategy with them at a political level, we may encourage them to get moving soon."
The Good Friday Agreement or Belfast Agreement was signed on 10 April, 1998 with North South bodies "interlocked" and set up at the same time as other structures such as the Northern Ireland Assembly, with the acknowledgement that one could not exist without the other.
The agreement was passed by a referendum North and South on 22 May, 1998 and included an acceptance of the issue of consent and a mechanism to remove Articles 2 and 3 of the Irish Constitution which laid claim to Northern Ireland.
---
More on the latest UK state paper release: