When asked how he went bankrupt, a character in an Ernest Hemingway novel replied: "Two ways, gradually then suddenly."
It aptly describes Boris Johnson's exit from No 10 Downing Street, which seemed inevitable to most, apart from the prime minister himself.
Watching on from Government Buildings, the coalition led by Taoiseach Micheál Martin knows Boris Johnson's exit comes at a critical juncture.
Despite using diplomatic language yesterday, it's easy to see senior Government figures are relieved to see Mr Johnson pack his bags.
But there is also trepidation about what might follow.
And there is a long list of practical issues which Ireland will wish to see resolved with the new British leadership.
Re-establishing a relationship based on trust between Government Buildings and Downing Street will be a first step.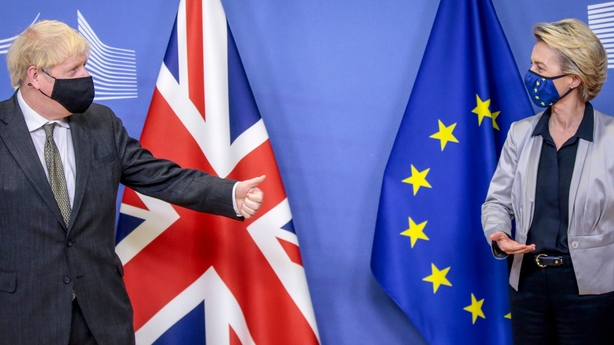 It's hard to negotiate with another party when the other side goes back on its word and breaks agreements, as Mr Johnson did.
But Micheál Martin will also want to see a reset in relations between London and Brussels - which has been severely damaged.
It will be up to the European Commission to lead the negotiations on Brexit.
At present, Britain is still proceeding with divisive legislation to override the Northern Ireland Protocol.
In his statement Mr Martin said: "I would once again urge a pulling back from unilateral action, whether that be on dealing with the legacy of the past, human rights, or the Northern Ireland Protocol."
However, the legislation to override the Protocol is unlikely to be implemented before Mr Johnson leaves office.
That leaves open the possibility of the issue being resolved by negotiations with the EU.
The Irish Government is a spectator at a Tory party contest
But as the legislation is already making its way through the House of Commons any move to tamper with it would be likely to be met with opposition from the pro-Brexit European Research Group.
Next on the agenda is Northern Ireland.
It is currently without a functioning executive in Stormont, a First Minister or a Deputy First Minister.
It leaves Northern Ireland in a state of political drift.
While the Dublin Government may hope for a more moderate regime which could replace Boris Johnson's administration it knows there is no guarantee of that happening.
The Irish Government is a spectator at a Tory party contest.
Fine Gael's spokesperson on European Affairs Neale Richmond pointed out that two of the individuals who have put their names forward for the Tory leadership, Attorney General Suella Braverman and Brexiteer Steve Baker, would take "a harder line than Boris Johnson or Liz Truss".
The bottom line is that Boris Johnson sold himself as someone who could 'Get Brexit Done'.
But from the point of view of Irish politicians, Brexit on the island of Ireland is far from done.