The European Parliament has approved the controversial EU Taxonomy system, which lists gas and nuclear activities as sustainable investments.
MEPs voted with a majority of 50 to reject a motion opposing the inclusion of gas and nuclear activities in the Taxonomy, with 33 abstaining.
The decision was met with anger by climate protesters who had gathered inside the chamber and heckled MEPs from the gallery.
It now looks set to become law, without the need for a European Council vote, as the vast majority of member states support it. However some, such as Austria, have warned that they'll take legal action over the proposal.
The issue has divided political groupings.
Renew Europe MEP Billy Kelleher backed the Taxonomy, telling RTÉ's European Parliament Report, due to be broadcast this Saturday at 11.10am, that nuclear power will be part of the energy system into the near future and that both sources are required to transition from Russian gas supplies and also to achieve climate targets.
"Nuclear power is going to be part of the energy needs for the foreseeable future", he said.
However, his party colleague Barry Andrews rejected the proposal.
Frances Fitzgerald of the European People's Party also backed the current Taxonomy, telling the same programme that it was "naive to say we can get to renewables without continuing to use gas for some period".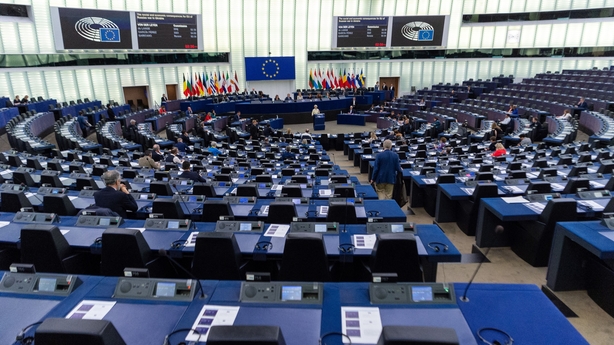 However, Green MEP Grace O'Sullivan told RTÉ that the inclusion of gas and nuclear in the Taxonomy was "an absolute fudge".
Ms O'Sullivan, who has also described the proposed Taxonomy as "green washing" told the programme that "to muddy the water by including gas and nuclear in this system is outrageous".
Mick Wallace of the Left Group echoed comments from Ms O'Sullivan, adding that the Taxonomy would put "gas and nuclear on a par with sustainable energy, which is madness".
The person responsible for implementing Taxonomy, Mairead McGuinness, European Commissioner for Financial Stability, Financial Services and the Capital Markets Union, has said that both gas and nuclear will be subjected to strict criteria and that both fuels are required to help countries transition towards climate neutrality.