Aer Lingus has cancelled 12 flights today due to a spike in Covid-19 cases among staff.
The airline said it is now working to secure alternative travel options for passengers affected and apologised for the inconvenience
Flights from Dublin to Edinburgh, Frankfurt, Lyon, Geneva, Munich and Amsterdam were cancelled as were corresponding return flights.
This evening, the airline said 4 more flights tomorrow will be cancelled.
The flights are Dublin to Berlin and back again, EI 336 and EI 337, as well as Dublin to Hamburg EI 392 and the return EI 393.
In a statement, Aer Lingus said, should crew illness require the cancellation of additional flights in the coming days, it will seek to accommodate passengers on the next available services as efficiently as possible.
It said it had anticipated the return of demand for travel as Covid restrictions were removed, but said system pressures and ongoing issues at some airports have created considerable challenges which have been compounded by a significant spike in Covid cases among the airline's staff.
Clarity sought over Defence Force security role
The President of Defence Forces Representative Association PDFORRA has said clarification is needed on when members of the Defence Forces will be needed to assist with security at Dublin Airport, as well as what roles they will be filling.
Speaking on RTÉ's Morning Ireland, Mark Keane questioned if Defence Forces members would be required to undertake regular duties, and said there are issues around health and safety, as well as the Working Time Act.
Yesterday, the Government agreed to a request from Minister for Transport Eamon Ryan that the army be put on standby to help with security at Dublin Airport this summer.
It comes after major problems at the airport last month when passengers were left queuing outside terminals, and over 1,400 missed their flights.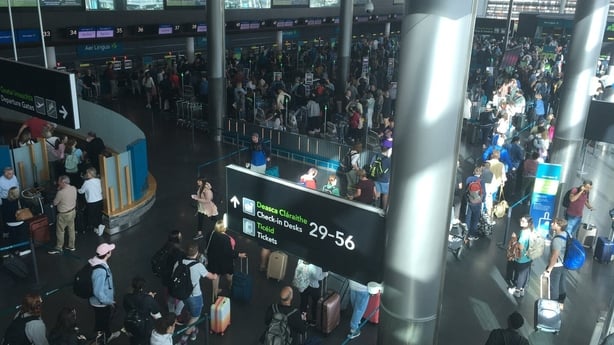 Since then, daa has put in place new measures and hired and trained extra staff but the volume of travellers - 50,000 departing a day - means there are still delays at check-in and security.
We need your consent to load this rte-player contentWe use rte-player to manage extra content that can set cookies on your device and collect data about your activity. Please review their details and accept them to load the content.Manage Preferences
"The Commission on Defence when it made its findings over six months ago highlighted this, saying that there was a custom and practice of using the Defense Forces as a form of cheap labour, their words not mine, and this once again demonstrates that.
"Six months on we still haven't seen the investment that we badly need in the Defence Forces, not alone on the personnel side with, but also in the equipment.
"So this is just another example of the Government launching these great policies, with great fanfare, and then that it goes on the back burner".
Meanwhile, Aer Lingus has said that "due to a spike in Covid cases", it had to cancel six return flights from Dublin today.
The airline said its teams are working to secure alternative travel options for affected passengers.
It said that just over 1% of Aer Lingus flights have been impacted by cancellations this month and "should crew illness require the cancellation of additional flights in the coming days, we will seek to re-accommodate passengers on the next available services as efficiently as possible."
Ryanair welcomes army move at Dublin Airport
Ryanair has welcomed the Government's decision to use the Defence Forces to assist with passenger security processing at Dublin Airport until the end of the summer.
"This measure will support the hardworking daa security staff, especially during peak weekend travel, and reduce the chances of long queues that passengers have experienced particularly at the start of the summer season," the airline said.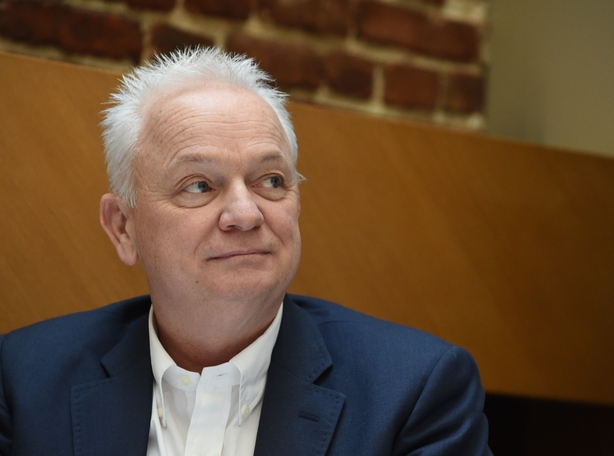 Ryanair CEO Eddie Wilson said the decision is "a hugely positive step" forward for Irish passengers who have had to deal with uncertainty and long delays especially at the start of the summer season.
"The Defence Forces will free up 100 of the daa's security staff who have done a great job but need the support of the army particularly at weekends so that passengers and families can get through the airport quickly and enjoy a well-deserved break," Mr Wilson said.
"It's sensible to have the army on standby as a contingency."
Speaking on RTÉ's Today with Claire Byrne, Mr Wilson said that it is not unusual to see army at airports in countries including Spain, Belgium and France and that security work is not "skivvy work".
He said that people are "wound up with anxiety" about going to the airport even though there are currently no problems there and this plan means there is extra capacity in case of emergency.
On the same programme, Sinn Féin Spokesperson on Enterprise Louise O'Reilly said it is "very disrespectful" that members of the Defence Forces found out via media that they might be deployed to the airport.
Deputy O'Reilly called for negotiation with the workers in Dublin airport, adding that extra staff are to be welcomed but it needs to be "absolutely clear" where they will be deployed to.
Members of the Defence Forces need to be "adequately compensated" for additional work carried out, she added.
Retired Air Corps Lieutenant Colonel and Airport safety and security auditor, Kevin Byrne said the Defence Forces have a long history of aiding civil power but highlighted a "slightly different situation" of assisting a commercial entity.
He said members should be given an extra allowance for the work carried out and for being on standby.