Ukraine's President Volodymyr Zelensky denounced today's missile strike on a shopping centre in the central city of Kremenchuk as a "brazen terrorist act", as the death toll rose to 16.
More than 59 people were wounded in the attack.
It comes as Ukraine requested a UN Security Council meeting tomorrow over the latest Russian strikes on civilian targets.
The "shelling all over Kyiv" yesterday, which hit a residential complex, will also be discussed at the meeting, a spokesman said.
United Nations Secretary-General Antonio Guterres's office condemned the shopping centre attack as "totally deplorable".
President Zelensky spoke out tonight after reports of two other strikes in the east of the country that killed a further 12 civilians in all, as officials there accused Moscow of deliberately targeting civilians.
"The Russian strike today on the shopping centre in Kremenchuk is one of the most brazen terrorist acts in European history," he said in his evening broadcast posted on Telegram.
"A peaceful town, an ordinary shopping centre - women, children ordinary civilians inside."
Brutality by Russia against innocent civilians in #Ukraine. All obligations under international and humanitarian law ignored. The world is watching horrified. Accountability must follow and increased cost for these ongoing crimes. https://t.co/hPDjx8QDWP

— Simon Coveney (@simoncoveney) June 27, 2022
Earlier, Mr Zelensky had said "over a thousand civilians" were in the mall when the missiles struck the city, which had a pre-war population of 220,000 people.
"The mall is on fire, rescuers are fighting the fire. The number of victims is impossible to imagine," he wrote on Facebook.
Earlier, Ukraine's defence ministry said the Kremenchuk strike had been deliberately timed to coincide with the mall's busiest hours and cause the maximum number of victims.
Dmytro Lunin, the regional governor, said it was unlikely many survivors would be found in the smouldering rubble, because "it was a big fire and there was a lot of smoke".
He said there was no military target nearby that Russia could have been aiming at, adding: "It's an act of terrorism against civilians."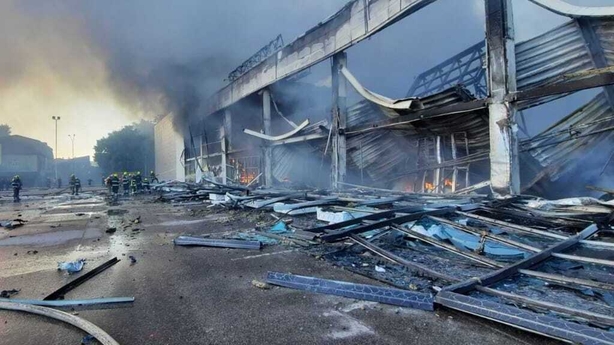 US Secretary of State Antony Blinken voiced horror at the strike and vowed to hold Moscow responsible.
"The world is horrified by Russia's missile strike today, which hit a crowded Ukrainian shopping mall - the latest in a string of atrocities," Mr Blinken wrote on Twitter.
"We will continue to support our Ukrainian partners and hold Russia, including those responsible for atrocities, to account."
Ukrainian MP Inna Sovsun said the missile strike was a deliberate attack on a civilian area.
Speaking on RTÉ's Drivetime, Ms Sovsun said: "There is nothing else around there, so it has to be a deliberate attack on a civilian area, because there were no military objects nearby, nothing."
She said that the health system in Kremenchuk is overwhelmed and there is not enough emergency transport to take all of the injured out.
In separate attacks today, Russian rockets killed at least eight civilians in the eastern Ukrainian city of Lysychansk as they were out collecting water, said the governor of Lugansk region, Sergiy Gaiday.
And a strike in Kharkiv killed four people and wounded 19 others, including four children, said Oleg Synegubov, the head of Kharkiv's regional administration.
The attacks come as western nations pledged unwavering support for Ukraine in the war with Russia, including more sanctions on Moscow and air-defence systems.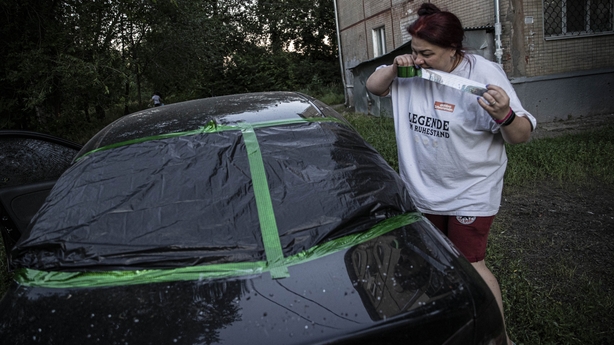 Leaders of the Group of Seven major democracies (G7), meeting at a summit at an alpine resort in Germany, said they would keep sanctions on Moscow for as long as necessary.
They also said they would intensify international economic and political pressure on Russian President Vladimir Putin's government and its ally Belarus.
"Imagine if we allowed Putin to get away with the violent acquisition of huge chunks of another country, sovereign, independent territory," British Prime Minister Boris Johnson told the BBC when asked about the possibility the war might drag on for years.
"The lessons for that would be absolutely chilling. The point I would make to people is I think that sometimes the price of freedom is worth paying."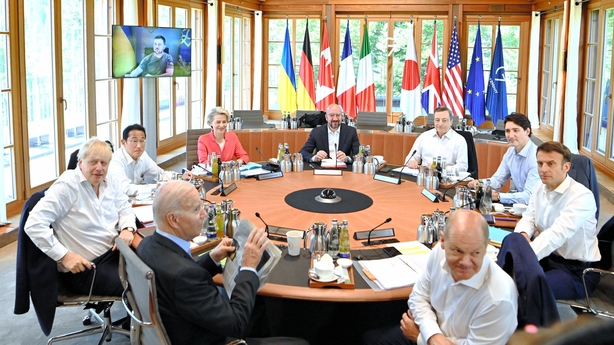 The United States said it was finalising a weapons package for Ukraine that would include long-range air-defence systems - arms that Mr Zelensky specifically requested when he addressed the leaders by video link from Kyiv today.
Despite the boost from its allies, Ukraine was enduring another difficult day on the battlefront following the loss of the city of Sievierodonetsk after weeks of bombardment and street fighting.
The General Staff of Ukraine's Armed Forces said the Russians were trying to cut off Lysychansk from the south. Russian war planes had also struck near the city, the general staff said in its daily update.
Russian reports yesterday that troops had already entered Lysychansk could not be confirmed by Reuters.
Luhansk and neighbouring Donetsk province make up the Donbas region - Ukraine's industrial heartland.
The Donbas became a prime target for the Kremlin after Russian troops failed to take the capital Kyiv in the early stages of the war, which is now in its fifth month.
Russian forces also control territory in the south, including the port city of Mariupol, which fell after a long siege that left it in ruins.
Russian missiles struck Kyiv yesterday for the first time in weeks.
The war has also created difficulties for countries way beyond Russia's borders, with disruptions to food and energy exports hitting the global economy.
These include Ukrainian grain, now trapped in ports, which normally feeds millions of people across the Middle East, Africa and elsewhere.
Russia invaded Ukraine on 24 February in what the Kremlin calls a "special military operation" to rid the country of far-right nationalists and ensure Russian security.
Kyiv and the West dismiss that as a baseless pretext for a war of aggression that has killed thousands, sent millions fleeing Ukraine and laid waste to cities.
At the G7 summit, US President Joe Biden emphasised the need for unity amid concern that there were diverging opinions in European capitals about how best to handle the situation.
"Putin has been counting on it from the beginning that somehow the NATO and the G7 would splinter," he said. "But we haven't and we're not going to."