The question that remains after the latest week of upheaval in the Conservative party is - How long can this go on?
One thing that does seem certain now is that the question of Boris Johnson's leadership is not going away. The reason for that is the state of the economy.
Mr Johnson famously thrives on culture wars or 'wedge issues' that rally his base and divide his opponents - the Rwanda migrant plan was launched at a convenient time.
However, just imagine there was no migrant transportation plan, no row with Brussels over ripping up of the Northern Ireland Protocol and no controversy over the European Convention on Human Rights.
What the British media and public would be left to concentrate on would be the consumer price index hitting a new record high of 9%, with the UK economy shrinking in March and again in April.
The UK's economy is forecast to stagnate next year and to be the worst performing in the G20 group of countries with the exception of Russia according to the OECD. Inflation is forecast to be hitting 11% by the end of the year.
Already people are coping with a cost of a living crisis, rising fuel prices, national strikes by rail workers and more stoppages threatened by teachers and nurses.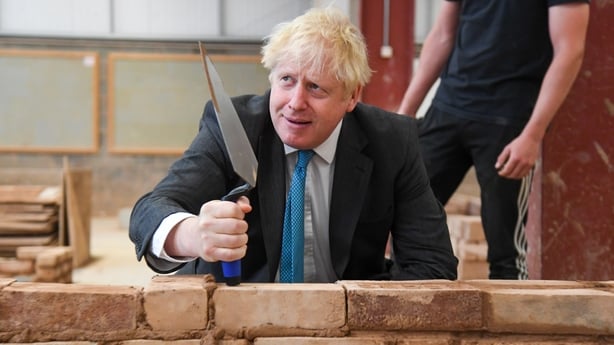 No amount of culture war will keep all that buried.
And faced with all of these economic problems, Mr Johnson has been accused of policy incoherence - even by right-wing newspapers.
He has promised to 'level up' by investing more in the so-called Red Wall areas in the Midlands and North where Conservatives found support for the first time in 2019.
And he has promised to 'support the NHS', already pledging recent rises in National Insurance as funding.
However, at the same time he has promised the right-wing of his party that he will cut taxes.
He has also promised to reduce tariffs on food imports to help consumers.
This comes as Mr Johnson had to travel to Devon prior to the by-election there to try and get the support of farmers who have to compete with cheaper imports from countries that do not require the same costly environmental standards from their own producers.
No doubt Mr Johnson would much prefer to have people arguing about the Rwanda migrant plan or a row with Brussels.
However, he might have pause for thought before trying to raise Brexit as a rallying standard. Britain's own Office for Budget Responsibility has calculated that the UK economy will suffer a hit of 4% to GDP - worth €46 billion a year - purely because of Brexit. That money would come in handy right now.
The Centre for European Reform think tank calculates that the drop in GDP is higher, and is already over 5%.
No wonder the sixth anniversary of Brexit passed on 23 June without much fanfare.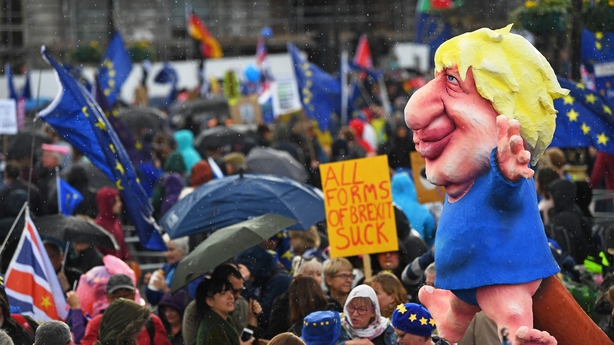 Watching Mr Johnson's ministers dismissing international treaties almost at the rate of one a day, before cruising to a double by-election defeat, it is hard not to feel a sense of an end of an era, or 'fin de siecle'.
One has to remind oneself that Mr Johnson has survived before and has announced he has no intention of quitting.
There is focus now on the election of a new executive of the 1922 Committee which will take place before the summer recess on 21 July.
Only backbenchers can vote and it is thought that 70% of them backed the no confidence motion against Mr Johnson.
The new executive will have the power to change the rules and allow another vote of no confidence within a year. The threat of that was enough to force Theresa May's resignation in 2019.
The loss of Tiverton and Honiton was seismic
However, even among the rebels there is a reluctance to change the rules. The reality is, if it is clear that a majority of Tory MPs have decided it is time for Mr Johnson to go, then it will be very hard to cling to power, even for him.
Mr Johnson will not be back from his various foreign engagements until Friday 1 July and he may think if he can last until the parliament recess on 21 July ,he will be able to breathe easily for a while until September.
However, the loss of Tiverton and Honiton was seismic. It is hard to convey how safe this Conservative seat had been considered. The local people we talked to recently during a visit there were not even used to being canvassed. Right up to the very last moment many people believed the Tories would hold it.
Yet, despite it being such a traditional Tory stronghold, it was impossible to find anyone who would say they were a Blue voter.
The strange thing was that we did not meet any committed Liberal Democrats voters either - the people we interviewed on the streets of Tiverton were all traditional Conservatives, Labour or Greens who were voting Lib Dem for different reasons but for one aim only - to get rid of the Tories.
Estimates vary, but it has been calculated that if this result was replicated nationally this would mean the loss of anywhere between 248 and 333 Tory seats. That's out of a total of 359.
No wonder the party chairman wrote in his resignation letter that "business cannot go on as usual".
It is hard not to think that Mr Johnson is running out of distraction tricks.