An artist has found a novel, sustainable use for glass bottles discarded from hotels and restaurants - she upcycles them into brand new whiskey, wine, and water glasses.
Sinéad Brennan is a glass artist and co-founder of social enterprise project Glint Glass Studio in Sandymount – says the outfit can make over 100 glasses a week, "so that's 100 bottles saved from landfill or from going to the recycling plant".
In 2021, Ireland recycled 6,361 tonnes of glass, which is an 86% recycle rate, according to a Repak report released earlier this week. The EU target is for countries to recycle at least 60% of their glass.
"Glass is infinitely recyclable, it can be recycled again and again and the quality doesn't degrade," Sinéad said.
"A lot of energy is required to recycle glass though. Glass needs to be melted down at about 1,000 degrees Celsius to be made into another bottle.
"What we wanted to do was reuse what was already made as opposed to using the energy to melt it down again."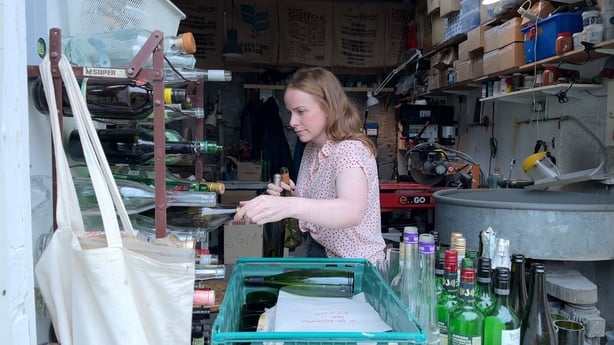 In 2016, Sinéad began to think about how she could work more sustainably as an artist and that journey led her to co-developing a range of glassware for the home made entirely of waste materials. Any offcuts they cannot use are then recycled.
"To blow glass you need to have a pot of molten glass that is constantly hot at 1,000 degrees, and there's a lot of gas burned to maintain that temperature, so the act of glass blowing, you can't ignore the huge impact on the environment that would have.
"We took a step back and assessed our processes and tried to find ways we could incorporate glass that already exists in different shapes and forms into our work," she said.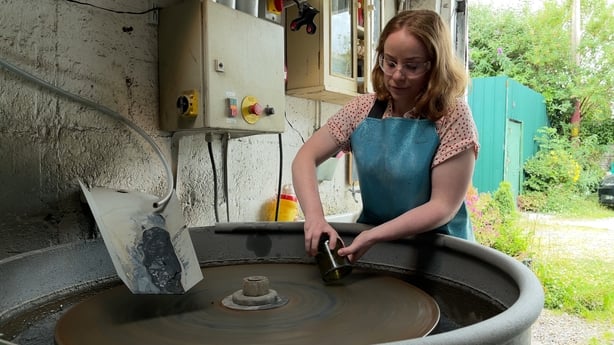 "I think once you start really thinking about how much waste is created and how much we consume, you can't stop thinking about it.
"It feels really good to know that we're saving waste and turning it into something beautiful and useful and not adding to the problem."
Sinéad and her fellow artist Róisín de Buitléar sometimes get their waste glass from friends, neighbours and family, but they also work closely with local restaurants, bars and hotels.
"They will give us their waste glass and it's really nice because sometimes those bottles go full circle and end up as drinking glasses back on the tables in their restaurants and bars," Sinéad said.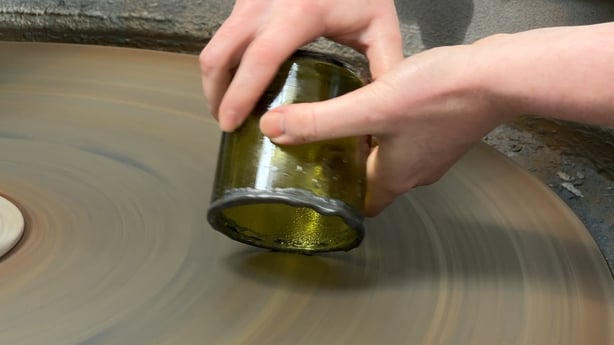 Sinéad is hopeful that the quality of the items they create from waste glass will make their customers reconsider the value of items that usually just end up in the bin.
"We need to take action and consider our actions. I think that's the key, to encourage people to stop seeing something as waste, and something to get rid of and throw away and to be conscious of its potential. Instead of finishing their bottle of wine and binning it, they're thinking, can it be something different?"
In our 'Climate Heroes' series of reports, we shine a light on the people who are stepping up to protect the environment and tackle climate change. While these people come from all walks of life, they share a common purpose to improve the world around us.