British Labour Party leader Keir Starmer has said the Conservatives were "absolutely imploding" following the resignation of Tory party co-chairman Oliver Dowden.
Beleaguered British Prime Minister Boris Johnson suffered two crushing parliamentary by-election defeats, including in a seat previously held by his ruling Conservatives for over a century, prompting the party's chairman to quit.
In a stunning reversal, the Tories saw their December 2019 general election majority of more than 24,000 votes overturned by the centrist Liberal Democrats in the Tiverton and Honiton constituency in Devon.
At the same time, the main Labour opposition regained the Westminster seat of Wakefield, in northern England, in a further sign of its resurgence following the party's worst electoral performance in decades two and a half years ago.
The disastrous outcomes for the Conservatives are set to pile new pressure on the embattled Johnson, as the highly damaging 'Partygate' crisis involving lockdown-breaching gatherings in Downing Street continues to plague him and his party.
The latest in a string of electoral defeats for the Tories in the last year, the dire by-election results spurred the immediate resignation of the party's chairman, Oliver Dowden.
Visiting the constituency of Wakefield this morning, Mr Starmer said his party's victory in one of its former heartland seats showed it was "on track" to win back power for the first time in more than a decade at the next general election due by 2024.
"What a judgment this is on the Tories and Boris Johnson - out of touch, out of ideas, and if they had any decency they would get out of the way for the sake of the country," he told reporters there.
"This puts us now absolutely on track for a Labour government, which is absolutely coming," he said.
Boris Johson must be pushed out - Lib Dem leader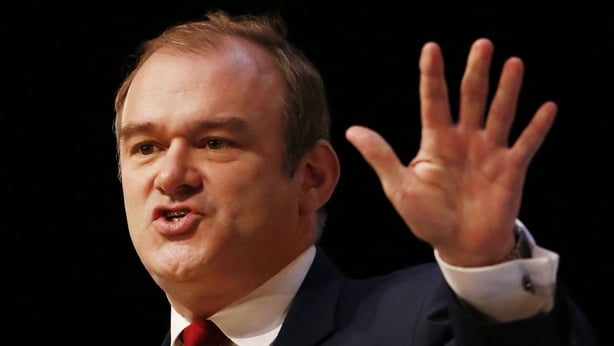 Liberal Democrat leader Ed Davey (above) said his party's win in the southwest was a "wake-up call for all those Conservative MPs propping up Boris Johnson".
He added that the country was "in chaos" under Mr Johnson's leadership and the Conservatives appeared to have no plan.
The Liberal Democrats had fronted a "positive" campaign in the constituency with policies that had "energised" people while the current government falters, he said.
"I think it speaks on behalf of people - Boris Johnson really must be pushed out," Mr Davey said.