The number of Irish residents who travelled to the UK for abortion services increased last year, according to British government statistics.
The National Women's Council said a total of 206 Irish residents travelled to the UK for abortion services, an increase from 194 in 2020.
However, that year marked the height of restrictions due to the pandemic.
It said 775 Irish residents travelled to the UK since the ban on abortion was overturned in Ireland in May 2018.
The UK government statistics show that the proportion of abortions for Irish residents performed under Ground C was 50%.
That is a decrease of 18 percentage points from 68% in 2020.
Ground C is defined as: "That the pregnancy has NOT exceeded its 24th week and that the continuance of the pregnancy would involve risk, greater than if the pregnancy were terminated, of injury to the physical or mental health of the pregnant woman."
The proportion of abortions performed under Ground E increased from 32% in 2020 to 50% in 2021.
Ground E is defined as: "That there is substantial risk that if the child were born it would suffer from such physical or mental abnormalities as to be seriously handicapped."
The Abortion Working Group, led by the National Women's Council, has called on the Minister for Health to commit to "evidence-led legislative reform" to ensure no woman or pregnant person is forced abroad for healthcare they should receive in Ireland.
In a letter to Stephen Donnelly, the NWC Director Orla O'Connor said the British statistics represent "only a partial picture of denial of healthcare" as many women travel to other jurisdictions or take abortion pills without clinical oversight.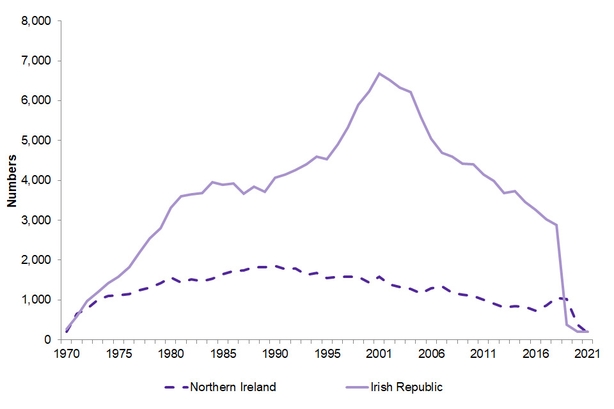 Speaking upon release of the data, Alana Ryan, NWC Women's Health Co-Ordinator said: "We know that abortion restrictions do not prevent abortion and instead create a two-tier system where only those who can afford to travel for healthcare can access terminations.
"While repeal has enabled abortion care for many, too many women and pregnant people continue to find themselves unable to access this essential healthcare due to ongoing legal barriers."
Ms Ryan said a "narrow definition" of fatal foetal anomalies is forcing women to travel for terminations.
"The 12-week gestational limit is contrary to best international practice and inhibits women's access to care," she said.
"The Government has a unique opportunity with this essential review to improve abortion access and bring Ireland into line with WHO guidelines. We call on all our political leaders to signal your commitment to evidence-led legislative reform," she added.
However, the Life Institute has accused the NWC of misrepresenting the figures.
It said the figures showed the "number of abortions for babies with Down syndrome has tripled".
The group also called for a review of how a diagnosis of a disability for an unborn child is shared with parents.
"These numbers suggested that parents are increasingly pushed towards abortion and this has enormous implications for people with Down syndrome," a spokeswoman said.
"When are we going to wake up and take this form of deadly discrimination seriously."