Focus Ireland has described a letter sent by Meath County Council to a family living in emergency accommodation as counterproductive, with no basis in law.
The letter seen by RTÉ News said the family could lose their accommodation if they failed to prove they were actively looking for somewhere else to live.
The letter was sent to Sabbi Singh and his partner Rupali Kapila by Meath County Council.
They and their now one-year-old daughter Asher have spent four months in emergency accommodation.
The family are on a waiting list for social housing in the county and in the last few months they have applied for a number of houses via the Choice Based Lettings System.
They say they have also looked for private rental accommodation, signing up for notifications via property websites and contacting local estate agents, however Mr Singh said to date "not a single landlord have replied (back to) us".
The couple is also worried that they would not be able to afford current private rental prices, even with the assistance of the Housing Assistance Payment or HAP.
Mr Singh rents a taxi and works as a driver, and Ms Kapila is currently caring for their daughter.
"We are (earning) below €30,000 (per annum)... that's the reason we apply for the council house and we are on the list."
When it comes to private rented accommodation he asked "how are we going to afford it?"
On Tuesday 7 June, 2022 last week, the couple received a letter from Meath County Council, which stated that: "Emergency accommodation is a short term resource and is not intended to be used for extended periods of time."
"HAP is your only option in the short to medium term to secure more permanent accommodation," it read.
It said that it was necessary for "clients in emergency accommodation to actively search for a suitable HAP property" and that "evidence" needed to be "produced within 1 week of this letter to prove that you are actively looking...".
"Failure to provide evidence may result in your emergency accommodation being withdrawn," it stated.
Focus Ireland has described the issuing of this letter as "counterproductive" and said it has "no basis in law".
It works with local authorities across the country to support people who are in emergency homeless accommodation to try and secure a home in the rental market, and believes this letter marks a new development.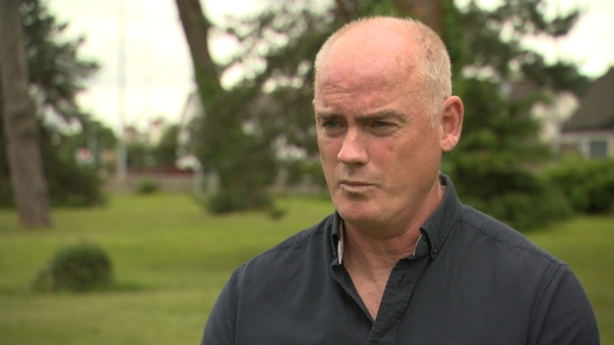 "I've spoken to our advice and information workers and they haven't come across, in recent years, a threat of eviction (in such circumstances)... it's not acceptable, it seems quite bizarre and has no basis in law as far as we are concerned," Roughan MacNamara told RTÉ News.
"It's adding stress to a family who are already undergoing the trauma caused by homelessness," Mr MacNamara said, adding that we are in "the middle of a housing crisis".
In a statement Meath County Council said that it "cannot comment on specific cases".
It said that "while it is noted there can be difficulties in sourcing accommodation under the HAP scheme, in the first 5 months of 2022 there has been a total of 26 Place Finder HAP tenancies processed for families in emergency accommodation".
It said that: "Letters may be issued from time to time by the Council on a case-by-case basis," including "where no effort is being made by those in emergency accommodation to proactively source alternative accommodation through the Housing Assistance Payment (HAP) Scheme".
Mr Singh said his family have been actively applying for available social houses via the County Council's Choice Based Lettings System, which was also mentioned in the Council's statement, as well as looking for private rental accommodation via the HAP scheme.
As requested, they have also submitted letters from landlords to the council by the deadline set by them.
While he said that he is grateful to his host in the B&B he is staying in, and to the Council for providing it, Mr Singh said that he wants to find a home for his family.
"Nobody like to sit in a single room and stay in the emergency accommodation, nobody like to do that."
Of the last number of months Mr Singh said "it is so stressful, I have no word for it".
Mr Singh and his family became homeless in February 2022.
He and his family had been living in a council house with a close family friend, Orla Kennedy.
Ms Kennedy and Mr Singh were once married and they had lived together in the house.
They parted amicably and Ms Kennedy later invited the couple and their daughter Asher, Ms Kennedy's Goddaughter, to live with her.
RTÉ News has seen the documents where Ms Kennedy requested the council to add the names of all three to the lease.
Her request was rejected. Ms Kennedy filed an appeal, however she died of cancer before the appeal was processed.
In February 2022, Meath County Council issued a "demand for possession" of the house and the Mr Singh and his family moved into emergency accommodation.
In a statement to RTÉ News, Ms Kennedy's sister Emer described Mr Singh as a "true friend".
"Sabbi and his lovely wife Rupali helped Orla out so much, it was a real comfort to us all as a family that they were there with her to help her on a daily basis, cancer is a horrible disease and the treatments are so difficult.
"It's was Orla's wish that Sabbie would be left in the house that they shared and not be made homeless," the statement continued.
Mr Singh said that he now feels "hopeless and powerless".
"All I want now... is for them (Meath County Council) to cooperate with us and try and understand our situation."