Six Stolpersteine, or stumbling stones, in memory of Irish victims of the Holocaust have been unveiled in Dublin this morning.
Stolpersteine are laid in pavements outside apartment buildings, houses, and other buildings in almost 2,000 places in Europe.
The small square brass plaques contain a name, date of birth, date and circumstances of death.
The first Irish stumbling stones were embedded at St Catherine's National School in south Dublin by their creator, German artist Gunter Demnig.
Founding trustee of the Holocaust Education Trust Ireland, Lynn Jackson, explained that in the early 20th century Ireland had a Jewish population of around 5,000 people and the area around the South Circular Road and Portobello in Dublin was once known as "Little Jerusalem" as there was a vibrant Jewish community there.
Speaking on RTÉ's Morning Ireland, she said the stones will commemorate six Irish victims of the Holocaust: Ettie Steinberg Gluck, her husband Wojteck Gluck, and their baby son Leon, along with Isaac Shishi, Ephraim Saks and his sister, Jeanne (Lena) Saks.
"It's important to remember their lives, not their deaths, but their lives, and to name them and where they lived and what happened to them", she said.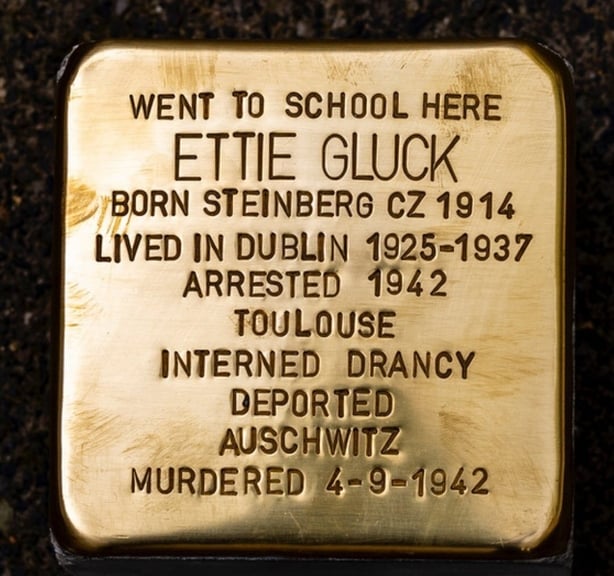 Ettie was born in Czechoslovakia in 1914 and her family came to Ireland in 1925 where they lived off the South Circular Road in Dublin.
She attended St Catherine's School in Donore Avenue and later worked as a seamstress.
Her husband Wojteck was a goldsmith from Belgium and they married in 1937 in Greenville Hall Synagogue, Dublin.
The family, including son Leon, moved several times and ended up in Toulouse in 1942.
It was there that they were arrested and deported to Auschwitz where they were murdered in gas chambers.
St Catherine's National School have been busy working on projects to remember the Irish victims of the Holocaust. Six Stolpersteine will be embedded by Gunter Demnig outside the school this Wednesday.#Holocaust #Stolperstein pic.twitter.com/YsREwytCU3

— Holocaust Education Ireland (@het_ireland) May 30, 2022
Isaac Shishi was born in Dublin in 1891 to a Lithuanian family and they lived on the South Circular Road.
In 1941, Isaac, an Irish citizen, his wife Chana and their daughter Sheine were murdered by the Nazis in Vieksenai, Lithuania.
Brother and sister, Ephraim and Lena were born in Dublin in 1915 and 1918 respectively and lived in St Alban's Road in Dublin 8.
During the Second World War, while living abroad they were both arrested and deported to Auschwitz where they were murdered.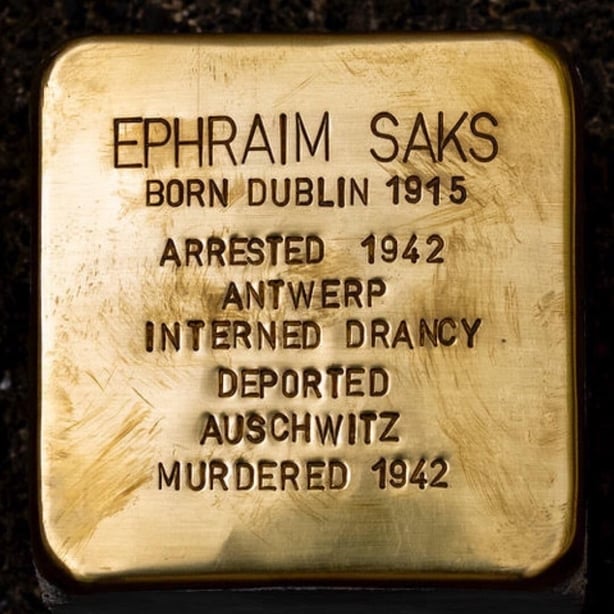 Ms Jackson for the HETI said the artist created the stones in the early 1990s recalling the biblical quotation "To everyone there is a name, for everyone there is a stone."
Chairperson of the HETI, Thomas O'Dowd, said: "It is appropriate that the Stolpersteine are located in Dublin 8, as the area became a home for Jewish people fleeing antisemitism in the Russian Empire.
"We hope the Stolpersteine help to educate and inform people about the Holocaust."
Speaking at the unveiling of Ireland's first Stolpersteine, Minister for Children Roderic O'Gorman said: "This meaningful memorial will allow these stories to pass through generations and will let us bear witness to their personal experiences of the Holocaust.
"The Stolpersteine at St Catherine's National School will play an important role in helping us to remember the Irish Holocaust victims and to reflect on the ideologies and events that led to the loss of so many lives."
Councillor Mary Callaghan, representing the Lord Mayor of Dublin Alison Gilliland, added: "The Stolpersteine project is the largest de-centralised memorial in the world with more than 90,000 memorial stumble stones in 27 countries around the world.
"We are proud that Dublin city is now part of this ever-growing remembrance project."
The Stolpersteine were unveiled by the HETI, Dublin City Council, the artist and the German Ambassador to Ireland, Dr Cord Meier-Klodt.
There are over 90,000 Stolpersteine in 27 countries.