The Chief Executive of the HSE has said record attendances at emergency departments around the country is likely to continue over the next while, but that every effort is being made to address the situation for hospitals under severe pressure.
Paul Reid was speaking during a visit to the Tuam Primary Care Centre in Galway.
"Our concentration is on improving flow and increasing discharges so we can address the current mismatch between bed capacity and demand for services," Mr Reid said.
He said expert teams will be working in places like University Hospital Limerick in the coming days to assess the situation on the ground and help reduce congestion in the short term.
Almost all elective surgery and diagnostic investigations, as well as outpatient appointments at University Hospital Limerick, have been deferred for the next two days.
The problem has been caused by overcrowding in the hospital's emergency department. Some surgery at Ennis, Nenagh and St John's Hospital in Limerick has also been deferred.
Mr Reid said that in addition to Dublin, hospitals in Limerick, Galway and Cork were all impacted by extremely high presentations resulting in cancellations of elective surgery, diagnostic investigations and hospital appointments.
UL Hospitals Group said affected patients will be contacted directly.
In a statement, its Chief Clinical director Professor Brian Lenehan said the increasing frequency with which patients were having their care delayed underlined, what he called, the fundamental mismatch between service demand and bed capacity in the region.
We need your consent to load this rte-player contentWe use rte-player to manage extra content that can set cookies on your device and collect data about your activity. Please review their details and accept them to load the content.Manage Preferences
Mr Reid said the future strategy was a move away from emergency departments into community care as a pathway to more efficient and better quality care whilst still linking into acute hospital care where needed.
"These initiatives have already begun and that's why I'm visiting places like Tuam and Loughrea today to promote these new pilot pathways of care. We can treat older people in their communities, provide ambulatory care in homes, give GPs access to diagnostics.
"We will put in more bed capacity over time but there's a need to shift more care into the community. These are the strategic solutions to ongoing current problems," he said.
Mr Reid said he understood the unprecedented pressure on emergency departments in recent weeks but pointed to improvements in the recruitment of doctors, nurses and healthcare assistants across all hospitals over a two-year period. He said staffing numbers had increased by 15,000 overall.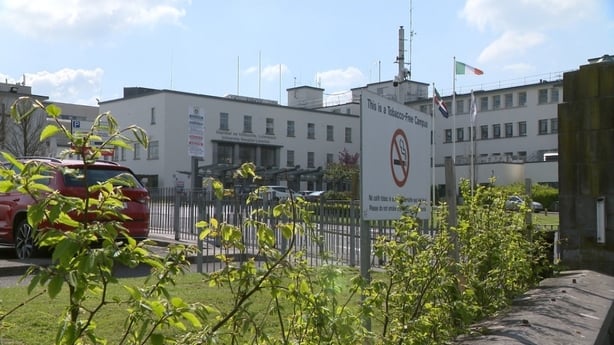 Assistant Director of Industrial Relations with the Irish Nurses and Midwives' Organisation Mary Fogarty said there were 118 admitted patients waiting for a bed at UHL yesterday, with 72 people in the emergency department and the rest waiting in in other areas of the hospital.
Speaking on RTÉ's Morning Ireland, Ms Fogarty said nurses had advised the INMO that they anticipated this happening last weekend because "despite the fact that 100 additional beds have opened in the hospital in the last 18 months there has been no improvement in the volume of patients waiting on trolleys.
"But also, there were low levels of discharges from the hospital Thursday, Friday, leading into the weekend and some of the admissions to the hospital they believe were inappropriate when there's no diagnostics available routinely at the weekends.
"But those patients could have been diverted to outpatient clinics, etc."
Ms Fogarty said there are also difficulties at the hospital with ensuring that there are additional ward rounds done over weekends, in particular when there are such high volumes of patients attending and being admitted and then low volumes of discharges.
"So, you're looking at a perfect storm in those scenarios," she added.
Ms Fogarty said that some patients could avoid the emergency department in Limerick by going to their GP or to other locations where non-urgent medical issues can be treated.
She said that INMO members have routinely advised management that the approach to patient flow processes at the hospital needs to be reviewed.
She said there should be a GP presence on site for extended days for patients who attend the hospital who have not attended their GP, that they can be seen on site and diverted to other services at the hospital.
There also needs to be more robust discharge/admission practices at the hospital and senior clinical decision makers need to have particular oversight at the weekend, she said.
Ms Fogarty said that the hospital group does require additional bed capacity, "but there's grave concern from members that if more capacity goes into University Hospital Limerick, we'll end up in a similar scenario as we currently are with surgery cancelled on all sides and overcrowding, persistent and no alleviation of the problem."
She said: "The evidence to date from our experience over a long number of years is that every time the hospital puts in place additional capacity, be it permanent capacity in the context of additional beds or utilises surge capacity whereby the hospital now has three trolleys on every inpatient ward and every available space utilised to house patients on trolleys, we're now seeing the move to utilise surge capacity in Ennis, Nenagh hospitals.
"That just spreads the difficulty and the problem around rather than addressing the root cause".
She described it as "a vicious circle" and said that unless the root cause is addressed, adding more beds will only alleviate the problems if they are managed in a way that ensures that appropriate admissions and discharges are taking place.