Every time there is a school shooting in the United States Frank DeAngelis picks up the phone to offer help.
The former principal of Columbine High School is, as he puts it himself, a member of a club that nobody wants to be in.
He is part of a network of principals who have had shootings at their schools, and who offer assistance, and a unique insight to school communities suffering similar trauma.
He joined that grim alliance on 20 April, 1999, when twelfth-grade students Eric Harris and Dylan Klebold, murdered 12 students and one teacher at his school.
On Tuesday, when he heard the news from Texas, he reached out again to another school principal suffering the same trauma he did, 23 years ago.
He told RTÉ's This Week programme: "I left a voicemail, (for the principal of Robb Elementary) and right now they are just overwhelmed, but what I tell them is I know what you're going through, and that I'm going to be there for you every step of the way, and offer you help, for your community, and your staff.
"The most important thing I tell them is if you are going to help others, first you have to help yourself."
He says mass school shootings are things that you are never prepared for: "After every school shooting, I go to these communities and people say I can't believe this could happen here. And it's just a myriad of emotions, it's almost denial."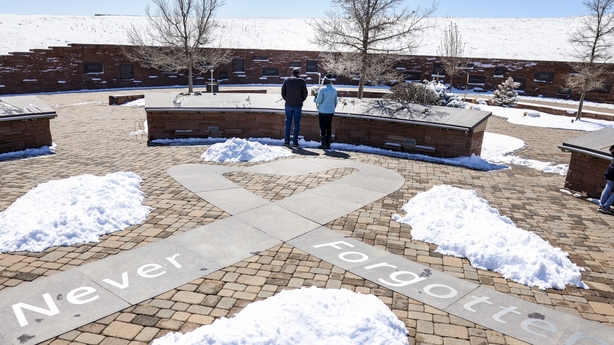 Everyone experiences the event differently, he says, and he urges them to respect where everyone is, and accept that there is no one-size-fits-all solution.
He does, however, make one simple recommendation: he tells people to stay off social media and to talk to each other.
The Texas town of Uvalde where the latest mass shooting occurred is a small community where families know each other, and Frank DeAngelis hopes that this will help them to come together afterwards.
He says the return of pupils to a school where a horrific event happens will be an important time.
"For us at Columbine, when we returned to school in August, we had a motto 'take the school back'."
"We decided we were not going to let the two killers win. But at the same time there was a lot of anxiety for those students who had to walk back into the halls, because the last time they were there, they were running out of those hallways as gunshots were being fired.
"There are certain things that trigger memories of that day. I had to change the sound of the fire alarm, or it could be books dropping that trigger emotion, and these are things I was never prepared for."
Arming teachers
Addressing the proposal put forward by some politicians, that arming teachers, or putting armed security in schools is a way of preventing future mass killings, DeAngelis offers a more nuanced insight.
"Everyone is looking for one set answer, I don't think it's out there.
"After Columbine, I assured parents that we were probably the safest school in the world, we had more security, we had cameras, we had a single entrance, and all of a sudden a student of mine came in and said to me: 'Mr D, we know you care about us, we know you love us, but all this extra security officers, all of these people walking around with guns, is making us more anxious, this no longer feels like a school'.
"So, you do want to keep the school safe, but you also want to ensure that it is conducive for learning."
He is in favour of police officers being stationed at schools, as part of the staff, but is opposed to arming teachers.
"When I experienced the event at Columbine High I encountered the gunman, and he was literally about 100 yards from me.
"I could have been armed, and trained to fire a weapon, but the thing I don't know is if I would have had the mindset to shoot one of my students.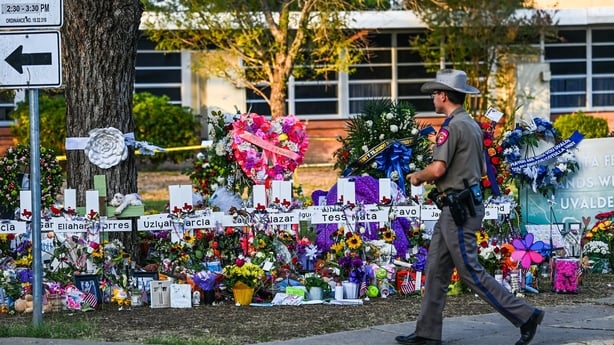 "As teachers we have always been there to take care of our kids, and all of a sudden if I am encountering the gunman, in my mind I probably would have tried to talk to him to say what are you doing, there has to be a better way, put the gun down.
"And when I speak to law enforcement officers about this, they say to me, once you start making it personal, you will never be able to pull that trigger.
"Police are trained, when they encounter a perpetrator, they are trained to stop the act from occurring, but I don't know if educators could do that."
Instead, he believes part of the solution lies with restricting the ability of teenagers to purchase weapons.
"We had a situation a few years ago on the 20th anniversary of Columbine, we had a woman travel from Florida and she wanted to come to Columbine to see where all those kids died.
"She had a one-way ticket and was able to purchase a weapon about 6 miles from Columbine High School, and I struggled with that, someone coming from out of state, 18-years-old, was able to come in and purchase a weapon."
Asked whether this latest shooting, and the renewed calls for restrictions on gun ownership, would change anything, Frank DeAngelis is unsure.
"I am angry and anxious. We have to do something. Another death is one too many."
Frank DeAngelis speaks to Justin McCarthy on This Week, RTÉ Radio 1, at 1pm