While many column inches are being devoted to the return of the reality dating show 'Love Island' to television screens early next month, speculation around the contestant line-up hasn't been the only talking point.
The ITV show turned heads when it announced it had partnered with eBay in an effort to ditch its fast fashion image.
In previous seasons, brands like I Saw It First and Missguided have secured the gig of styling contestants.
However, this summer they will wear pre-loved items from a shared wardrobe in the Mallorcan villa.
The fast fashion industry is a high-carbon emitter and has been condemned in many quarters for its use of resources and high amounts of waste.
Sustainability advocates like Fionnuala Moran, a radio and television broadcaster, say they hope Love Island's commitment to eBay styling could spark a change in viewers' shopping habits.
Fionnuala, who will soon complete her MSc in Climate Change at Dublin City University, said: "To see the show stepping away from sponsorship with those companies is a really powerful thing for them to have done to increase their positive impact on the planet.
"I would love to see the decision Love Island have made filter down to influencers themselves, for them to take a step back from fast fashion, promote re-wear, rental, any of these other brilliant options of taking more care of your clothes and make the fashion business model more circular. I hope we will see people make more ethical decisions in fashion."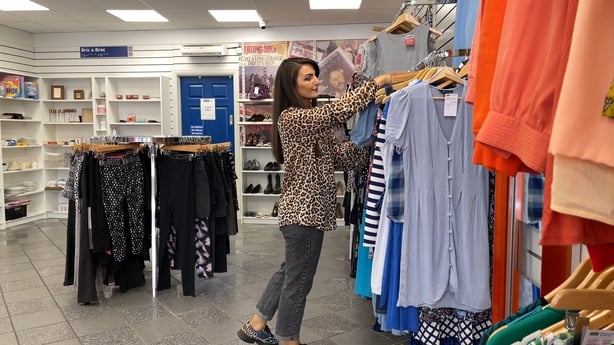 64,000 tonnes of textiles are put in Ireland's household bins each year, according to the Environmental Protection Agency (EPA).
Clothing alone makes up for 42,000 tonnes of this waste, with the remainder of the items ranging from bed linen and towels to footwear and car upholstery.
Those figures only represent the waste via household bin collection. A further 57,000 tonnes annually are collected through commercial textile banks and by direct donations to charity shops.
Fionnuala said her eyes were opened to the damage the fast fashion industry is causing on the planet in 2018 when she watched the documentary 'The True Cost' which explores its impact on the world.
"I was doing a lot of front of camera work at the time and I was convincing myself that for the Instagram posts and millions of events, and that advertising was telling us we need something new for every time you're in front of camera.
"I was racking up a lot of carbon emissions with my wardrobe, buying things that are resource intensive, and then not cherishing them the way I would now. It was my New Year's resolution to quit fast fashion."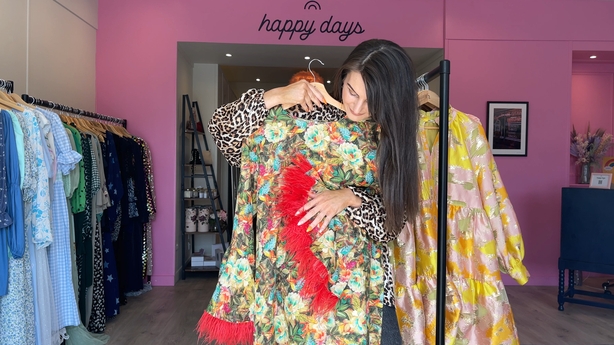 Since then, Fionnuala only shops second-hand, or rents outfits for her television appearances and events.
"I absolutely love still getting a new little thing, but what I've switched my mind to is 'new to me' as opposed to 'new'. So if I find something in a charity shop or rent something gorgeous for a night out, I still do get that buzz of getting something but it doesn't have to be brand new, taking resources to make it, causing pollution and potentially abusing workers' rights as well in that process. I love the second-hand cycle I'm in."
Fionnuala believes a lot of people have "outdated views" on second-hand shopping.
"I remember when I started off in 2019 I got funny comments from colleagues at the time saying 'do the clothes not smell?', 'have people not died in them?'
"I was like, 'no it's really not like that, they're lovely business, the clothes are cleaned properly'. It's that people's mindsets haven't caught on with where we've got to with the amazing sustainable options out there now. There will always be early adopters, middling people and late adopters," she said.
"It's about getting our mindset out of the 'take, make, waste' economy we're indoctrinated into, to saying, 'ok let's be more circular, let's repair things, even upcycle things to look cool or more different."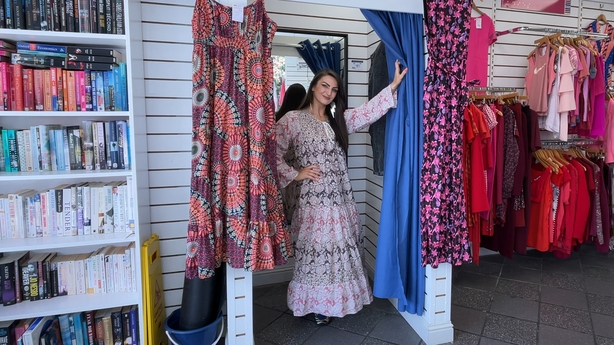 Fionnuala believes that second-hand shopping isn't as time consuming as it used to be, with Irish company Thriftify bringing charity shops from around the country online.
A six-month buying ban helped Fionnuala to cut her fast fashion addiction, and she completely dodges impulse buys now.
"If I am still thinking about it after three days, I'll buy it. I may be shopping second-hand but I still don't want to over-buy. I feel like I've more solace in my life since I stepped off that treadmill of hyper-consumption."
Sustainable fashion is only one aspect of Fionnuala's climate action journey, but she says it's a good place to start for anyone interested in doing their bit too.
"Shopping more sustainably is a great place to start your journey because it's one of the biggest polluters in the world, and it's good to understand our place in those systems," she said.
"You can do little lifestyle audits over time, whether it's your wardrobe one week, the kitchen the next, figure out what's single use and what's reusable. Ask yourself, 'what can I make more circular, how do I extend the life of what I have already?' Those things make you realise the systems we live in and makes us understand why we need system change and how every little thing makes a difference."
In our 'Climate Heroes' series of reports, we shine a light on the people who are stepping up to protect the environment and tackle climate change. While these people come from all walks of life, they share a common purpose to improve the world around us.