Police made the "wrong decision" in waiting nearly an hour for additional officers before breaching the classroom where a gunman killed 19 children and two teachers, a law enforcement official has said, after days of mounting questions about the law enforcement response.
Survivors, including children, were calling the 911 emergency number from the classroom long after 18-year-old Salvador Ramos had entered with an AR-15 semi-automatic rifle, while police officers were in the hallway outside the room waiting for more assistance, according to Colonel Steven McCraw, director of the Texas Department of Public Safety.
"From the benefit of hindsight... it was the wrong decision, period," Col McCraw told a news conference at which he was assailed by questions over why police waited for reinforcements before going in.
'It was the wrong decision, period. There is no excuse for that.' Colonel Steven McCraw, director of the Texas Department of Public Safety, concedes police should have breached the classroom where a gunman killed 19 children and two teachers sooner | https://t.co/hV7stkKslg pic.twitter.com/gTJxyWQCvd

— RTÉ News (@rtenews) May 27, 2022
"From what we know, we believe there should have been an entry as soon as you can."
Someone whom Col McCraw did not identify called 911 multiple times starting at 12.03pm local time on Tuesday, telling police in a whisper that there were multiple dead and that there were still "eight to nine" students alive.
A student called at 12.47pm and asked the operator to send police "now".
Officers did not go into the classroom until 12.50pm, according to Col McCraw, when a US Border Patrol tactical team used keys from a janitor to open the locked door and fatally shoot Ramos.
He said the on-scene commander believed at the time the suspect was barricaded alone in the classroom - and that the gunman's initial shooting spree had left no survivors.
"I'm not defending anything, but you go back in the timeline, there was a barrage, hundreds of rounds were pumped in four minutes, okay, into those two classrooms," Col McCraw said.
"Any firing afterwards was sporadic and it was at the door. So the belief is that there may not be anybody living anymore and that the subject is now trying to keep law enforcement at bay or entice them to come in to suicide by contact."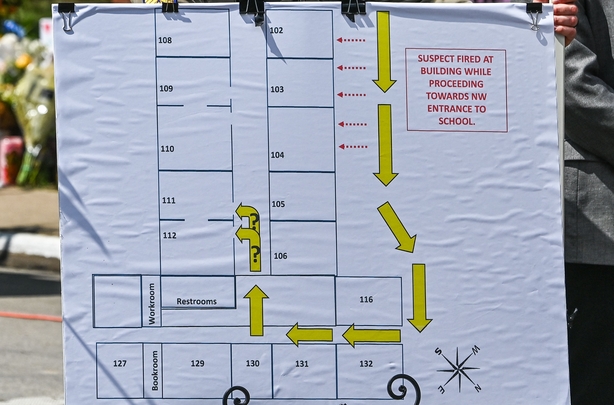 Some of the students trapped in the classrooms with the gunman survived the massacre, including at least two who called 911, Col McCraw said, though he did not offer a specific tally.
Several officers had an initial exchange of gunfire with Ramos shortly after he entered the school at 11.33am, when two officers were grazed by bullets. There were as many as 19 officers in the hallway by 12.03pm, Col McCraw said - the same time that the first 911 call from inside the classroom was received.
"[S]he asked 911 to 'please send the police now'" Texas Department of Public Safety Director Colonel Steven McCraw gives details of 911 calls made over the course of more than 40 minutes during a school shooting in which 19 children and two teachers died | https://t.co/hV7stkKslg pic.twitter.com/UBDtuhu8xy

— RTÉ News (@rtenews) May 27, 2022
Standard security protocols advise police to confront an active school shooter without delay, a point Col McCraw conceded.
"When there's an active shooter, the rules change," he said.
Police recovered 142 spent rounds inside the school from Ramos' rifle, as well as nearly two dozen more on school property outside the building, he said.
In total, Ramos had 60 magazines and 1,657 rounds, including some left in his truck when he crashed it outside the school before the attack and two magazines recovered at his residence.
At a briefing for reporters yesterday, Texas Department of Public Safety spokesperson Victor Escalon said Ramos made his way unimpeded on to the school grounds after crashing his pickup truck nearby.
The shooting began 12 minutes later.
Preliminary police reports had said that Ramos, who drove to the school from his home after shooting and wounding his grandmother there, was confronted by a school-based police officer as he ran toward the school. Instead, no armed officer was present when Ramos arrived at the school, Mr Escalon said.
The suspect crashed his pickup truck nearby at 11.28am, opened fire on two people at a funeral home across the street, then scaled a fence onto school property and walked into one of the buildings "unobstructed" through an unlocked rear door at 11.40am, Mr Escalon added.
We need your consent to load this rte-player contentWe use rte-player to manage extra content that can set cookies on your device and collect data about your activity. Please review their details and accept them to load the content.Manage Preferences
Two responding officers entered the school four minutes later but took cover after Ramos fired multiple rounds at them, Mr Escalon said.
The shooter then barricaded himself inside the fourth-grade classroom of his victims, mostly nine- and 10-year-olds, for an hour before a US Border Patrol tactical team breached the room and fatally shot him, Mr Escalon said.
Officers reported hearing at least 25 gunshots coming from inside the classroom early in the siege, he said
The human toll of Tuesday's tragedy deepened with news that the husband of one of the murdered teachers died of a heart attack while preparing for his wife's funeral.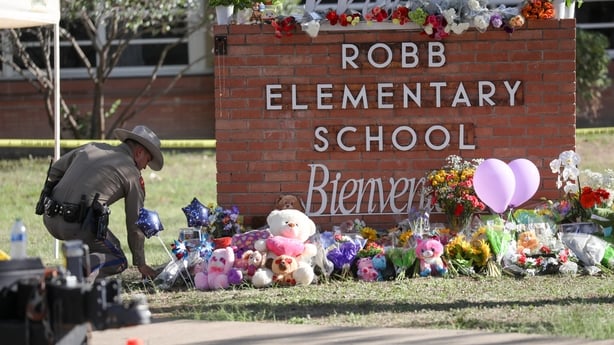 Survivors described a horrific scene inside their classroom after the gunman entered.
One boy told a CBS affiliate in San Antonio that Ramos said, "It's time to die," while an 11-year-old girl told CNN she smeared the blood of a classmate on herself to appear dead.
The school district, which includes nine schools, has its own police force of four members, according to its website. Students are given training in lockdowns, evacuations and other safety procedures.
In March, the school police department hosted an "active shooter training" at the high school.
One of the training officers was Ruben Ruiz, the husband of Eva Mireles, the other teacher killed on Tuesday.
"Our overall goal is to train every Uvalde area law enforcement officer so that we can prepare as best as possible for any situation that may arise," read a Facebook post from the department announcing the training.
Investigators are still seeking a motive.
Ramos, a high school dropout, had no criminal record and no history of mental illness. Minutes before the attack, however, he had written an online message saying he was about to "shoot up an elementary school," according to Governor Abbott.
His rampage began at the home he shared with his grandmother, when he shot her in the face and fled towards the school. She remains hospitalised.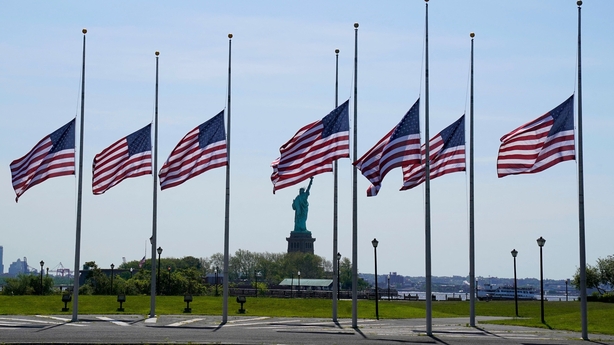 The gunman's father, also named Salvador Ramos, 42, expressed remorse for his son's actions in an interview published yesterday by news site The Daily Beast.
"I just want the people to know I'm sorry, man, [for] what my son did," he was quoted as saying.
"He should've just killed me, you know, instead of doing something like that to someone."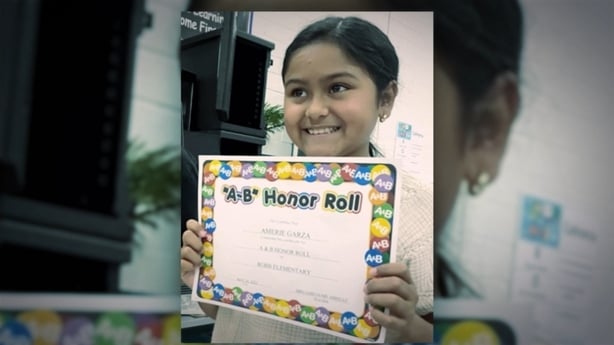 At least 17 people, including children, were also injured in the massacre.
The attack - coming ten days after ten people were killed by an 18-year-old gunman in a supermarket in New York - has reignited a national debate over firearms.
US President Joe Biden and fellow Democrats have vowed to push for new gun restrictions, despite resistance from Republicans.
Mr Biden is due to travel Uvalde on Sunday.