The average waiting time for admission to hospital emergency departments last month was nearly 14 hours for people 75 years of age and over.
Data from the Health Service Executive, provided in reply to a parliamentary question from Sinn Féin's health spokesperson David Cullinane, indicates that the waiting time was nearly twice that duration in two Cork hospitals.
The HSE provided the data which shows that the average waiting time for the 75-year-old and older cohort is 13.75 hours.
In Cork University Hospital, the average delay was 28.8 hours, the Mercy Hospital in Cork was 26.8 hours and the University Hospital Limerick was 22.2 hours.
Mr Cullinane requested that Minister for Health Stephen Donnelly provide data on the average patient experience for admission to emergency departments for the month of April.
The data shows that the averages are higher for over-75s, rather than under-75s, for all bar four hospitals, with over-75s waiting on average up to 7-9 hours longer.
The head of the HSE has said the health service has seen one of its worst quarters, and that this has contributed to waiting times in emergency departments.
HSE Chief Executive Paul Reid told the Oireachtas Public Accounts Committee that we are still seeing a "major impact on our hospital services" arising out of Covid-19.
The first quarter of this year was "one of the worst quarters that we've seen throughout Covid," he said, adding that we are now seeing "higher presentation" for the over-75s, who have "more complex needs".
Mr Reid was responding to committee chair Brian Stanley of Sinn Féin who advised Mr Reid that he "knock heads together" to get results.
Mr Reid said that the HSE will "continuously commit to the Sláintecare strategy" to relieve the pressure, including 30 multi-disciplinary teams which are currently providing care for older people in the community.
Secretary General of the Department of Health Robert Watt also emphasised that delivering Sláintecare is the key response to remedy the delays.
He told Independent TD Verona Murphy that "everyone acknowledges that [the waiting times] is not acceptable".
"Yeah, it's my job to solve problems", he admitted, after Ms Murphy repeatedly pressed him as to whether he regards himself "as a problem-solver".
"You are paid a large salary", she said, noting it has been the subject of much attention, and asked how he was going to deliver results.
"Do you yourself feel you are in the appropriate position?", she asked.
"It's a joke", Ms Murphy said of the under-resourcing of children's mental health, and gave numerous examples of people having treatment either delayed or denied.
Mr Reid strongly rejected the notion that Ireland has "a third world service" for mental health, and dismissed such "tired old clichés" that Ms Murphy had offered.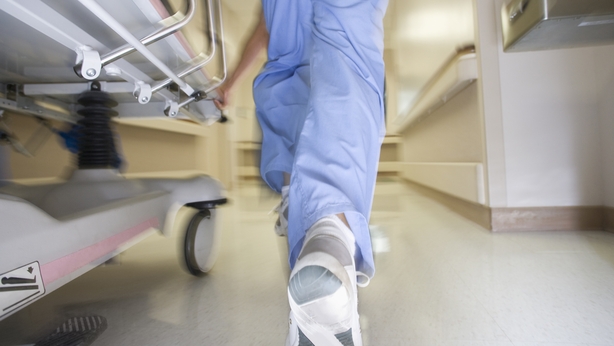 According to the HSE, Patient Experience Time is the length of time a patient spends in an Emergency Department from registration until discharge to a hospital bed or discharge home.
A patient's wait time starts as soon as they walk through the doors of an emergency department and does not end until the patient is either discharged home or admitted to hospital.
It therefore does not describe the time a patient is waiting to be seen, but the total time they spend in ED.
The HSE has said there are many reasons that result in longer wait times, such as volume of patients presenting to emergency departments and the requirement to prioritise, treat and care for the sickest and older group of patients and those with life threatening illnesses.
It said can mean that patients with less serious illnesses and conditions may need to wait longer for their treatment.
The HSE said that during a patient's attendance at an emergency department, they experience a range of smaller events along the clinical care pathway like triage (the first nursing assessment of how urgent the patient's presenting condition is), registration, doctor assessment and tests.
It said that delays in any one of these events or services will increase a patient's wait time, and can create bottlenecks in the emergency department.
The HSE said that emergency department wait times are also affected by what is happening outside of the hospital emergency department, in both the hospital and the community.
This includes the availability of inpatient beds within acute hospitals for acute admissions, the availability of community beds and or home care support for those patients in acute settings who are medically for transfer or discharge to the community.
The HSE said these factors in turn slow down the transfer of patients from the ED.
Recently the Minister for Health asked for a three year plan to comprehensively address the factors and reduce the significant delays in access to Emergency Care.
This will include issues around capacity as well as capability both with hospitals and the community.
Meanwhile, the Irish Hospital Consultants Association said today that leaving the eldest, and often more vulnerable, patients languishing on trolleys or on waiting lists was unacceptable.
It said that people in this age group should be able to expect care and compassion, not dismissal.
The association said that facing waits of nearly 14 hours in emergency departments for some of these patients will mean deterioration of their conditions and seriously reduced health outcomes.
"Facing waits of nearly 14 hours in Emergency Departments for some of these patients will mean deterioration of their conditions and seriously reduced health outcomes. We cannot allow this to happen."
It added that the Government knows the solutions, more beds, more consultants and more resources.
"Our Government knows the solutions here: more beds, more Consultants, more resources.
"Commitments which have been made, but not delivered. The answer is simple - deliver what our health service needs to for us to care for our patients," it added.
Additional reporting Fergal Bowers