Austria's first case of monkeypox has been confirmed, Vienna's health authority said this afternoon, after reporting the case as suspected.
The patient had symptoms typical of the illness, including as light fever and pustules on his face, ORF said, adding that tests should determine whether it is in fact monkeypox by tonight.
"Suspected case of pox viruses confirmed," the health authority said on Twitter, adding that the male patient had tested positive for the viruses and, given his symptoms, it was safe to assume it was monkeypox.
We need your consent to load this rte-player contentWe use rte-player to manage extra content that can set cookies on your device and collect data about your activity. Please review their details and accept them to load the content.Manage Preferences
It comes as US president Joe Biden said that recent cases of monkeypox which have been identified in Europe and the United States are something "to be concerned about".
In his first public comments on the disease, Mr Biden added: "It is a concern in that if it were to spread it would be consequential."
Meanwhile, a senior doctor in the UK has warned Monkeypox is spreading through community transmission.
The UK Health Security Agency (UKHSA) has confirmed 20 cases of the disease in the UK with nine other countries outside of Central and West Africa also reporting outbreaks.
There are no known monkeypox cases in Ireland at present.
Disease first discovered in monkeys
The disease, which was first found in monkeys, can be transmitted from person to person through close physical contact - including sexual intercourse - and is caused by the monkeypox virus.
Dr Susan Hopkins, a chief medical adviser for UKHSA, said updated figures for the weekend will be released on Monday as she warned of more cases "on a daily basis".
She also warned that doctors are seeing community transmission with cases predominantly being identified in individuals who self-identify as gay or bisexual or men who have sex with other men.
Speaking to BBC One's Morning Show, Dr Hopkins said: "We will be releasing updated numbers tomorrow - over-the-weekend figures.
"We are detecting more cases on a daily basis and I'd like to thank all of those people who are coming forward for testing to sexual health clinics, to the GPs and emergency department."
Asked if there is community transmission in the UK, she said: "Absolutely, we are finding cases that have no identified contact with an individual from west Africa, which is what we've seen previously in this country.
"The community transmission is largely centred in urban areas and we are predominantly seeing it in individuals who self-identify as gay or bisexual, or other men who have sex with men."
Asked why it is being found in that demographic, she said: "That's because of the frequent close contacts they may have.
"We would recommend to anyone who's having changes in sex partners regularly, or having close contact with individuals that they don't know, to come forward if they develop a rash."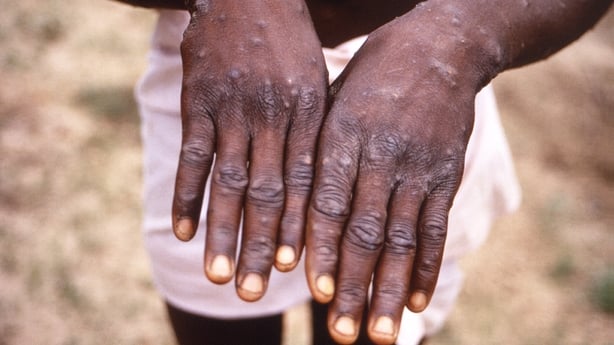 Asked if people will need to get vaccinated for the infection, she said: "There is no direct vaccine for monkeypox but we are using a form of smallpox vaccine - a third-generation, smallpox vaccine that's safe in individuals who are contacts of cases.
"So, we're not using it in the general population.
"We're using it in individuals who we believe are at high risk of developing symptoms and using it early, particularly within four or five days of the case developing symptoms.
"For contacts, (this) reduces your risk of developing disease, so that's how we're focusing our vaccination efforts at this point."
Biden warns of potentially 'consequential' spread
Monkeypox has caught the attention of US President Joe Biden, who said today that people should be on guard against the disease which has the potential for "consequential" impact if it were to spread further.
Several cases of monkeypox have been detected in North America and Europe since early May, sparking concern the disease, endemic in parts of Africa, is spreading.
The US leader, on his maiden trip to Asia as president, said in Seoul that health officials have not fully briefed him about "the level of exposure" in the United States.
"But it is something that everybody should be concerned about," Mr Biden told reporters before boarding Air Force One to fly to Tokyo.
"It is a concern in that if it were to spread it would be consequential," he added.
"We're working on it hard to figure out what we do and what vaccine if any might be available for it."
There have been thousands of human infections in parts of Central and Western Africa in recent years but it is rare in Europe and North America.
Most people recover within several weeks and monkeypox has only been fatal in rare cases.
The World Health Organization said that as of yesterday there were 92 confirmed cases of the disease in countries where monkeypox is not endemic.
The virus is transmitted to humans from animals, with symptoms very similar to smallpox but less severe clinically.
Additional reporting AFP