The Taoiseach has described the mock-up of a Russian nuclear attack destroying Ireland and Britain as "very sinister, intimidatory-type tactics by the Russian Federation".
It follows a TV report which aired in Russia over the weekend which showed mocked-up footage of Ireland being destroyed in the event of a Russian strike on Britain.
Dmitry Kiselyov has been described as a powerful Putin propagandist and over the weekend he lived up to the billing.
On primetime TV, the host spoke of a hypothetical Russian attack on Britain. In a studio with accompanying animation, he said: "The explosion of [a] thermonuclear torpedo by Britain's coastline will cause a gigantic tsunami wave up to 500m high. Such a barrage alone carries extreme doses of radiation.
"Having passed over the British Isles it will turn what might be left of them into a radioactive desert unfit for anything for a long time."
He does not mention Ireland by name, but it is clear Ireland is part of the collateral damage as the TV graphics depict Ireland being wiped out.
There's been a lot of understandable comment in relation to this trash video on Russian State TV.
Let's not allow ourselves be distracted from the real atrocities being committed by Russian Forces in #Ukraine by disinformation like this. #StandWithUkrainepic.twitter.com/gM3mgkNF6M

— Simon Coveney (@simoncoveney) May 3, 2022
Mr Kiselyov asks Britain why it is threatening Russia: "It seems like they are raving on the British Isles. Why threaten our never-ending Russia with nuclear weapons when you're on an island which you know is so small. The island is so small that just one SARMAT missile is sufficient to sink it once and for all."
Micheál Martin said while he does not think anyone is going to be intimidated by the imagery depicting the outcome of such an assault, he said "it reflects a mindset that is worrying and not in touch with reality".
He said "there should be an apology forthcoming" in relation to the incident from "whoever instigated this".
Minister for Foreign Affairs Simon Coveney said there has been a lot of comment about the "trash video on Russian State TV".
"Let's not allow ourselves be distracted from the real atrocities being committed by Russian Forces in #Ukraine by disinformation like this," he said.
Meanwhile, former army captain turned senator Tom Clonan has dismissed the piece as utter nonsense.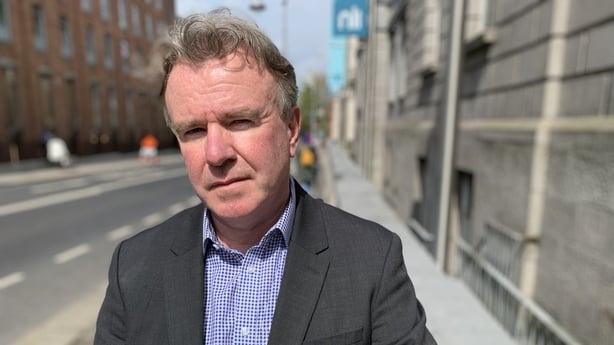 ''Fantasy, farce, such an attack could not happen," he said.
"They haven't developed such a weapon and even if they did, they would have needed thousands of them to create a shockwave to generate any movement," he said.
"It just really is propaganda. It's also a further example of Putin weaponising TV as part of this war - spreading misinformation, trying to create fear," added Mr Clonan.
"It just shows how little the Russian establishment think of Ireland," said Fine Gael TD and spokesperson on European affairs Neale Richmond.
"I don't actually think that the Russians are going to launch a nuclear bomb off the coast of Donegal but they do want to frighten people and do want to erode the trust that civic society has in their governments," he said.
He is calling for the Russian Ambassador to Ireland and all his diplomats to be sent home. He wants the embassy shut.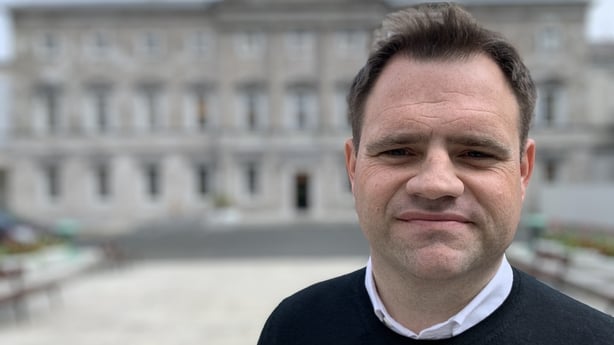 "We need to expel the Russian Ambassador, we need to close the Russian embassy," said Mr Richmond.
The Minister for Environment, Climate and Communications Eamon Ryan described the footage as "disturbing" and "a disgrace".
He said the presenter is "seen as close to the government" and he said, "it is disturbing".
Speaking as he arrived for a Cabinet meeting at Dublin Castle, Mr Ryan said "in what world would that be seen as appropriate".
"In what world would that be seen as anyway something you would share and show, so it's a disgrace," he added.
Minister Ryan said he is looking forward to hearing what Minister for Foreign Affairs and Defence Simon Coveney has to say "in terms of what we say about it".
He also said he imagines Irish officials will be raising the matter with the Russian Ambassador to Ireland.
Russia does not have weapon to wipe out Ireland
Earlier, the former UK ambassador to Belarus said Russia does not have a weapon that could wipe out Britain and Ireland, which was shown in the mock-up on Russian TV.
Speaking on RTÉ's Today with Claire Byrne, John Everard said Irish people can sleep safe in their beds in that knowledge.
"I would urge everybody just to keep calm. By all means, if you feel strongly about it, make your things clear to the Russians. But can we please remember this is just a television mock-up.
"The Russians do not have this weapon. I'll say that again, they do not have this weapon".
Mr Everard criticised Russian propaganda saying "it's part of a pattern of really nasty Russian threats against most of the civilised world and not just the UK and Ireland".
---
Read more on the conflict in Ukraine
---
Fianna Fail MEP Billy Kelleher said the Irish Government should leave the Russian Ambassador to Ireland "in no doubt" at its disgust and displeasure following the Russian broadcast.
Mr Kelleher said he did not believe that Russia had weapons capable of carrying out such an action but that the continued threat of nuclear war is not acceptable.
"Personally I think the Russian Ambassador should be sent home and should have been sent home long ago," he said, "but that isn't going to happen so he must be brought in and informed of our absolute disgust."
Additional reporting: Fergal O'Brien