Rents for new tenancies nationally rose by 9% in the last three months of last year when compared to the same period a year earlier, new data from the Residential Tenancies Board and the Economic and Social Research Institute shows.
In total, 9,346 private tenancies were newly registered with the RTB during the quarter, down 48% on the same period in 2020.
"This is likely driven by factors such as continuing constraints on the supply of rental properties and by current tenants choosing to stay longer in their existing tenancies," said Niall Byrne, RTB Director.
Nationally, the index shows that the standardised average monthly rent for new tenancies stood at €1,415 during October, November and December, down €4 compared to the previous three months.
Average monthly rents for houses were €1,390, down 0.9% on the previous quarter, but up 9% in comparison to last year.
On average rents for new tenancies for apartments were €1,459 per month, up 0.6% on the previous quarter and 9.3% when compared to the same period in 2020.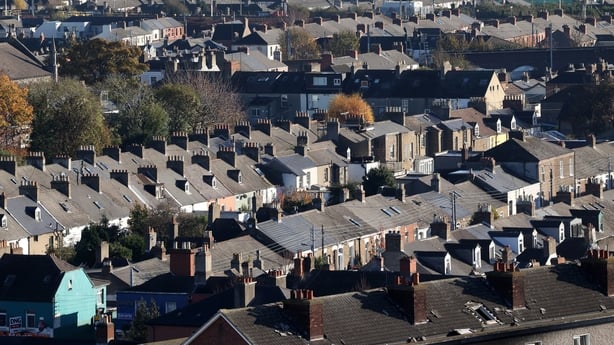 Annual growth rates were highest outside of the greater Dublin area at 12.1%.
However, at €1,972, average rents in Dublin remained much higher than the €1,104 outside the capital.
The lowest standardised average rent for new tenancies was recorded in Leitrim at €740.
The data does not include rents being paid under existing tenancies.
"On 4 April 2022, new legislation was introduced requiring landlords to register all tenancies with the RTB on an annual basis," Mr Byrne said.
"This is a significant change for the residential rental sector and for landlords."
"One of the public benefits from annual registration will be to provide the RTB with current data on all rents which will enable us to publish more detailed reports on rents and rent levels, for both new and existing tenancies, beginning, we expect, in 2023."
The data also shows that rents for new tenancies in Dublin City were 0.2% higher in the fourth quarter compared to the previous three months and were up 8.9% year-on-year.
The second highest average rent level for new tenancies was recorded in Cork City at €1,392.
Waterford was the city with the lowest standardised average monthly rent in new tenancies in the quarter at €1,055.
On a quarterly basis, average rents for new tenancies fell in 14 counties between October and December.
However, thirteen counties had annualised growth in new tenancy rents above 10% over the period.
'Thinning supply' of housing driving rent hikes outside Dublin
We need your consent to load this rte-player contentWe use rte-player to manage extra content that can set cookies on your device and collect data about your activity. Please review their details and accept them to load the content.Manage Preferences
Associate Research Professor with the ESRI Conor O'Toole has said that the marked drop in the number of tenancies is due to many factors but is being affected by people renting for longer so there is less turnover in properties.
Speaking on RTÉ's Morning Ireland, he said "one of the factors we've seen in the rental sector in the housing market more generally for quite some time has been a shortage of supply and a kind of critical bottleneck in terms of the supply of new housing".
He said that despite there being some new supply coming online "it's less than what we would need, but also the rental market is changing and the nature of tenancies within the rental sector is changing, for example, people are likely staying longer in the tenancies than they previously did.
"These are all factors that are feeding into the developments we're seeing in the data."
Mr O'Toole said that the rise in rents is not surprising as rental inflation has rebounded "quite strongly" after the pandemic since the economy has recovered and unemployment is just at 7% "so it's not unexpected that you would see prices rising in the rental sector."
A strong feature of the research published today is that the rate of increase in rents outside of Dublin is higher than in the capital which is at a 9% rise but "if you look at all of the counties outside Dublin, you're looking at nearly an 11% growth rate on a year-on-year basis," he said.
There is a pickup in the pressures in the regional rental markets and in some of the smaller counties in particular, he explained.
"We're getting a larger drop off in in the number of tenancies registered in these areas, so you're talking about rising prices but in thinning markets," he said.
In general, he said, there are long standing imbalances in the housing market that have been known about for quite some time in terms of the overall supply of housing.
However, the number of commencements increased last year and as a result some of the forward indicators point towards a rise in the number of properties coming online this year.
The market is still characterised by that supply demand imbalance that has been seen for many years, he said.