Hundreds of people gathered in the Phoenix Park in Dublin this afternoon calling for safe and legal access to cannabis.
Organisers described the event as "a mass act of civil disobedience" with cannabis being openly consumed by many of those gathered.
Charlene Flynn of the Major Group for Cannabis Reform said it was also "a celebration of cannabis culture."
Independent MEP Luke 'Ming' Flannagan was among those who addressed the crowd calling for the legalisation of recreational cannabis, and a People Before Profit banner was on display at the event.
It is an offence to possess cannabis save for where it is obtained for medical use under a Ministerial Licence or under the Medical Cannabis Access Programme (MCAP).
The MCAP came into operation last July.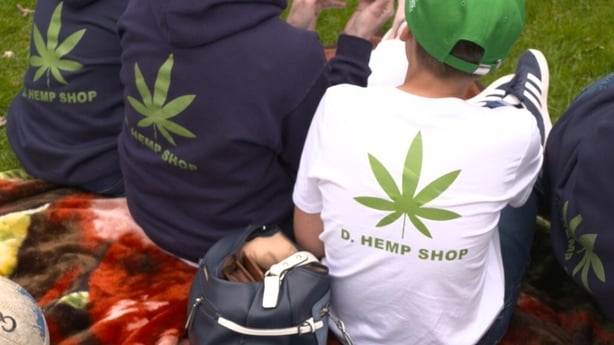 It is limited to patients who suffer from three specific medical issues: spasticity associated with multiple sclerorsis, intractable nausea and vomiting associated with chemotherapy and/or severe refractory epilepsy.
Ms Flynn said the pathways for medical cannibas use were "hugely restrictive".
Podcaster Martin Condon, who has epilepsy, said that he was "a patient who could not get access to medical cannabis" as he said the programme requires that he first try other available therapies.
Mr Condon said that many patients currently access cannabis illegally.
"If we could remove cannabis prohibition not only would we provide more effective access for patients because the stigma is going to be removed," Mr Condon said, adding that it would also protect recreational users who are "currently at the mercy of organised crime gangs, by putting an age limit in place and having it sold by reputable retailers".
The gathering took place a few hundred meters from An Garda Síochána Headquarters.
A statement issued from the Garda Press Office said that "an Garda Síochána is aware of a gathering that took place in Phoenix Park this afternoon" and "are continuing to examine all the circumstances of this event".